'About face!": Art show runs through Dec. 7
---
November 14, 2012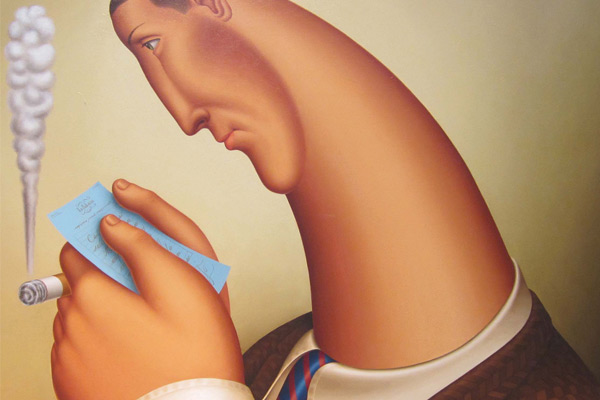 The Nesbitt Gallery's latest show, Faces from the Goddard Center, is scheduled to run through Dec. 7.
The show is free and open to the public.
The Nesbitt Gallery ran a show, titled Faces, in 2011 that provided the inspiration for this one.
The original exhibition was intended to be "a simple show that would utilize the many facial expressions captured in the art that makes up our collection," said Layne Thrift, assistant professor of art and director of the Nesbitt Gallery. "I didn't anticipate how strong the audience's response would be. People were very vocal about their enjoyment of the show, and I made a mental note to see how we could expand on that in the future."
In time, Thrift approached Rudy Ellis, curator at the Charles B. Goddard Center in Ardmore, about the possibility of borrowing selections for a Faces exhibit solely obtained from the Goddard's permanent collection.
Ellis was intrigued by the show's concept.
"When the Nesbitt Gallery asked me if I would pull works from the Goddard's collection for an exhibit highlighting faces, I knew that an exhibition featuring a variety of these faces would make for an interesting show," Ellis said. "The artists that created these particular works offer a spectrum of unique styles and abilities which, as a whole, reveal the very nature of the human condition."
Though the pieces on loan from the Goddard share a common theme, the collection may surprise viewers with its diversity. The styles on display will range from realistic portraiture to formal abstraction and represent more than 400 years of art history.
The show opened with a reception on Nov. 17.
The Nesbitt Gallery is open from 8:30 a.m. to 4:30 p.m., Monday through Friday.
More information about the show can be obtained by calling 574-1374.