Alumni Art Show Features Paintings, Stoneware
---
October 18, 2006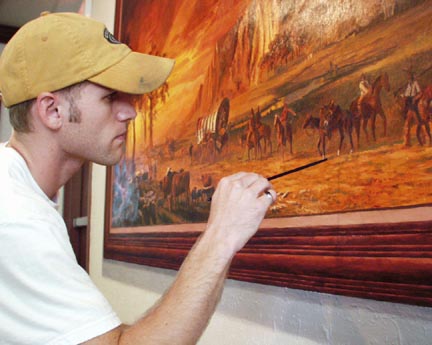 In conjunction with its annual Alumni Homecoming, the University of Science and Arts is hosting a gala exhibition featuring the artwork of two alumni artists. Beginning Oct. 23, USAO alumna Mary Ellen Thomas will collaborate with alumnus Brandon Wood in their joint exhibit on display at the USAO Art Gallery.
The art exhibit runs through Nov. 4. As part of the Homecoming festivities, the art gallery will host a public reception that day at 2 p.m. during which visitors can meet the artists.
An English literature graduate of 1976, Thomas will display her award-winning stoneware and ceramics. A self-proclaimed "functional" artist, Thomas has won multiple awards for her stoneware and has even shown pieces internationally.
"In my early pottery making, my direction was in preparing functional pottery that was pleasing to the senses," she said. "I don't want to insult any potter, but to me, unless it was functional, it was a dust collector. I really wanted to do functional things that were pleasing to the senses. For me, repetitive things were very monotonous."
In the world of art, Thomas got a late start. After raising a family of five children and a husband, she decided to try out something new – at age 60. Over the past 20 years, she has perfected her ceramic pottery skills in the comfort of her own private studio. She will display more than 50 original pieces from her collection.
For Thomas, who has three degrees, including a master's degree in bacteriology and biochemistry from the University of Oklahoma, pottery is all about geology.
"That's what pottery is," she said. "It's turning clay into stoneware. Stones dissolve, become clay, then you take the clay and turn it back into stone."
Near the beginning of her artistic journey, Thomas began focusing on the development of crystalline glazes, a very difficult but beautiful ceramic finish mastered by fewer than 75 current artists in the United States. Through her own research, calculations and trial and error, she arrived at her own secret formula.
The special glaze creates large, flower-like shapes that have become a signature part of her pottery. Thomas said her hard work pays off each time it has a direct effect on the viewer.
"I hope that in expending all the mental energy, time and materials, beauty in the art form might be realized," she said. "And if it has some transcendental effect on another human being, it has been a worthwhile venture for me."
As an art graduate of 2003, Brandon Wood is already making his mark on the university campus – literally. A large mural commemorating the history of USAO is currently in process on the exterior of the Davis Hall amphitheatre. Featuring the faces of four past university personalities, the colorful painting can be seen from 17th Street as well as the campus oval.
A western landscape painting by Wood is a permanent fixture just outside the president's office in Troutt Hall.
A designer and illustrator for Mustang-based Tate Publishing & Enterprises, Wood's campus impact stretches beyond the canvas; he also serves as an adjunct art instructor at the university.
As an oil painter, Wood said he uses different perspectives of particular experiences to color the canvas.
"My work deals with experience, specifically the comparing and contrasting of direct experiences and mediated experiences, and the influence and intertwining of each," he said. "For example, I may use the imagery of a natural disaster, painted as a flat illustration, to represent the mediated experience, that is, the disaster as experienced through the television, news, movies, etc.
"I then contrast that against a 'painterly' background representing a direct experience, that is, 'I was there,'" Wood said. "I am interested in the way the two experiences intertwine in life, meaning how a mediated experience can seem so real, that one walks away emotionally charged as if they were directly involved."
To Wood, it is the exchange of contrasting experiences between the artist and the viewer that makes art interesting.
"I think that is what makes art, specifically painting, so funny," he said. "It is, by default, a direct experience for the artist involved and a mediated experience for the viewer. No one ever talks about the bug bites they received after viewing a landscape painting of a sunset. That is saved for the artist."
The USAO Art Gallery is open Monday through Friday from 8:30 a.m. – 4:30 p.m. More information about the gallery is available online at www.usao.edu/gallery or by phone at (405) 574-1374.