USAO Student Launches Music Venue for Local Bands
---
October 09, 2008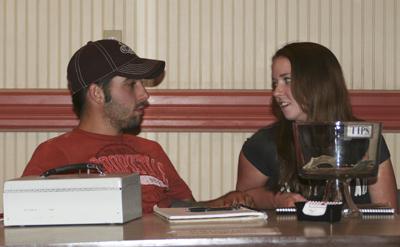 Usually people graduate from college and work a few years before becoming business owners. But Tyrel Greenhalgh, a music major at the University of Science and Arts of Oklahoma, isn't you usual college student. Greenhalgh started his own business in Chickasha while working two other jobs and attending USAO full-time.
"Over the last couple of years I have met a lot of people who are interested in changing downtown Chickasha. Being a musician, I am always looking for people with talent and places to perform. Well this town is full of talent, but absolutely no place to perform," Greenhalgh said.
"A few weeks ago I opened Oddfellow's Music Hall which is a place where people can take private music lessons involving drums, guitar and bass guitar." The club hosts bands from 8:30-11:30 p.m. every Friday and Saturday night. There is a cover charge of $5 for the public and $4 with any student I.D. The club is located at 118 South Fourth Street between Chickasha and Kansas Avenue.
"I am also working on a poetry night once a month as well as other events that people would like to hold at Oddfellow's," Greenhalgh said. "My biggest challenge opening the club was making enough money to buy all of the sound equipment that I needed."
Greenhalgh says that his interest in music started more than nine years ago. "I graduated from a small high school in Northwestern Pennsylvania. I started getting into music around the age of 12 and purchased my first drum set at the age 15. I have been playing ever since.
"My biggest musical influence has always been Metallica. Even though their politics haven't always been the greatest, I've always loved their wide variety of rock and roll and how no other band can imitate their sound." Greenhalgh says that he enjoys playing all kinds of music but his favorite now is funk rock.
When he has time, Greenhalgh continues to play with a band. "I just started playing with a few guys that are members of other bands in town, but it hasn't become too serious yet."
Being interested in providing opportunities for local bands and musicians, Greenhalgh says that television programs like American Idol and America's Got Talent have a positive impact on the industry. "I like how the other venues are exposing the public to new musicians that would have otherwise had a difficult time promoting themselves."
Before coming to Chickasha, Greenhalgh spent some time in Dallas. "I attended DeVry University in Dallas and decided that it wasn't for me. I moved back home and joined a band. We played at bars and other venues on a weekly basis. That worked well until a few of the band members went back to college; so I decided that I should go back to college also," he said. It was his grandmother who pointed him to Chickasha and USAO.
"My grandmother is from Chickasha and told me about USAO and the excellent music program. I visited several times and really liked it here. I enrolled in 2005 as a music major with a performance emphasis. I recently switched to a music business emphasis and plan to graduate after fall.
"My grandmother is the only reason that I am here today and have gotten this far. She grew up in a family with 11 brothers and sisters in a two-bedroom home. Her mother made fresh bread daily and fed – not only her children – but several other local kids as well.
"My grandmother grew up on farms and ran her own restaurant. She knew how to work and that is how she raised her kids as well as her grandkids. She has always pushed me to do my best at everything I did and was there to support me," he said.
For more information about Oddfellow's Music Hall, call Greenhalgh at 224-3434 or e-mail at stutyrelgreenhalgh@usao.edu.