USAO's Syrian Toy Project receives Global Citizen Award in Nonprofits
---
October 23, 2017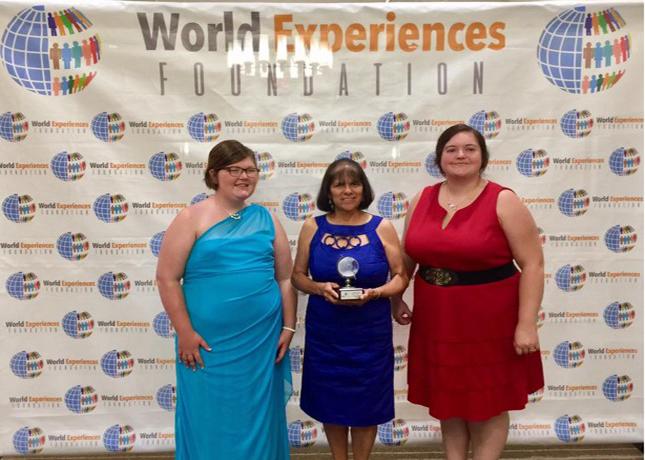 One of the University of Science and Arts of Oklahoma's many charitable campaigns—the Syrian Toy Project—recently received the World Experiences Foundation's Global Citizen Award in Nonprofits. The award recognizes the remarkable work of students and faculty who, in just two months, collected over 1,100 toys for the young victims of Syria's brutal civil war.
The Syrian Toy Project was conceived in early 2015 after two USAO students saw a presentation by Hind Kabawat, a senior program officer for the United States Institute of Peace and a native Syrian, as part of the university's Ableson Lecture on Religious Reconciliation.
Beth Pierce, a senior elementary education major from Wynnewood, and Torri Rillema, a junior elementary education major from Purcell, wanted to improve the lives of children whose lives have been upended in the Syrian conflict. They approached Dr. Jeanne Mather, professor of education, who has a wealth of experience organizing donation drives for many different causes.
Mather used her mailing list of over 500 past and present education students to get the word out about the drive, while Pierce and Rillema reached out to organizations near and far through social media. They received considerable donations from the Future Career and Community Leaders organization at Dibble High School. Rillema also enlisted her sister's Girl Scout troop in Tuttle.
The project received a big boost after the Karam Foundation, a charity specializing in crises in the Middle East, included them in its Random Acts of Kindness week initiative on Facebook. By the end of February 2015, they had collected more than 1,100 stuffed animals and toys from as close as the USAO campus and as far afield as France.
"The degree of dedication these young ladies displayed was really inspirational. It just shows how much of a difference a single person can make," Mather said. "They weren't afraid to tackle a huge project. I hope this will inspire other people to do the same: start small and aim big."
Every year, the Global Citizen Awards recognize individuals, businesses and organizations that have made a significant impact on global citizenship in the United States and abroad. The World Experiences Foundation strives to bring leaders of color and leaders with diverse experiences into public school classrooms to impart anti-bias multicultural and multilingual education.