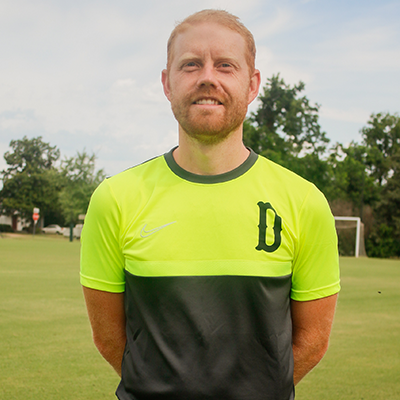 Education
| Degree | Major Emphasis | Institution | Year |
| --- | --- | --- | --- |
| BA | Communication | University of Science & Arts of Oklahoma | 2012 |
| | | | |
| | | | |
Biography
Niall Crick is an assistant coach for the men's and women's soccer teams at Science & Arts. He has been a member of the Science & Arts staff since September 2012 and is also an active member of the Science & Arts Staff Association.
Niall is originally from Edinburgh the capital city of Scotland. He came to Science & Arts in 2008 on a soccer scholarship. Niall was a four-year soccer player for the Drovers and was a member of three teams that made the National Tournament. He was a two-time NAIA All-American and won numerous other awards as a player. He graduated from Science & Arts in April 2012 with a Bachelor's in Communication. Niall married another former Science & Arts soccer player, Annie (Zoch) in February 2014.
Niall also serves as the international admissions recruiter in the Science & Arts Admissions Office. Admissions counselors are responsible for recruiting students; representing the university when counseling prospective freshmen and transfer students through enrollment; responding to admissions inquiries via phone, letter, email and social networking; giving campus tours; traveling to represent the university at college fairs and programs; assisting in planning and organizing prospective student events; and building relationships with prospective students, current students, parents, high school counselors.