USAO Faculty Find Innovative Ways to Adapt to Fall Semester
---
October 13, 2020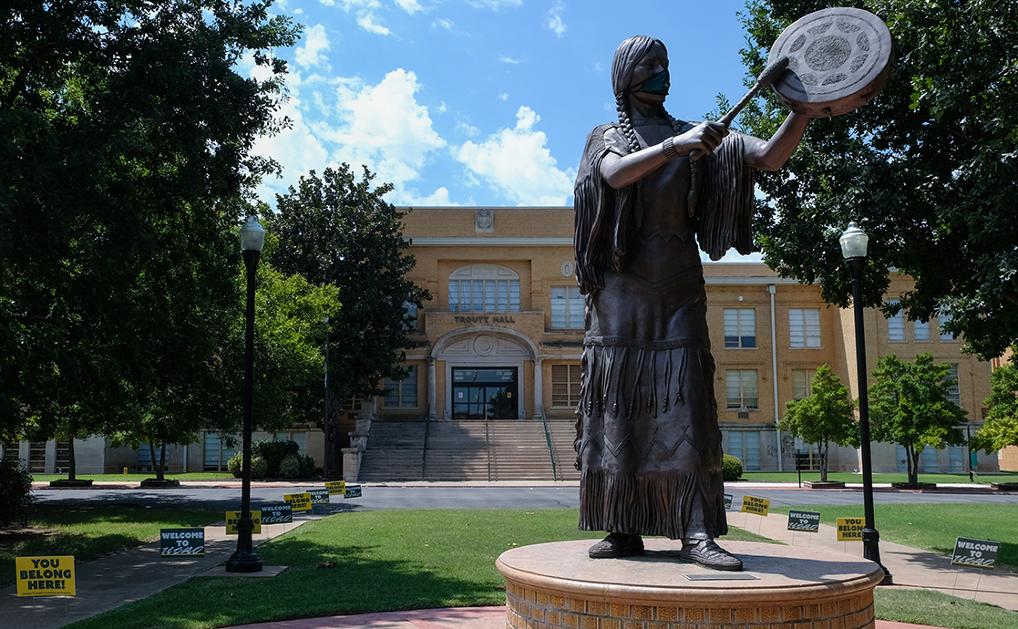 This University of Science and Arts of Oklahoma campus is bustling as students and instructors eagerly resume in-person classes this fall. While every reasonable precaution has been taken to ensure the health and safety of students when they are indoors, some classes have taken advantage of a new "outdoor classroom" to both enhance the social distancing between individuals and to give students a new perspective on what a learning environment should look like. Other professors have also developed a variety of innovative ways to keep their students safe while still providing the kind of personalized experience and exceptional teaching for which USAO is so renowned.
With 92 declared majors and 320 students enrolled in studio art classes, the university's art department has had their hands full adapting to the current CDC guidelines while continuing to provide one of the best liberal arts education's available anywhere. Thankfully, thinking outside the box is their strong suit.
"We are getting very creative about how to manage our courses," said Jackie Knapp, professor of art and department coordinator. "All art faculty are utilizing both Zoom and Canvas, individualized in-person and in-studio meetings, and outside class meetings in order to accommodate all students for all classes. It is exhausting! However, our students deserve the best of us and that is exactly what we are providing in the most unorthodox ways."
With the fall colors of USAO's historic campus providing a luscious backdrop, art courses have taken full advantage of the new outdoor space, allowing students to stretch their creativity while also lessening the stress of trying to work in a confined space while an airborne virus threatens.
"The outdoor tent provides, we think, a safer gathering place for students. Some of our studios are too small and large enrollments make it impossible to have everyone meet together in a normal studio environment," said Knapp.
Kaleb Benda, director of USAO's Concert Band, has also found navigating class size restrictions and social distancing guidelines challenging, considering that more than two dozen students comprise the band. Currently, he has split the group into four ensembles of six to eight people that each rehearse for 30 minutes on Monday evenings in the school's Music Annex.
"We had to limit rehearsal times because, as you can imagine, wind instruments stir up a lot of air, as well as producing moisture that has to be emptied or is expelled from the instrument," said Benda.
Each smaller unit is working independently on specific pieces, allowing them to perform compositions that usually fall beyond the scope of the full band but are still standards in the wind band repertoire. Though the band cannot hold a in-person concert this semester, each ensemble will still hold a final performance that will be filmed and edited into a single video for social media.
Aside from the physical changes to the classroom space, the COVID-19 guidelines have also meant that USAO faculty have had to adapt in terms of teaching style. Knapp sees the outdoor classroom with a mix of nostalgia as well as a clear sense of how important technology has become to a college education in the 21st century.
"For me, it is more of a throwback for me to when I taught without technology. However, the pandemic does create new problems. For my figure drawing course, the class is split into three groups, so I have three different applications," she said.
USAO's interdisciplinary mission has always championed unorthodox, outside-the-box thinking, but the uniques challenges that 2020 has presented has truly tested everyone.
"With 27 students in my Design I class, I am unable to get them together in the studio space," said Knapp. "So some days I lecture or demonstrate techniques on Zoom. Other days I split the students into two groups that meet separately, so I am giving the same lecture twice, yet still recorded it for those that cannot attend in person. So between the Design class and Figure-drawing, which is normally two applications, it all feels like five applications."
The Concert Band has also had to surmount some very specific challenges associated with trying to play wind and brass instruments with a face covering on.
"The players have to wear special masks with slits that they can insert their mouthpieces into," said Benda. "We made our own bell covers, which are basically masks that go over the end of your instrument to catch any moisture coming out. Some of the masks have flaps to fold over the slit when not playing, and other students have a second, regular mask. All of our brass players get a puppy pad—yes, the bathroom training pads!—that they have to empty their spit on so none gets on the floor."
Since moving outdoors, Knapp has also seen some significant changes in the overall classroom dynamics. While she had occasionally brought students outside to help them recharge when the weather was nice, the consistent shade and central location of the new outdoor learning space has seemed to improve the mood across the board.
"Anytime a teacher can change up the organization of a class, it reenergizes everyone. With the masks, we are finding students are more willing to talk outside but do not want to talk inside. I believe meeting outside makes everyone more comfortable right now," said Knapp.
Benda also feels that, despite the serious disruption that this year has caused, things are going about as well as they can.
"I have spoken with nearly all of the university band directors in the state, and there are a couple of different approaches happening, but I think our is working best for us. Due to the nature of wind instruments, we have had some very unique problems to overcome, but I think they have been met with creative solutions," he said.
Shifting to a more quantitative discipline, Dr. Jennifer Long, professor economics, is also taking her teaching outdoors this fall in her upper-division seminar Heterodox Macroeconomic Theory. Driven by extensive readings and class discussions, students engage with complex, at times disparate, ideas about global economic concerns through the lens of the historical, institutional and sociocultural mindsets which produced them.
With her seminar focused on getting students to ask each other questions, make novel connections between ideas and let the conversations veer into unexpected but rewarding territory, Long feels perfectly comfortable in both the traditional classroom setting as well as picturesque corners of the USAO campus. Some of Long's students have been eager to hold class in the garden area northwest of Sparks Hall, which she has learned "they all call the 'witches circle.'"
"Our books and ideas are all portable so it doesn't matter if we meet indoors or out," said Long. "I have one student who is unable to meet in-person this term so we're Zooming the session and he joins us digitally. I'll grab my laptop and bring him outside too!"
Though USAO is well-known for its intimate campus experience and every Drover is eager to get back to a more normal way of functioning, everyone also understands that the current restrictions serve the greater good. Faculty have leveraged technology and found that, despite the distance, they are still ample ways to connect with their students to help them carry on with their studies through this difficult time, to keep looking forward to what their education will enable them to accomplish in the future, and to take lessons from this year about just how crucial adaptability and innovation are in our world today.