USAO prepares for fun-filled 2019 Spring Triad
---
March 26, 2019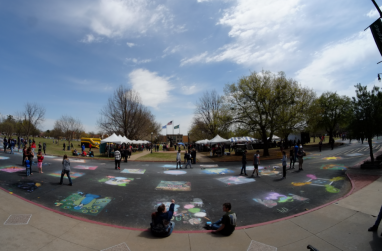 On the first Thursday of April each year, the University of Science and Arts of Oklahoma holds its largest annual event: the Spring Triad.
Comprising of the Montmartre Chalk Art Festival, USAO Scholastic Meet and Droverstock Music Festival, the 2019 Spring Triad will be held April 4. The public is welcome to explore the campus and enjoy the artwork, music, food, vendors and other recreational activities over the course of the day.
"Our 2019 Spring Triad looks even more exciting than ever, which is really saying something for an event that people from all over Oklahoma look forward to every year," said President John Feaver. "Our campus welcomes you to share in this celebration of what USAO does best, championing the liberal arts. Beyond the entertainment the Triad brings to our current students and community, it also allows other young people who are thinking about where to go for college to see what makes USAO an unparalleled institution in our state's higher education system."
Within the confines of a 6-foot by 6-foot square, the Montmartre Festival invites artists of all ages and skill levels to flex their creative muscles in water-based temporary chalk. USAO art alumni will judge each entry and winners will be announced at a ceremony in the early afternoon. Awards are given for Best in Show as well as Judges Choice in four age categories: elementary (grades 6 and below), junior high (grades 7-9), high school (grades 10-12) and college/adult.
During the Scholastic Meet, students from regional high schools compete in more than two dozen subjects, taking tests written and proctored by USAO faculty. Awards are given to the five highest scores in each individual subject as well as to the four high schools with the highest number of students winning medals.
Droverstock has become a destination for bands from around the country and from many different genres to provide the soundtrack for the day's events. The 2019 lineup includes Tribesmen, Candy Fly, Off Brand, Don't Tell Dena, Irrational Consumers, Me Oh My, Brought by Fate, Astral Planes, Dollar 98 and Changing FrEQuencies.
Food vendors will include Contraband Lab, Jungle Ice, Popworth's Kettlecorn, The Burlap Napkin, The Saucee Sicilian and The Urb Express. Also, Baked Bear will be there selling gourmet ice cream sandwiches to support the USAO Alumni Association. Sponsors of the Droverstock festivities are Koda Services, Inc. and TalkJive Radio, who will present the USAO Beer Garden.
For complete rules and entry forms, visit usao.edu/events/spring-triad-montmartre-2019 or contact co-directors of Montmarte Jacquelyn Knapp at 405-574-1302 or jknapp@usao.edu, or Jordan Vinyard at 405-574-1301 or jvineyard@usao.edu.