New Alumni Scholarship Endowed to Honor the Class of 1960
---
October 15, 2020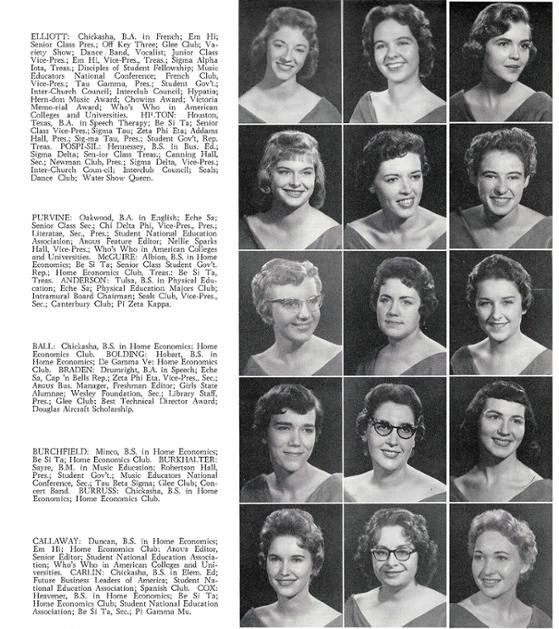 This year marks the 60th anniversary of the commencement of the Oklahoma College for Women class of 1960, and while everyone is deeply disappointed that we won't be able to gather in person to celebrate during Homecoming & Reunion Weekend, one OCW alum refused to let the occasion go by without honoring her classmates.
Class of '58 alumna Kathy Black has endowed the "2020/60/60 Scholarship" in honor of her OCW classmates.
"We made lifelong friendships on this campus," said Black. "OCW holds such a special place in all of our hearts and we are so sad that Reunion won't happen this year. I want to invite all of my fellow alumni to contribute to this scholarship."
The Alumni Named Scholarship Program honors alumni, faculty, staff and friends of the college with a lasting legacy. More than 100 scholarships provide support for USAO students from many different majors and backgrounds.
"The USAO Alumni Association oversees more than 100 scholarships established by the generosity of alumni and friends and our alumni consider this program the heartbeat of the USAO Alumni Association," said Misti McClellan, director of alumni and community relations. "The legacies of our alumni and friends live on in these scholarships, and our students are so grateful every year. It gives us an opportunity to teach students about stewardship, and to share the stories of those amazing alumni who paved the way and are now giving back. It's an incredible honor to steward these connections between alumni and students."
Eligible USAO students will receive scholarship awards ranging from $400 to $1,500 per academic year.
Black issued a challenge to not just her OCW classmates, but to all alumni of the university: "I invite all of you to contribute to this scholarship and celebrate these alumni who were here 60 years ago, and are still here today!"
For more information, contact McClellan at mmcclellan@usao.edu