USAO inducts six into national honor society for theatre this year
---
May 14, 2021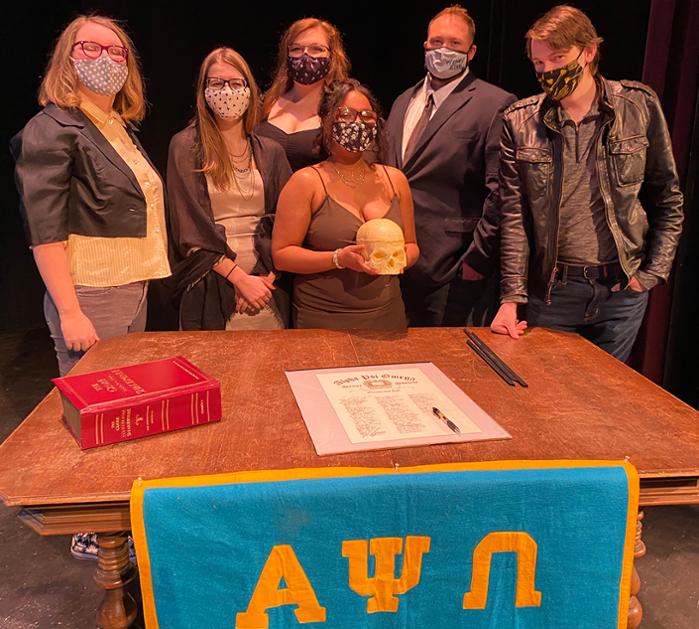 The University of Science and Arts of Oklahoma recently recognized six students' artistic and academic excellence with induction into Alpha Psi Omega, the national honor society for theatre. They joined current members of the Sigma Xi Cast, USAO' chapter of the society, for an initiation ceremony and theatre awards ceremony held both on campus and virtually.
The theatre arts majors honored in 2021 are: Austin Artus, senior, Oklahoma City; Samantha Barker, junior, Norman; Samantha Fraize, senior, Kingston; James Mounger, senior, Purcell; Savanah Springfield, senior, Durant; and Amelia Williams, junior, Norman.
"I am pleased to recognize the achievements of each of these students. They demonstrate the grit and creativity of the interdisciplinary theatre arts degree at USAO," said Katie Davis, professor of theatre arts and chapter sponsor. "Each of these students completed coursework and productions during the COVID-19 pandemic, learned new skills and presented live performance in new forms. They are ready for anything."
Faculty at Fairmont State College in West Virginia founded Alpha Psi Omega in 1925 as the first national honorary organization in theatre for university students. Criteria for selection includes meeting national standards for grade point average; earning points for acting, playwriting, stage design and technical operations; and leadership in campus theatre clubs. Unique for an honor society, the initiation requires that pledges perform memorized monologues from Shakespeare for an audience of current members, who attended in-person and online.
Those inducted into Alpha Psi Omega become lifetime members who benefit from scholarships, mentorship and the connected community of more than 600 casts (chapters) across the nation.
For mor information about Alpha Psi Omega, including the national roster of chapters, visit www.alphapsiomega.org. For more information about the service activities of the USAO local cast, contact Davis at (405) 574-1310 or kdavis@usao.edu.