Science & Art's fall 2021 graduate banquet honors 56 graduates
---
December 15, 2021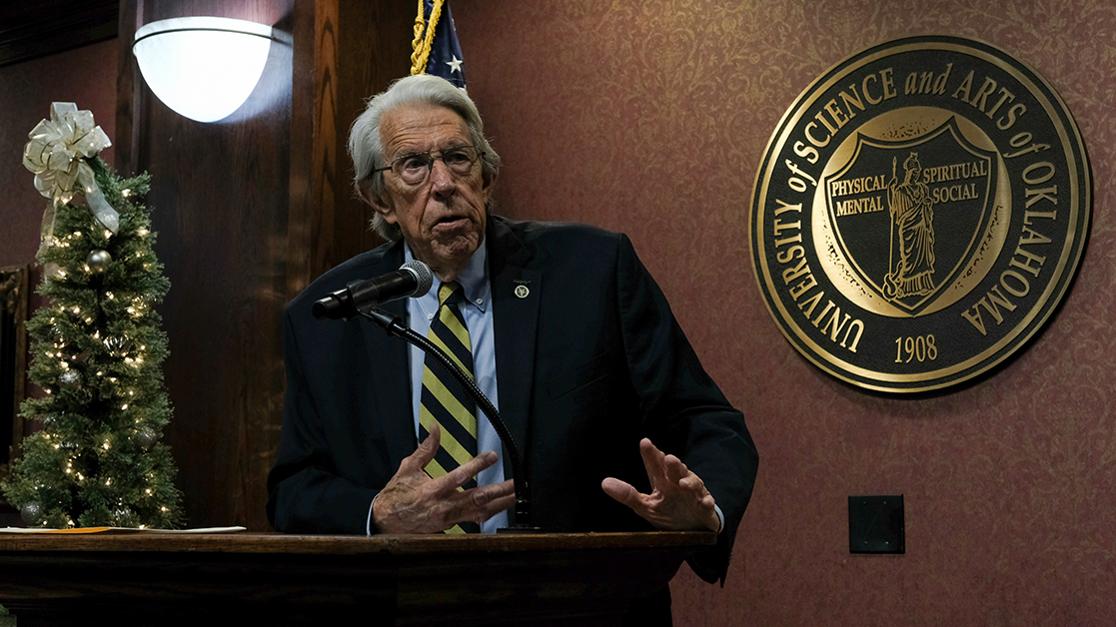 Although the University of Science & Arts of Oklahoma has shifted to a single commencement ceremony held each spring, the institution still celebrated those who completed their degrees in the fall 2021 term during a recent graduate banquet.
"These students have shown that, despite a global health crisis, they find a superlative value in the special way that this university operates, and in the interdisciplinary methodology designed to launch them into their chosen career path with the utmost proficiency," said President John Feaver. "Every student has worked exceptionally hard to achieve their baccalaureate degree, and standing here, shaking their hand as they become alumni of this esteemed institution has always been one of my greatest joys as president."
For the fall 2021 term, USAO awarded 40 Bachelor of Science degrees, 12 Bachelor of Arts degrees and four Bachelor of Fine Arts degrees.
Nationally ranked for quality and value, for over a century USAO has remained committed to providing a broad and accessible undergraduate education as the state's only public liberal arts college.
Bachelor of Arts
Austin Alan Artus
Lyca Agbayani Balbuena
Logan Collier Bates
Calista Noelle Boyd
Lezlee Danielle Bull
Gabriella Dorian Ray L Burk
Keeunda Olivia Cole
Thais Duarte da Silva
Megan Lynn Hay
Erin Grace Lynch
Mandy Jo Ozment
Christina Marie Tourtelotte
Bachelor of Science
Kyle G Ataddlety Jr.
Dominique Denise Brown
Jodi Michelle Butler
Alyson Brooke Clemence
Jasmine Janae Clewis
Hannah Louise Dawson
Michael Austin Donaldson
Bryce Keith Ferguson
Corry James Hearon
Marlon Brandon Herrera
Brianna Rayne Hollis
Kyra Michelle Hornbuckle
Ye Huang
Brittany Shea Johnson
Luz Elena Juarez
Stacy Leroy Knight Jr
Affoue Ellyane Coralie Kouassi
Rickey Paul Lambert
Janet Lynn Landers
Jacqueline Lopez
Mikaela Shawntell Malloy
Madison Rochelle McDonald
Rebekah Elizabeth Mildren
Adam Omar Moraga
Abdel Nait-Zerrad
George Origi Oduor
Destiney Renee Osborn
Cindy Itzel Perez
Kristen Nicole Prieto
Laura Leisel Randall
Arizona Mae Ridgway
Julia Nicole Roberts
Gary Sink
Harry Tamakloe
Jordan Lachelle Taylor
Emma Riley Tripp
Rhylee Ann Vandiver
Monica Villaneda
Mayela Renee Villasenor
Makena Mae Wood
Bachelor of Fine Arts
Sam Marque Browne
Destiny Rayne Dennison
McKenzie Lin Smith
Tiffany Lee Walker