Science & Arts Alumni Association honors Hall of Fame inductees, Young Alumni Award winner
---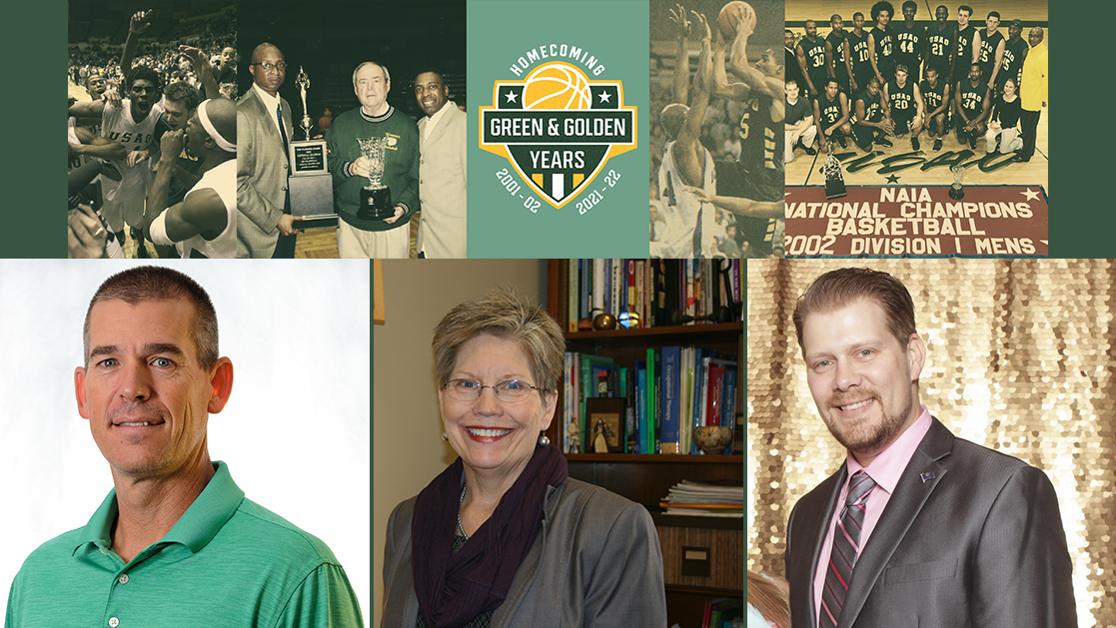 During the recent 2021 Homecoming Weekend festivities, the University of Science & Arts of Oklahoma Alumni Association honored this year's inductees into the Alumni Hall of Fame as well as the recipient of the Young Alumni Award.
Mike Ross, Science & Arts current athletic director, was inducted into the Hall of Fame during the annual awards brunch Nov. 6, alongside Dr. Toby Hamilton. Jarred Turner received the Young Alumni Award.
"These three honorees have all embarked on very different career paths, and have all distinguished themselves considerably in their chosen field, but a common thread uniting all of their stories is the foundation laid at Science & Arts," said Dawn Reitan-Brockman, director for alumni and community engagement. "The interdisciplinary framework of the curriculum here, combined with the exceptionally close relationships between students and faculty have truly enabled Mike, Toby and Jarred to capitalize on their distinct talents and actualize their innate potential in incredible ways.
A native of Union City and a 2002 alumnus of the institution, Ross played baseball for Redlands Community College and Graceland College in Iowa, where he set the school record for saves in both 1998 and again in 1999 while earning all-conference honors, before completing his bachelor's at Science & Arts. He would spend 18 years working with the Drover baseball team, the first five years as assistant coach followed by 13 seasons as head coach. In July 2021, he took over the position of athletic director.
As head coach, Ross put together a 460-197 (.700) win-loss record that would make him the winningest coach in the program's illustrious history. He led the Drovers to four Sooner Athletic Conference regular-season championships, six SAC tournament championships and six NAIA National Championships, including to the semi-final in 2019. He was named SAC Coach of the Year five times.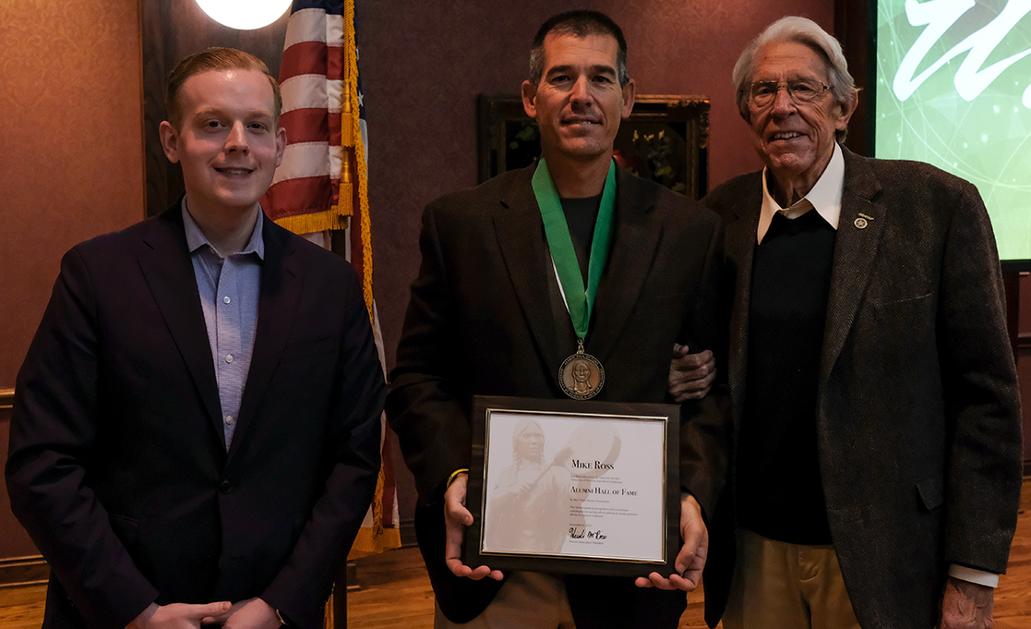 Hamilton graduated from the Oklahoma College of Liberal Arts in 1973 with degree in speech and hearing therapy and Deaf education. She became a teacher of Deaf and blind children for Bethany Public Schools before pursuing another bachelor's in occupational therapy at the University of Oklahoma Health Sciences Center, followed by a master's in public health. She completed her Ph.D. in occupational therapy at Texas Women's University.
In the 31 years she spent teaching at the Health Sciences Center in both Oklahoma City and Tulsa, Hamilton held numerous roles including fieldwork coordinator, program director and curriculum director. Though she retired in 2016 and spent four years indulging in her love of art and gardening, her passion for education saw her return to the classroom in 2021, teaching doctoral students in the occupational therapy program at the University of Arkansas in Fayetteville.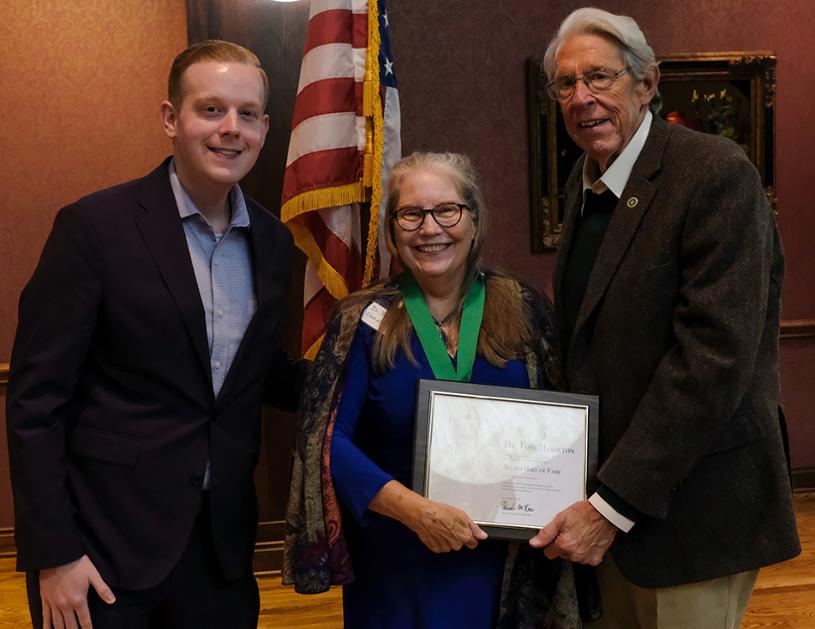 A lifelong Oklahoman, Turner grew up in Rush Springs and earned his bachelor's in communications from Science & Arts in 2005. He later completed a master's in business administration from the University of Phoenix in 2009. He currently teaches history Central Junior High in Moore, where he lives with his wife Jaci—a teacher at Southmoore High School—and their two children Jackson and Jaylyn.
In 2017, Turner became an Honorary Tennessean for his contributions to the state, and the next year Science & Arts featured him in the "100 Alumni You Should Know" series for creating the Tomorrow's Oklahoma Leaders Lecture Series (TOLLS), which connects Turner's students with current and former politicians both in person and through letters. Turner's first book, a history of Oklahoma's governors, has been approved for publishing through the Oklahoma Hall of Fame and fundraising is underway.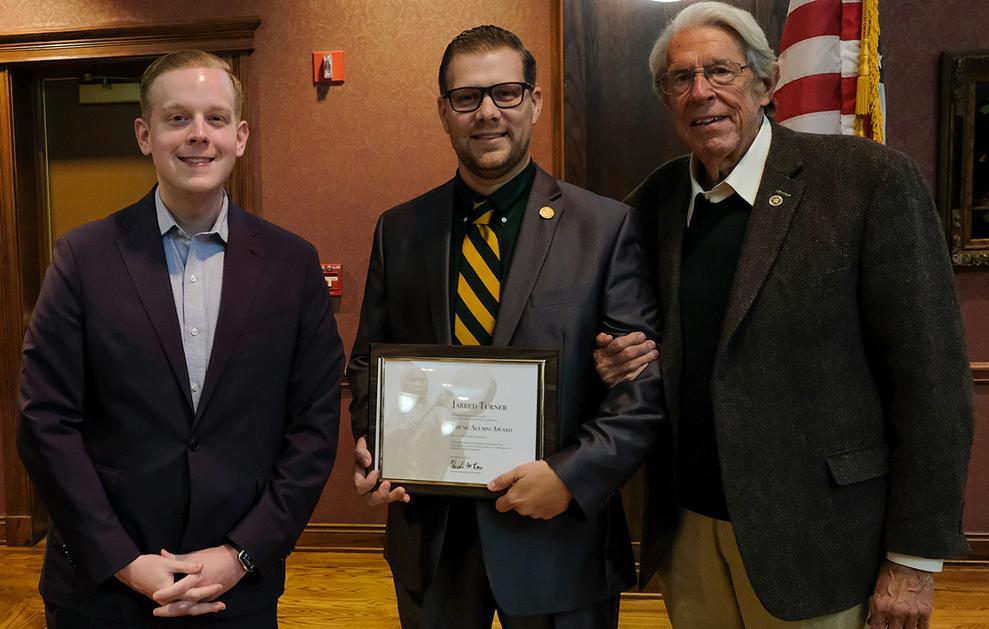 Founded in 1972 with the induction of famed Chickasaw storyteller and Oklahoma College for Women alumna Te Ata Fisher, membership in the Hall of Fame recognizes professional achievement, service to society, honor and distinction brought to the university. It is the highest honor the Alumni Association can bestow on graduates, faculty, administration and staff of the institution. The Young Alumni Award uses the same criteria to recognize students who have attended the university within the past 15 years.
Born on the afternoon of May 18, 1917, the Alumni Association is a member-driven non-profit organization uniting alumni of the Oklahoma College for Women, Oklahoma College of Liberal Arts and University of Science & Arts of Oklahoma. Anyone who has attended at least one semester at the university is automatically a member of the association, which confers multiple benefits and regular communication on alumni reunions, class projects, programs benefitting current students and more.
For more information, contact Reitan-Brockman at 405-574-1320 or dreitanbrockman@usao.edu.