Science & Arts' 2022 commencement ceremony honors graduates
---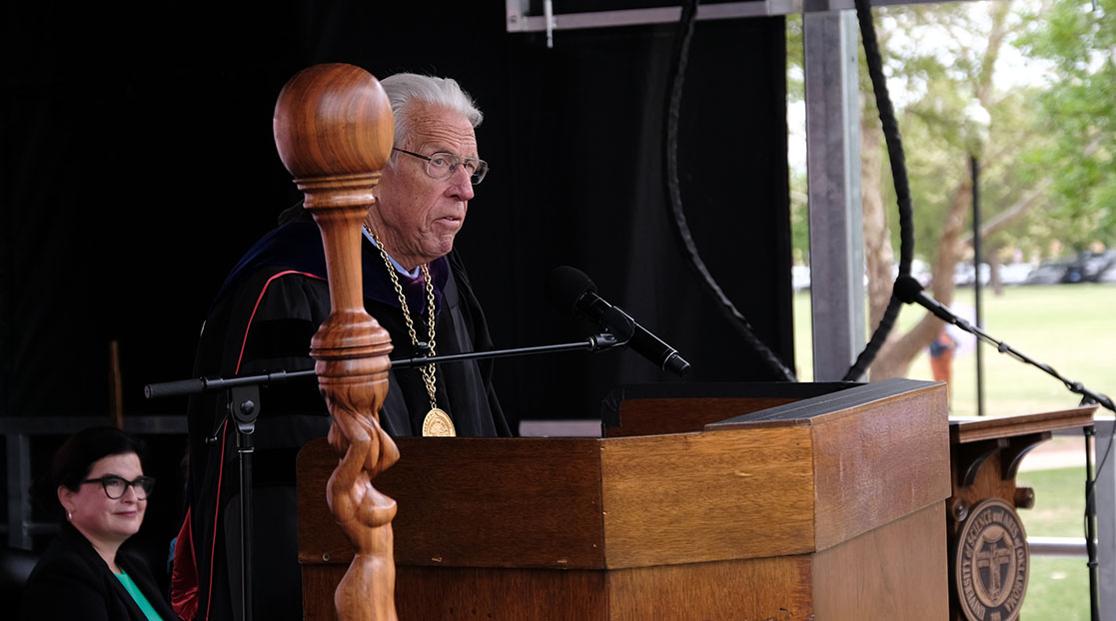 The University of Science & Arts of Oklahoma honored more than 170 graduates from the fall, spring and summer terms during the 2022 commencement ceremony held April 23.
"Our commencement has always been one of the highlights of my year because I can clearly see the mission of this special institution in full display in the face of these brilliant graduates and their proud families," said President John Feaver. "Every student who walks across that stage has surmounted incredible challenges to earn where they stand today—congratulating them as they receive their bachelor's degree has always been one of my greatest joys as the president of this institution."
For the 2021-22 academic year, Science & Arts awarded 108 Bachelor of Science degrees, 62 Bachelor of Arts degrees and seven Bachelor of Fine Arts degrees during commencement. Three students received both a Bachelor of Science and Bachelor of Arts degree.
Nationally ranked for quality and value, for over a century Science & Arts has remained committed to providing a broad and accessible undergraduate education as the state's only public liberal arts college.
Bachelor of Arts
Jamilyn Rae Alexander
Austin Alan Artus
Lyca Agbayani Balbuena
Mickayla Louise Ball
Logan Collier Bates
Alexis Taylor Bernabe
Brittany Lynn Berry
Lena Monica Blanton
Zoë Erin Blue
Katelynn Nadine Nicole Bowden
Calista Noelle Boyd
Gabriella Dorian Ray L. Burk
Alec Thomas Byrd
Shah'Ty Tylee Kahdafee Carolina
Milagros del Carmen Carrera
Lauren Frances Cookson
Jenny Katherine Corbin
Sean McDonnell Craig
Clarisa D'nise Crump
Sydney Laine Dacus
James Edward Davis
JoAnne Moore Draheim
Tre'veon Ellis
Francisco Hernandez Esteban
Janey Valeria Figueroa
Noah Rylee Figueroa
Fernando Javier Gonzalez-Castillo
Elizabeth Kaylee Harrison
Megan Lynn Hay
Brock Keaton Henderson
Wendell William Hixson
Madison Lee Homer
Balazs Illovai
Rebecca Anne Johnson
Adrienne Dawn Koscho
Joel Scott Lane
Erin Grace Lynch
Hannah Nicole Mackie
Emery James Martin
Ryleigh Joy McDonald
Eden Grace McIntosh
Evan Drake Minshall
Colten Grey Neighbors
Rylan Nelson
Justin Alexander Norman
Mandy Jo Ozment
Aliyah Jasmine Payne
Arlo Joseph Pratt
Daniel Kiernan Roach
Elvin Daniel Rodriguez
Trenton Keshawn Sandifer
Alyene Grace Santiago
Maria Victoria Serrano-Pobo
Claire Elise Smith
Harrison Indiana Stone
Alexander Dean Strain
Christina Marie Tourtelotte
Christopher Tyler Ward
Ameliadenae' Simone Williams
Sidney Dawn Wilson
Summer-Skye Wilson
Andria Michelle Wood
Audrey Clementine Zyks
Bachelor of Science
Kator Celdric Ago
Jaimee Nicole' Arrestouilh
Savannah Jean Ashford
Kyle G. Ataddlety Jr.
Shaquille Jaheem Barzey
Colton Grant Bensch
Zane Dylan Blakeway
Cassidy Lorene Bowles
Maria del Rosario Boyd
Aljani Naim Bridgewater
Dominique Denise Brown
Jodi Michelle Butler
Jeremy Ray Cannon
Matthew Bryon Carlson
Emily Rose Cerny
Darci Kaytlin Chester
Ethan Hunt Christian
Alyson Brooke Clemence
Jasmine Janae Clewis
Mia Mary Cole
Lauren Frances Cookson
Hannah Louise Dawson
Boubacar Sidiki Diakite
Anna Lua Doering Speranza
Michael Austin Donaldson
Cheyanne Hope Dube
Taylor Elliott
Sandra Yvette Estrada
Gage Ryan Gibson
Fernando Javier Gonzalez-Castillo
Stephanie Jo Hale
Stephon Joseph Menewa Hall
Hunter Micheal Hamby
Corry James Hearon
Marlon Brandon Herrera
Cameron Scott Hines
Kaicee Nicole Hobbs
Brianna Rayne Hollis
Mackenzie Grace Holub
Kylie Janell Hopkins
Kyra Michelle Hornbuckle
Falon Reese Howell
Ye Huang
Taylor Marie Hurt
Victoria Faith James
Ashley Marie Johnson
Brittany Shea Johnson
Kaytlen Annette Johnson
Luz Elena Juarez
Albani Nichole Kimbrough
Stacy Leroy Knight Jr.
Affoue Ellyane Coralie Kouassi
Cristian Manual Laboy Velazquez
Rickey Paul Lambert
Janet Lynn Landers
Mackenzie Lynn Lewis
Audrey Ana Liddiard
Jacqueline Lopez
Mikaela Shawntell Malloy
Madison Rochelle McDonald
Meckency Guadalupe Medina
Suni Naki Meely
Arlette Samantha Meléndez Gonzalez
Rebekah Elizabeth Mildren
Alexandria Victoria Miller
Adam Omar Moraga
Amanda Lea Moreno
Crystal Michelle Munsey
Abdel Nait-Zerrad
Amanda Dawn Oliver
Destiney Renee Osborn
Olivia Lezae Owens
Luis Miguel Pelayo-Garcia
Jose Tyler Pena
Cindy Itzel Perez
Hannah Michelle Price
Kristen Nicole Prieto
Ashlynne Taylor Prigmore
Laura Leisel Randall
Evette Marketta Raper
Arizone Mae Ridgway
Julia Nicole Roberts
Alexis Nicole Roof
Aubrey Haidyn Ruttman
Lexie Jene Sapp
Jessica Danielle Shumer
Brandon Avery Shumway
Sharon Jebet Singoei
Gary Sink
Bailey Donalee Smith
Allison Rose Swadley
Harry Tamakloe
Jordan Lachelle Taylor
Eriyon Shanaye Tecson
Clay Ryan Teel
Emma Riley Tripp
Joseph Daniel Ummel
Rhylee Ann Vandiver
Monica Villaneda
Mayela Renee Villasenor
Jordan Michelle Weese
Sophie Kate Werner
Samiya Anteece West
Rachael Louise Williams
Aaron Blaine Williams
Jake Tyler Womack
Makena Mae Wood
Bachelor of Fine Arts
Zoe Lake Bennett
Sam Marque Browne
Destiny Rayne Dennison
Coltyn Reanne Harrill
McKenzie Lin Smith
Tiffany Lee Walker
Cadyln Brooke Wollenberg
Faculty-Mentored Research Program
The following students produced original research projects suitable for conference presentation and/or professional publication under the mentorship of Science & Arts faculty:
Zoë Blue
Calista Boyd
Hunter Hamby
Audrey Liddiard
Daniel Roach
Joseph Ummel
Science & Arts Faculty Association's Outstanding Graduate Awards
Joel Lane and Sidney Wilson for the Division of Arts and Humanities.
Madison Homer, Mandy Ozment and Daniel Roach for the Division of Social Sciences and Business.
Mikaela Malloy and Lexie Sapp for the Division of Education and Speech-Language Pathology.
Hunter Hamby, Emma Tripp and Joseph Ummel for the Division of Science and Physical Education.
Science & Arts Alumni Association's Distinguished Graduate Award
Heidi Rice, president of the Science & Arts Alumni Association, presented the Association's Distinguished Graduate Award to Madison Homer, who graduated Summa Cum Laude with a bachelor's degree in economics and sociology.