USAO Presents Fourth Annual Drover Awards to Highlight Student Achievement
---
November 15, 2022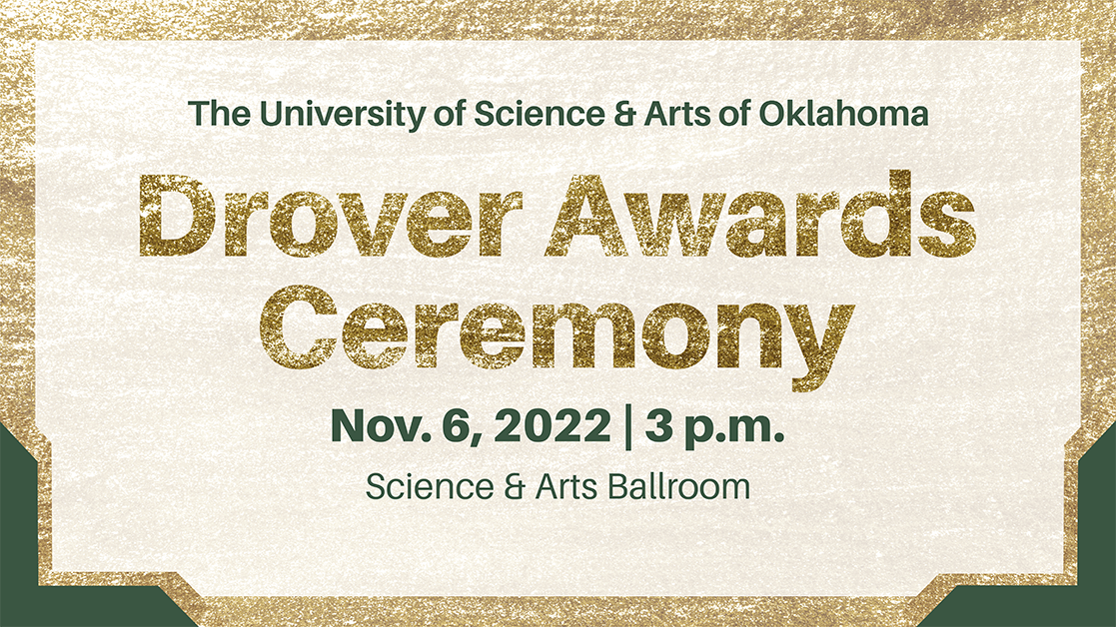 The University of Science & Arts of Oklahoma handed out its fourth annual Drover Awards, which celebrate students who have done outstanding work on campus, in the community, or shown exceptional skills in creative problem-solving and critical thinking.
"It is of critical importance that we make every effort to recognize the tremendous work that our students do every day," said President John Feaver. "The young people who have earned these awards have given an incalculable amount of energy in the service of this institution's educational and civic ideals, far beyond that which is normally expected of college students. They serve as a shining example to their peers and to anyone else seeking to understand that value of what we do at USAO."
---
Graduating Honors
Destinee Asbill, Cum Laude
Madison Austin, Cum Laude
Daniel Buster, Cum Laude
Aubrey Ruttman, Cum Laude
Reggie Thompson, Cum Laude
Abigail Davis, Magna Cum Laude
MacKenzie Freeman, Magna Cum Laude
Lacey Dutton, Summa Cum Laude
Jonathan Fenhaus, Summa Cum Laude
Bethany Goulet, Summa Cum Laude
Madelyn Primeaux, Summa Cum Laude
Cassidy Sturgeon, Summa Cum Laude
---
Graduating President's Leadership Council
Madison Austin
Abigail Davis
MacKenzie Freeman
Cassidy Sturgeon
---
The Green and Gold Award recognizes those who show their USAO pride by excelling in academic pursuits, encouraging school spirit, and volunteering both on- and off-campus at games and other special events.
Green and Gold Award
Madison Austin
Harry Cracknell
Kalep Glandon
Keane Harrison
Michael Hixson
Chandler Leamon-Webb
Emily Loughridge
Kaylee Ragon
Kati Robbins
Kalique St. Jean
---
The Good Neighbor Award recognizes students who develop relationships with their neighbors and strive to embody a commitment to giving back to society. They also live purposely by educating themselves and other students through exemplary leadership, organization and hospitality.
Good Neighbor Award
Harry Cracknell
Skyler Garneau
Shaylin Hall
Maria Lara
Jensen Link
Hope Marquardt
---
The Drover Difference Maker Award recognizes a student who has taken strides to make a difference in the lives of those they come into contact with on campus and who truly demonstrates why it's great to be part of the USAO family.
Drover Difference Maker Award
Chelsea Fuston
Alexandra Medcalf
Whitney Spitler
Caleb Townley
---
The Student Employee of the Year Award recognizes outstanding contributions by a student employee to a department or office at USAO.
Student Employee of the Year Award
Skyler Garneau
Lauren Nava
---
The Unsung Hero Award recognizes a student who works behind the scenes of a successful student organization, athletic team, group or residential community and who consistently goes above and beyond the call of duty on a regular basis without expectation of recognition.
Unsung Heroes Award
Lacey Dutton
MacKenzie Freeman
Kalep Glandon
Madalyne Rain Gutzmer
Michael Hixson
Halli Humphrey
Gary Jackson
Devon Locke
Bret O'zee
Bea Tezen
---
The Rising Star Award recognizes a first- or second-year student who has yet to hold an executive position in a student organization but has demonstrated great promise in the area of leadership by taking initiative and making a positive impact on that organization.
Rising Star Award
Christian Bagy
James Brown
Josie Castle
Jessee Clark
Avery Crawford
Yaiza Larrauri
Samuel Little
Natasha Fryhover
Dylan Guillen
Daylen Huff
Mary-Grace McNutt
Ryan Moses
Jeremiah Paredes-Clark
Bella Wilson
---
The Drover Award is a prestigious honor for senior student leaders who have demonstrated outstanding leadership, a strong commitment to USAO' mission and dedication to fostering a positive and inclusive environment over the course of their career at the university.
Drover Award
Daniel Buster
Abigail Davis
Chelsea Fuston
Halli Humphrey
Hope Marquardt
Parker Stoddard
Cassidy Sturgeon
---
John H. Feaver Award
Daniel Buster