State Regents recognize Science & Arts, City of Chickasha partnership
---
May 04, 2023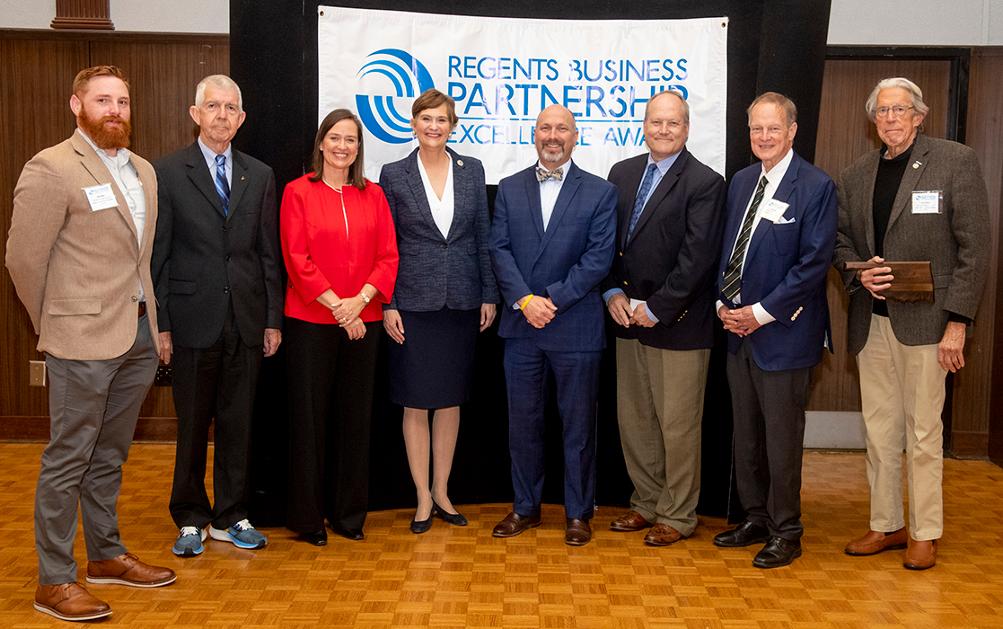 The Oklahoma State Regents for Higher Education recognized a collaboration between the City of Chicksha and the University of Science & Arts of Oklahoma at their annual Regents Business Partnership Excellence Awards ceremony.
Science & Arts and Chickasha city officials have collaborated on numerous internships for students, joint tourism initiatives and other ventures to bolster support for both the college and community. Mayor Chris Mosley, also the chair of the Science & Arts Board of Regents, worked with the Chickasha Economic Development Council Director Jim Cowan to foster a working relationship with the school to promote the hiring of Science & Arts students.
The university, in turn, has begun offering microcredential programs so community members can advance workforce skills in a fast, cost-effective way. The university, city government and EDC have also created a number of community partnerships aimed at revitalizing Chickasha's historical downtown commercial district, with many projects still underway.
"The Chickasha community has been this institution's home since its inception, so it is only right that some of our most steadfast partners have been the leaders of this wonderful town itself," said President John Feaver. "Our work together has proven how the relationship between this university and our local government plays an absolutely vital role in expanding the economic opportunities and the overall quality of life in this community. It has been deeply inspiring to watch the reflowering of Chickasha's beautiful downtown in the past few years, and I know with what we have planned already, both this college and this city will only continue to grow and thrive in ways we have not seen in many years."
Located less than an hour southwest of Oklahoma City and just south of the Washita River, the city of Chickasha is home to over 16,000 people and has also served as Science & Arts' home since the university's founding in 1908. The community is governed by a mayor and eight-member city council.
The Regents Business Partnership Excellence Award is designed to highlight successful partnerships and to further the higher learning environment through State Regents' Economic Development Grants. Institutions involved in these partnerships receive a matching grant that can be applied to paid internships for students, faculty externships with the partnering business, the tuition of an employee of the business or equipment and supply purchases that further the partnership.