22 students inducted into USAO's elite Hypatia honor society
---
April 29, 2019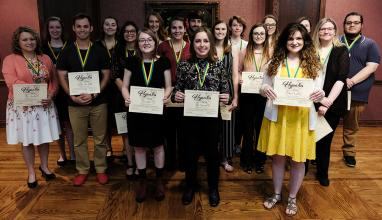 The University of Science and Arts of Oklahoma recently honored 22 students for their academic achievements and service as they were inducted into Hypatia, USAO's only campuswide honor society.
The 2019 Hypatia initiates are:
Jaime Allred
William Baird
Robert Blueback
Tina Bradley
Kori Caparelli
Lauren Carroll
Brianna Cuadill
Caitlyn Caudill
Kylea Caughman
Pau Celma
Hannah Freeman
Genevieve Gordon
Erin Hall
Jax Hoebing
Brandi Hutchison
Denise Kimball
Emily McAfee
Haddon McIntosh
Kyra Merchen
Halley Ponder
Tristan Regan
Molly Swift
Founded in 1923, when the university was still the Oklahoma College for Women, the Hypatia honor society recognizes students who have shown exceptional academic achievements, character, integrity, and service to the university and community. Hypatia, a famous Greek mathematician and one of the most renowned female scholars of antiquity, gives the honor society its name.
"To acknowledge the outstanding dedication of these students to our university's unique mission, we are inducting them into USAO's most elite honor society," said President John Feaver. "For nearly a century, Hypatia has celebrated the very best and brightest out of the many stellar students who study at USAO. These inductees now join an exclusive group who carries on a proud tradition of excellence."
Faculty, staff and family members gathered to see this year's students inducted during an awards luncheon. Current officers of Hypatia noted each inductee's achievements and invited them to sign the membership book, which contains the signatures of every member of the elite honor society since its inception. Each student also received a medal signifying their membership in Hypatia.
A special faculty committee selects students for Hypatia. It is not possible for any student to apply for membership in the honor society and the criteria for entry is not made public. Every inductee has appeared on the USAO Honor Roll and/or the Regents' Honor Roll for multiple semesters.