$500K gift launches wellness center home
---
April 11, 2012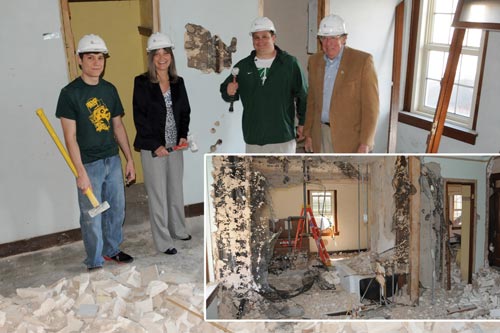 A trend that started as a campuswide emphasis on health and fitness in recent years will now – thanks to a generous $520,000 bequest from alumna Pat Nobbs – find a permanent home in the new Nobbs Wellness Center, opening this fall.
Occupying 2,200 square feet of the "old hotel" section of the USAO Student Center, the new fitness area will provide students with lots of options in improving their health – all located at the heart of the campus and with extended hours.
According to Health Services Director Chris Basco, careful planning went into the layout of the center to maximize health benefits for students.
"Not every student wants to be an athlete or to train like one," Basco said. "They just want to improve their general health. So we've focused about 70 percent of the space on cardiovascular exercise. It's a greater need for the general population of students. And this space is for absolutely all students, not just athletes or housing occupants."
The main space will feature treadmills, stationary bikes, stair-climbing machines as well as more specialized equipment.
The Nobbs Center also will offer an aerobics room equipped with spin bikes and a state-of-the-art weight-lifting room.
"This project is big," Basco said. "I am especially excited that all students can benefit. We welcome them to get involved, no matter what level of health and fitness they might want to achieve. We want to help them get there."
Crews have torn out interior walls and work is underway in the 1928 dormitory called Senior Hall, which was renamed Susan B. Anthony Hall in 1940, before it was swallowed by the Student Center built in 1948. The Nobbs Wellness Center will fill the second floor. The first floor was renovated for the USAO Bookstore in 2004. The third floor was renovated by a federal grant in 2003 and today houses USAO Student Services.
The center is named for the late Vestal Litton "Pat" Nobbs, an alumna of the Oklahoma College for Women, who made a successful career in health and fashion and built the international health and fitness company, Jeunique International Inc. in the City of Industry, Calif.
Ironically the wellness center that bears her name is located in dormitory space she couldn't afford as a student. Nobbs said she remembers sleeping on the sofa at her grandfather's farm near Chickasha "because I couldn't afford to live in the dormitory. It was 1936, the height of the Great Depression."
"I thought my OCW degree (home economics) would help me make a choice of what I would eventually do," Nobbs said in an interview with the alumni magazine 10 years ago. "I still feel that many of the things I was taught are important to every young person, particularly nutrition and how to dress for success."
Nobbs died on Sept. 5, 2011 in Hacienda Heights, Calif. She also left to USAO an acreage of land near her birthplace in Granite, Okla.
"Here's a great legacy," said USAO President John Feaver. "Pat Nobbs leaves the perfect tribute to a life spent encouraging healthy living. Students who never met her will for generations be touched by her thoughtful gift. And better yet, they will benefit personally from spending time in the fitness area that bears her name."
The Nobbs Wellness Center replaces a smaller campus facility in Lawson Court. For athletes, another fitness area with dead weights is located in the Physical Education Building.
Among other healthy initiatives at USAO this year: students and faculty are competing this spring in another Make Marble Pay weight loss competition, and the campus goes 100 percent tobacco free on July 1 under Gov. Mary Fallin's executive order last month.
Construction of the Nobbs Wellness Center is being managed by CMSWillowbrook of Chickasha and is scheduled to open when fall classes begin on Aug. 27.