USAO to launch golf beginning in fall 2019
---
June 24, 2019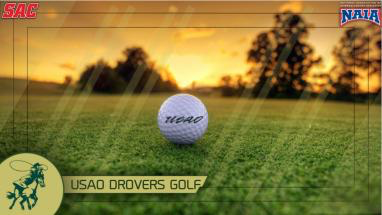 The University of Science and Arts of Oklahoma has officially announced that it will be adding a men's and women's golf program for the fall 2019 season. The Drovers will compete in the Sooner Athletic Conference, same as all other USAO sports.
The addition of men's and women's golf increases the number of sport offerings at USAO to 13, joining baseball; softball; volleyball; and men's and women's basketball, soccer, cross country, and track and field.
"Bringing back golf is a big step forward for Drover athletics as a whole," USAO Athletic Director Briscoe McPherson said. "Our goal is to create a nationally-competitive golf program while strengthening the overall diversity of the university."
The university first had a golf team in the 1980s, but it was cut due to budget constraints.
Steve Holden has been named the head coach for both teams. Prior to USAO, Holden was the assistant coach at Mid-America Christian University.
"The players and I are very excited for the opportunity to re-establish the golf program at USAO. We expect to field a full men's team and a partial women's team for the upcoming 2019-20 season. Our student athletes will strive to excel in the classroom and compete on the course. With the support of USAO and the surrounding community, Drover golf hopes to continue the success of the current athletic programs," said Holden.
USAO golf will be hosting their first fundraiser, a four-person scramble, Monday, July 15 starting at 9 a.m. The fundraiser will be held at the Winter Creek Golf and Country Club in Blanchard, Okla. The price is $100 per participant or $400 per team. Range balls, golf cart, round of golf and lunch are all included with the entry fee. Individual and corporate sponsorships are available. All proceeds from the event will benefit the USAO golf program.
For more information about the program or fundraiser, contact sholden@usao.edu. For more information about USAO athletics, contact Tanner Shoemaker at 405-574-1210 or tshoemaker@usao.edu.