USAO Regents approve budget for upcoming academic year
---
September 27, 2019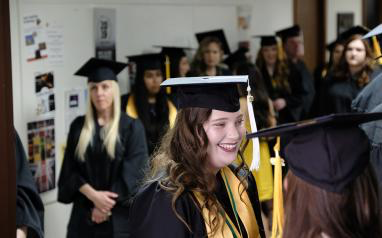 At their June meeting, the University of Science and Arts of Oklahoma's Board of Regents voted to approve the school's operating budget for Fiscal Year 2020.
During this year's legislative session, the state increased their appropriations for higher education specifically to enhance faculty salaries. Thanks to the Legislature's work, USAO received a 2.3 percent boost in funding for the upcoming fiscal year, which translates a 3.5 percent pay raise for faculty, their first since a 1 percent increase in Fiscal Year 2015.
Since these new monies have been designated for faculty salaries, the upcoming year's state allocation effectively holds USAO's funding flat, despite the growth in actual dollar figures. In order to cover mandatory cost increases and shortfalls that one-time funds covered last year, the regents approved a modest increase in tuition. Mandatory fees and room and board will remain flat.
"We applaud Gov. Stitt and everyone in our Legislature for understanding that to have a great state, you have to provide the next generation with a great education," said President John Feaver. "But we have faced many years of budget cuts at the state level that these additional funds, as welcome as they are, simply cannot fill. We have talked to student groups about the increase, and they support our efforts to protect the exceptional academics and student support services that USAO is known for."
Oklahoma resident students enrolled in 15 credit hours at USAO will pay an additional $180 each semester, an increase of 4.7 percent in tuition and mandatory fees. Nonresident students will pay approximately $435 more per semester for 15 hours, a 4.8 percent increase in tuition and mandatory fees. Despite the increase, USAO student costs remain more than 20 percent below the national peer group average.
"Offering a top-quality liberal arts education at prices lower than most universities in our area is a point of pride for everyone at USAO," said Feaver. "We look for every possible way to meet our financial obligations without passing the burden on to our students or compromising what makes our institution so special."
Since 2008, state support for the 25 institutions in Oklahoma's public higher education system has fallen more than a quarter, leading the nation in cuts from 2012-17. After a modest increase in the previous fiscal year, the state Legislature approved more than $25 million in additional funds for 2020