USAO spring theatre season kicks off with classic melodrama "Agnes of God"
---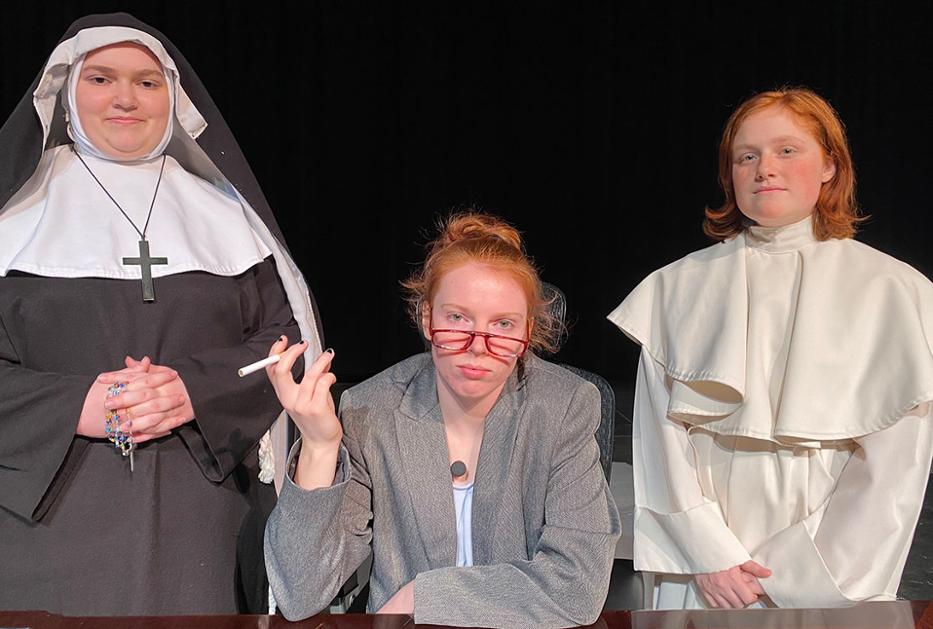 The theatre arts department at the University of Science & Arts of Oklahoma will open their spring 2022 season with John Pielmeier's 1979 melodrama "Agnes of God" March 4-5 at 7:30 p.m. in the Davis Hall Little Theatre. Tickets will be available at the door and seating will be very limited due to the ongoing pandemic. The production is suitable for mature audiences only.
A work of selective realism turned into a 1985 feature film starring Jane Fonda and Anne Bancroft, the play tells the story of a 21-year-old novice nun who is found to have unexpectedly given birth and is suspected of infanticide. This results in a clash between the mother superior of her convent and the court-appointed psychiatrist seeking answers. "Agnes of God" has a content warning because of the discussion of child abuse, sexual abuse and infant death.
"While this play is over 40 years old, its themes are still relevant," said Katie Davis, professor of theatre and director of the play. "The audience witnesses the conflict between our need for rational answers and desire to believe in miracles. The characters in the play wrestle with deeply held beliefs in the face of uncomfortable truths. It has been a rewarding, sometimes therapeutic rehearsal process. In addition to the three principle actors cast in 'Agnes of God,' we are rehearsing with a full cast of understudies. The opportunity for us to train and talk together about this work has been emotional and educational."
Born in Pennsylvania in 1949, Pielmeier earned his bachelor's degree at the Catholic University of America and a Master of Fine Arts from Pennsylvania State in 1978 before beginning his acting career. His first play premiered in 1976, with "Agnes of God" following three years later and winning him the "Great American Play Contest." Since then, Pielmeier has continued to write extensively for the stage and expanded into writing for television in the early 1980s.
The USAO theatre arts department holds productions each fall and spring which support the interdisciplinary mission of the university. Students work in a broad range of theatrical styles, develop acting skills in extended rehearsals, and practice behind-the-scenes roles ranging from costuming and stagecraft to arts management. With its focus on applied theatre, this program graduates students with a thorough grasp of creative and communication skills required to stage a successful theatre production and the versatility to use this experience in a variety of career paths.