Drover Alum Since Day One: Corey Martin
---
January 14, 2020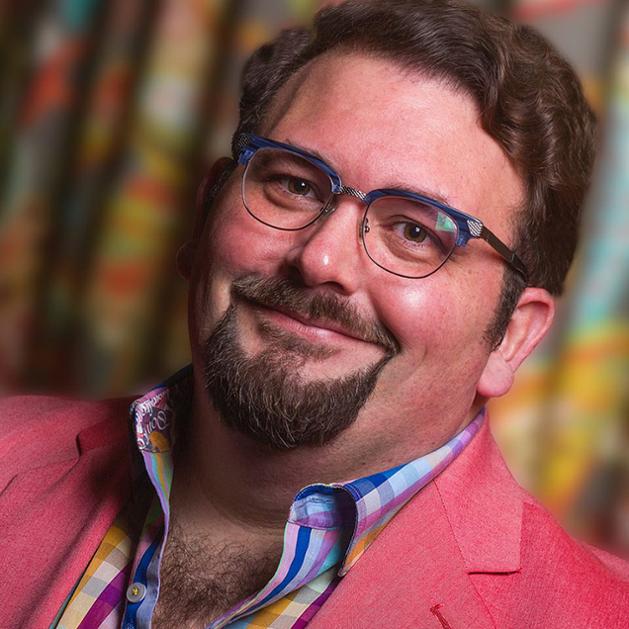 When Corey Martin came to USAO to study vocal performance, he had no idea that he would soon find his passion working with his hands instead of his voice.
After being cast in the musical "Scrooge" in his very first semester, the Okeene-native enrolled in a musical theatre workshop the following spring and realized that he wanted to focus on this kind of performance. Martin transferred first to Oklahoma City University, then the University of Central Oklahoma, and, during this time he also began working in theatrical costuming and discovered how much he loved putting his sewing skills to work.
In 1996, the Jewel Box Theatre hired Martin as the costume designer for "Annie Get Your Gun," and he also started a business creating custom evening wear and other costumes. After college, he continued to develop his business while also performing in local theatre productions in the Oklahoma City metro, including at Carpenter Square Theatre, where he would be hired on as technical director. In 2002, Martin ventured outside of Oklahoma as a theatre professional for the first time to work with the Jenny Wiley Theatre in Prestonsburg, Kentucky, splitting his time between the two states for the next several years.
In 2007, Martin headed to the east coast, spending a season in Maine as the costume shop manager for The Ogunquit Playhouse before relocating to New York City to work in a variety of costume shops and continue his independent design work. Two years later, Ogunquit named him their costume supervisor and designer and he had also began working as a draper for Tricorn Costumes, working on multiple Broadway productions including "Legally Blonde" and "Wicked." Martin returned to Oklahoma in 2011 to work on "Flipside: The Patti Page Story," which was originally produced as part of UCO's Broadway Tonight series. The following year, the show earned Martin an award for Distinguished Achievement in Costume Design at the Kennedy Center's National American College Theatre Festival, which he considers his greatest professional accomplishment.
"I had worked on so many shows in NYC, but never as a designer," said Martin. "The show was well-reviewed and one of the first items they would mention were costumes, probably because the leading lady had 17 costume and four wig changes in 90 minutes. What most of the people didn't know was that the costume budget was $5,000. That's less than it costs to build a single costume for a musical on Broadway. And I created the entire show myself."
Heading west, Martin took a position with Wynn Las Vegas in 2013, creating costumes for "Le Reve" and "Showstoppers." He has recently relocated once again, this time to Burbank, California, where he has joined the local chapter of the Motion Picture Costume Union and is currently working as lead draper/pattern maker/tailor for a Netflix series that will premier this year. All the while, Martin has continued to create custom designs for clients, in particular costumes and gowns for drag queens, several of which have been featured on RuPaul's Drag Race.
Though he didn't complete his degree at USAO, Martin still gained insights here that he uses every single day.
"One of my favorite memories occurred during a production of "Much Ado About Nothing." Roger Drummond [professor emeritus of theatre arts] told us how putting on a play was like cleaning out a litterbox—get the big clumps out and work your way down to the smaller ones," said Martin. "When I get a design that I have to make and I think it's not possible, I begin to break it down and sort out the clumps. Before long there is a finished product."
Far from just a charming anecdote about a beloved USAO professor, Martin has shared this bit of folksy wisdom with others, and, despite a bit of skepticism, it continues to be a simple yet life-changing way to surmount any difficulty.
"People in my industry always ask how I am so calm. I tell them this little story and they usually think I'm crazy—until they try it. It really does work every time."
While Martin has proven himself to be a lifelong learner, he credits USAO with setting him on the path that he has climbed to his current success.
"I attended three colleges and they were all very different. USAO is a great place to go to not only find a great education, but to find out who you truly are. When learning is done through the liberal arts, it opens your mind in a different way than standard education. Young adults need to open their minds to all the possibilities that exist, and that happens at USAO."