USAO celebrates success at Alumni Association's 2019 homecoming banquet
---
November 07, 2019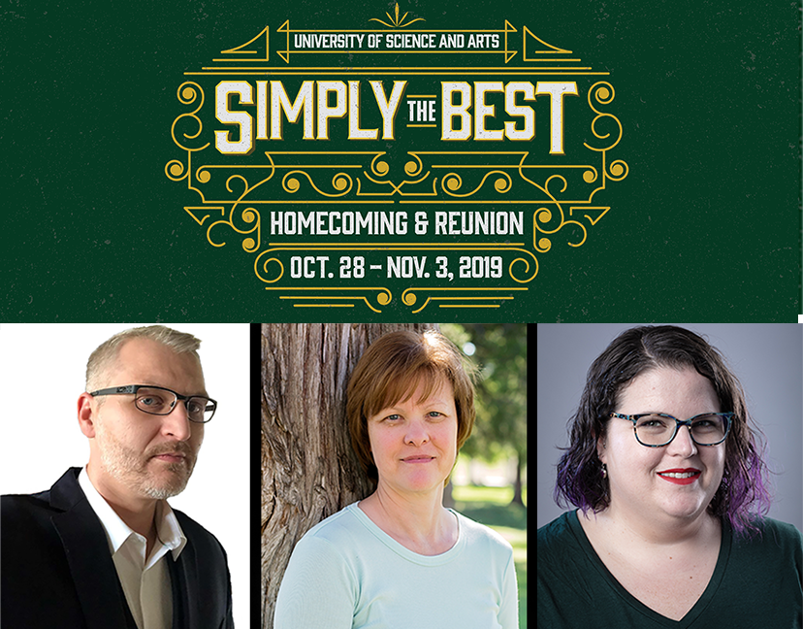 The University of Science and Arts of Oklahoma Alumni Association inducted Dr. Jason A. McElyea and Jacquelyn Knapp into their Hall of Fame and presented Dr. Natalie Ingraham the Young Alumni Award during the 2019 homecoming awards brunch on Nov. 2.
"These three alumni represent everything that USAO stands for," said Misti McClellan, director of alumni development. "Each one has leveraged their interdisciplinary education to achieve tremendous success in their chosen profession. Their accomplishments prove that this university's rigorous curriculum—and a liberal arts education in general—provides a firm basis for success in fields as diverse as medicine, social science and fine art."
McElyea tripled majored in physics, biology and natural science at USAO and completed his doctor of osteopathic medicine and residency at Oklahoma State University College of Osteopathic Medicine in Tulsa. He is currently a board-certified family medicine physician with extensive experience in emergency medicine. Actively working to address the opioid crisis in the state, the Oklahoma State Senate recognized his exceptional efforts with the Opioid Reduction Program in 2017. McElyea credits the interdisciplinary education he received at USAO as an integral part of his success.
Knapp, professor of art and art department coordinator, is a long-time member of USAO's art faculty. She earned her bachelor's with an emphasis in sculpture and drawing from USAO before completing an MFA in the same disciplines at Texas A&M. In addition to teaching and advising art students, Knapp serves as co-director of USAO's acclaimed Montmartre Chalk Art Festival, the coordinator of numerous national and international art trips as well as the Art Lecture Series, which brings art alumni back to campus to discuss their own careers, offer advice and take questions from students.
Assistant professor of sociology at California State University—East Bay, Ingraham's research examines the intersections of body size, gender, sexuality and health. She earned a Bachelor of Science in psychology from USAO, then pursued a master's in public health from Indiana University and completed a Ph.D in sociology in 2016 at UC San Francisco. Deeply dedicated to community service, Ingraham has volunteered with the elementary tutoring program Boost! West Oakland, as a sexuality educator for middle school students with Our Whole Lives, and as a USAO Pathways Mentor among many others.
This year's homecoming theme, "Simply the Best," celebrated the university's long and illustrious history, as well as the outstanding work that so many of its alumni have pursued in many different fields.
Founded in 1972 with the induction of famed Chickasaw storyteller and Oklahoma College for Women alumna Te Ata Fisher, membership in the Hall of Fame recognizes professional achievement, service to society, honor and distinction brought to the university. It is the highest honor the Alumni Association can bestow on graduates, faculty, administration and staff of the institution. The Young Alumni Award uses the same criteria to recognize students who have attended USAO within the past 15 years.
Born on the afternoon of May 18, 1917, the USAO Alumni Association is a member-driven non-profit organization uniting alumni of the Oklahoma College for Women, Oklahoma College of Liberal Arts and University of Science and Arts of Oklahoma. Anyone who has attended at least one semester at the university is automatically a member of the association, which confers multiple benefits and regular communication on alumni reunions, class projects, programs benefitting current students and more.