USAO Alumni to discuss life as a working artist in Oklahoma
---
March 05, 2019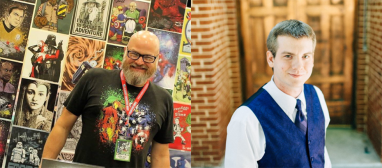 The University of Science and Arts of Oklahoma Art Department will host its 2019 Art Career Lecture Series March 15 at 9 a.m. in Davis Hall 124. The event will feature USAO alumni Jerry Bennett and Joshua Cook, who will discuss how they have each turned their education into careers as working artists.
"This lecture series began in 2009 to provide our students with invaluable insight into life after graduation," said Jacquelyn Knapp, professor of art and art department coordinator. "We vary the speakers every year to provide a range of artistic directions. Our alums share their stories, their successes and their mistakes. They all offer a wealth of information on how to navigate the competitive world of art, and we are so proud that they choose to return to USAO to share their knowledge and experience."
Bennett received a Bachelor of Art degree in art with an emphasis in illustration in 1993. He is the current Skirvin Hilton Artist in Residence for the Paseo Arts Association where he is creating a series of original short comic book vignettes, in addition to the creation of a unique Oklahoma-centric comic book inspired by landmarks throughout Oklahoma City. He also working as a full-time artist creating comic books, children's books and t-shirt designs for Lucasfilm, Marvel and Saban.
Bennett has created storyboards for Mattel and Dreamworks, licensed sketch cards for Star Wars, and produced animated book trailers for Scholastic and Lemer Children's Books. He also served as art director for the award-winning animated short, Even in Death, that featured students with autism spectrum disorder.
Cook received a Bachelor of Fine Arts degree with a concentration in jewelry/metals in 2014. He began showing his sculptures in 2013 and has been featured in exhibits in Chicago, New Orleans and Dallas, as well as numerous local shows in Oklahoma City, Tulsa and Ardmore. His works will be featured in shows at the Oklahoma Festival of the Arts and Paseo Arts Festival in 2019.
Using recycled metal, plastic and wood, Cook sculpts mechanical plants and animals. He assembles each piece without welding or soldering and then hand paints them to mimic the subjects natural coloring while maintaining the metallic theme. A different collection of reclaimed parts forms into every sculpture, making each one impossible to duplicate.
The Art Career Lecture Series is possible thanks to the support of the USAO Alumni Association, who facilitates the speakers' return to campus.
For more information, contact Knapp at 405-574-1302 or jknapp@usao.edu.