Angels descend upon stage at USAO
---
November 02, 2011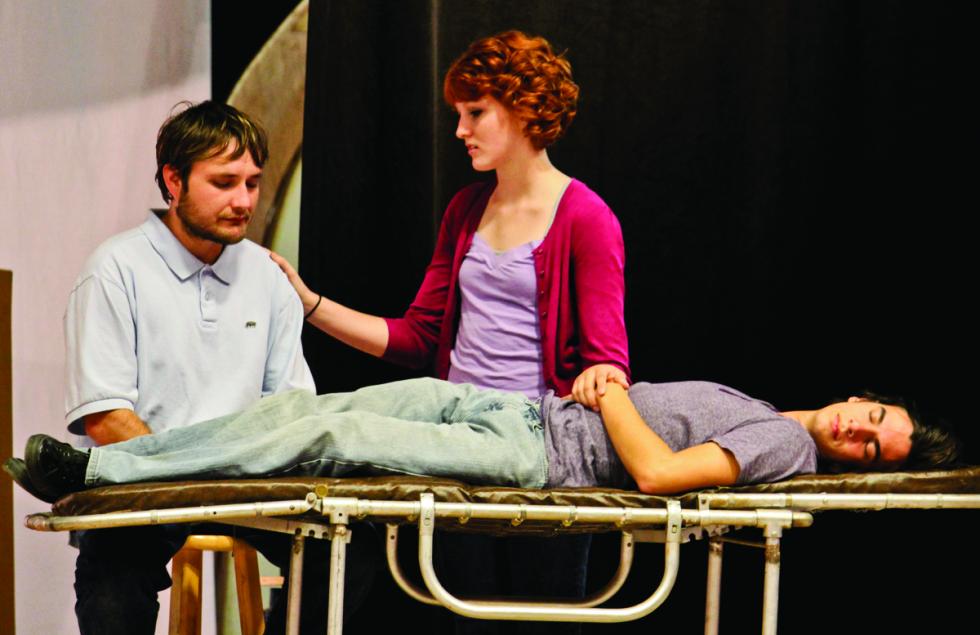 The drama department will stage a one-night-only production of Tony Kushner's Pulitzer Prize winning play, Angels in America: Millennium Approaches at 8 p.m. on Nov. 12 in the Davis Hall Little Theater.
The production is being held in tandem with an exhibition of Ardmore artist Jan Tindale's three-dimensional work titled Angels and Altars. Tindale's work served as the inspiration for the set design of USAO's production of Millennium Approaches. The reception for the art show is scheduled to begin at 7 p.m. and the play will feature two intermissions to allow attendees to view the exhibit and meet the artist.
Since its debut in 1991, Angels in America: Millennium Approaches has known its share of controversy and triumph. Winning both the Tony Award for Best Play and the Pulitzer Prize for Drama in 1993, this tragi-comedy contemplates what it was to be an American in the AIDS crisis during the Reagan Presidency.
The play deals directly with issues of human sexuality, spirituality, illness and loss, politics and patriotism. Angels expects its audience to consider ideas and viewpoints that might otherwise have been left in the margins of culture.
Angels in America contains profanity and sexual content. No one under the age of 18 will be admitted without a parent or guardian.
Katie Davis, associate professor of drama and the play's director, was never blind to the reaction that producing this particular play might provoke but found the inspiration to put it on from her students.
"I have taught Angels in my dramatic literature classes since 2007 and each time, the students would be just blown away by it. Without fail, they would say, 'We have to put this on' and I would explain all the reasons why our program wasn't ready to produce this play. This year, I took a hard look at those reasons and decided that the time was right to bring some of these big ideas to USAO." Davis explained.
Set in New York City during the mid-1980s, Millennium Approaches centers around two couples and one looming character drawn from the pages of history. A same-sex couple, Louis Ironson and Prior Walter, is split apart by Prior's diagnosis with AIDS. A married couple, Joe and Harper Pitt, wrestle with Joe's emerging self-awareness that he is gay and Harper's struggle with an addiction to Valium. Joe's mentor, Roy Cohn connects this story to the backdrop of the American social and political culture of the Reagan Administration.
Davis' first indication that she had made the right play selection came when it was time to hold auditions. Concerned that the polarizing nature of the play's themes might keep some away, she was surprised to have more than 40 actors vying for parts. In addition to drama majors, Davis chose actors from outside the department to fill some of the roles and, in a few notable cases, from outside the student body.
USAO alumnus Henry Heine, current president of the Chickasha Community Theater, is returning to the stage at USAO for the first time in many years, playing the role of Roy Cohn.
Though fictionalized in Angels, Cohn is an historical figure who served as lead counsel to Sen. Joseph McCarthy during the early 1950s. Cohn remained an influential figure in political circles during much of his career and served as in informal advisor to both Presidents Nixon and Reagan. Cohn died of complications from AIDS in 1985.
Another notable contribution to the cast is Steve Breerwood, assistant professor of art at USAO, who has never been on stage but who will play the role of Henry, Cohn's doctor, in the production. Breerwood earned his master of fine arts degree from Florida State University.
Angels in America is considered a contemporary masterpiece and is still produced at major theatres across the nation, including a Broadway revival at the Signature Theatre Company that opened in 2010.
The University of Tulsa theatre department produced Perestroika, the second half of the Angels in America sequence, last month. The University of Central Oklahoma staged the first college production of Millennium Approaches 15 years ago.
"The beauty of the script is that it lends itself to different interpretations of design, idea and character," Davis said. "It is art that is about change and growth, and it is a work of art that changes and grows."
Tickets for Angels in America: Millennium Approaches are $10. The Angels and Altars exhibit is free and open to the public.
Parties interested in more information about either event are encouraged to call (405) 574-1239.