Area choirs present holiday concert
---
November 12, 2012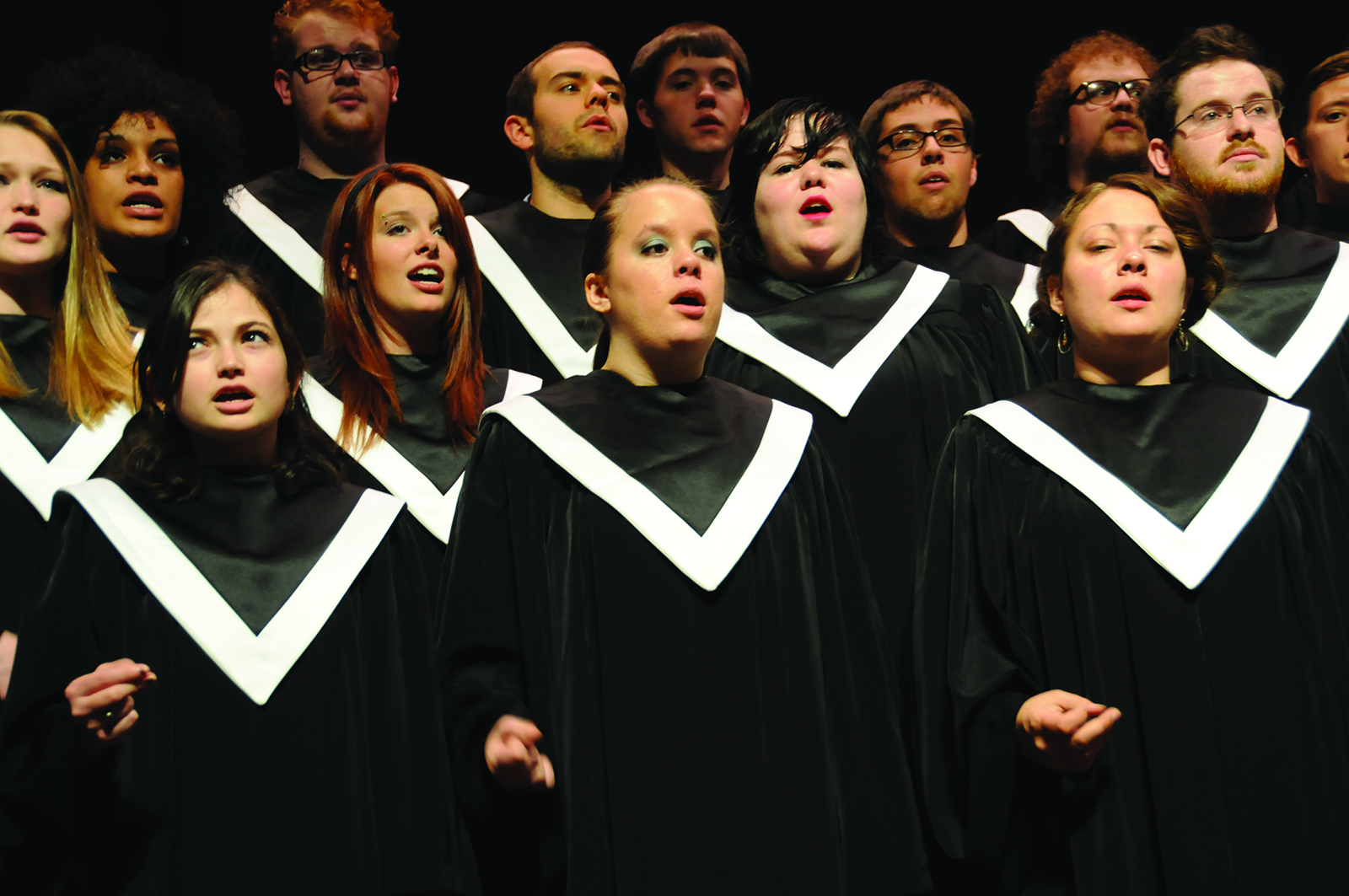 Several area choirs will combine for a holiday concert scheduled to begin at 7:30 p.m. on Nov. 29 in Te Ata Memorial Auditorium at the University of Science and Arts.
The 5th and 6th grade choirs from Lincoln Elementary, under the direction of Crystal Wyatt, will join the USAO Chamber and Concert choirs to perform seasonal music in a variety of styles.
The choirs, representing in total more than 100 singers, will all take the stage together to perform two numbers, "In dulci jubilo" and "Hope for Resolution."
The USAO Chamber and Concert choirs are under the direction of Dr. Jan Hanson, professor of music. Adam Bryant, a senior music and theatre arts major from Tuttle, will guest conduct the Concert Choir on two selections.
Pianists Rhenada Finch and Kate Sekula will be accompany the choirs.
Wyatt, a 1996 USAO graduate, has been teaching for sixteen years in Oklahoma public school systems, including the Edmond, Anadarko and Chickasha districts.
In 2007, Wyatt was named Site Teacher of the Year and was the runner-up for Chickasha's Teacher of the Year. She serves as director of choral music and is the accompanist for the First Presbyterian Church of Chickasha.
In addition to directing, Hanson teaches coursework in music history, literature and conducting and methods. She has served as the music director for numerous musical theatre productions at USAO and in collaboration with the Chickasha Community Theater. Hanson is a board member of the Oklahoma Arts Institute.
She earned her bachelor's degree from Texas Woman's University, a master's from Indiana University and her doctor of musical arts degree in conducting from the University of North Texas.
Bryant began his musical training with Damitra Fleck, a USAO alumna and former Tuttle choir director. One of the pieces he will conduct, "O Child" is an original composition. Bryant plans to continue his studies as a composer, particularly within the film industry.
Finch is a 2006 graduate of USAO. She works as staff accompanist for the USAO Music Department and plays piano for the USAO Chamber Choir. She also teaches a piano class and is coordinator for the Festival of Arts and Ideas.
Finch was the music director and keyboardist for the world premiere and 2012 productions of Judylee Oliva's Te Ata. She plays the piano and electric bass for Fellowship of Living Faith in Lindsay.
Sekula has been playing piano for 27 years and has conducted and/or accompanied choirs and instrumentalists for numerous institutions including the New York Avenue Presbyterian Church in Washington, D.C., George Mason University and at Emanuel Lutheran Church in Manchester, Conn.
She has served as an accompanist and vocal coach for the University of Connecticut voice department. Along with accompanying the concert choir, Sekula is an adjunct instructor of music theory and piano at USAO.
Sekula holds two bachelor's degrees from Lebanon Valley College and a master of music in flute performance from George Mason University. She is currently pursuing her doctorate in music theory and history.
More information about the concert can be obtained by calling 574-1298.