Area students workshop from page to stage in one hour
---
May 14, 2013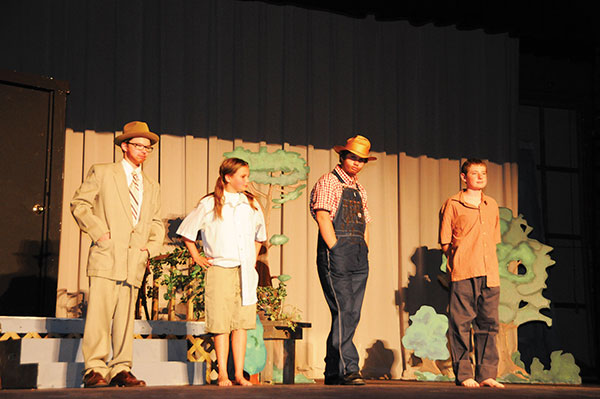 Members of the Rush Springs Middle School drama club planned, produced and performed a scene adapted from a classic novel in one hour with some help from the USAO theatre arts department this month.
Working with Christopher Sergel's staging of To Kill a Mockingbird, students were able to learn about acting, direction, lighting, music, costuming, stage management, scene construction and publicity.
The project was part of an independent study program called Children and Dramatics, taught by Katie Davis, associate professor of theatre arts.
Five theatre arts majors enrolled in the class and served as teachers and mentors during the four-hour event. Other theatre arts majors volunteered their time as well.
The event, which Davis called a gymkhana, was designed to introduce the younger students to the many elements of the theatre arts while giving the college students an opportunity to share their hard-won experience.
"Part of the independent study opportunity during the five-week session is for our students to have the chance to apply what they are learning in a hands-on experience that benefits the community," Davis said. "I am so happy that Renessa Cramer, Rush Springs drama club advisor, was willing to bring her students to this workshop. This was their field trip, and I hope they had as much fun as we did."
The Rush Springs students said they enjoyed the event and felt like they had gained a lot of hands-on experience from it.
Parker Jordan, one of four students who acted in the final production, said playing Atticus Finch made him think about how adults interact with children.
"Even though the other actors are my age, I tried to think about how they would be looking to me, playing an adult, as someone who knew more than they did," Jordan said.
"It was weird but cool."
Other students expressed surprise at how much they enjoyed fulfilling the off-stage roles, such as building scenery, selecting costumes and creating a playbill and poster for the mini-show.
USAO's theatre arts department offers the opportunity for students to design an emphasis in their major that meets their career and learning goals.
More information about USAO's theatre arts program can be obtained by calling 574-1310.