Art, academics, live music combine for festive first Thursday in April
---
April 12, 2018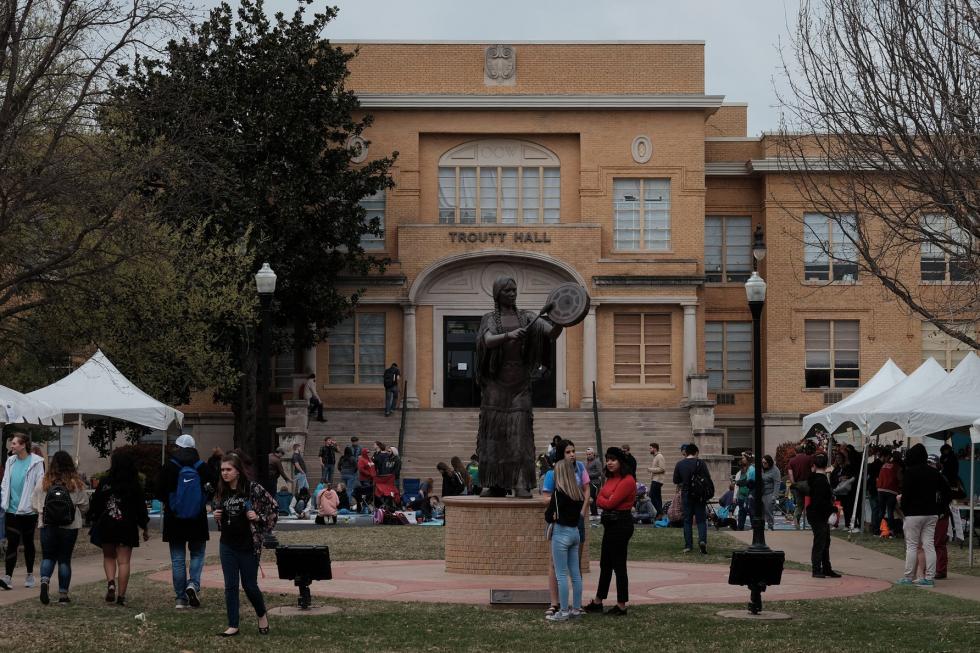 Held annually on the first Thursday of April, the University of Science and Arts of Oklahoma recently welcomed thousands of students and visitors from around the state for the Spring Triad.
The triad consists of three major events on campus: the Montmartre chalk-art competition, scholastic meet and Droverstock music festival.
Artists representing 63 Oklahoma K-12 schools and colleges across Oklahoma created 215 sidewalk chalk art murals throughout the morning on six-foot square canvasses on the road leading through the USAO oval.
Huy Pham, Kyle Harrington, Riley Tyson and Jennifer Lawrence from Mustang took home the Best of Show honors.
Judges Choice awards were given in four different age groups. Five pieces were awarded in the high school division, including teams from Plainview, Wayne, Kingfisher, Lone Grove and Mustang. Two entries won awards in the junior high division including teams from Maud and Lindsay. One Judges Choice award was presented in the sixth grade and younger division to students from Cross Timbers in Edmond. The college/adult division prizes were awarded to Greg Dudley and the sisters Crystal and Luna Becerra.
The Scholastic Meet hosted 34 high schools. Students competed in two divisions with schools in Class A, 2A or 3A classified as the gold division, and schools in Class 4A, 5A or 6A classified as the green division. USAO faculty proctored tests in more than two-dozen categories and medals were awarded to the top three students in each contest per division.
Two high schools received home trophies for having the most students win awards in each division. Plainview High School took home the trophy for the green division and Preston High School won the trophy in the gold division.
Students and community members gathered on the oval throughout the day and evening for Droverstock. Vendor booths offered food and various recreational activities, while bands from across the state entertained the crowds with more than 10 hours of live music.
Bands and performers featured during Droverstock included Holly Beth, Rebekah Willoughby, Symmetry, Me Oh My, Cosmic Wool, The Ivy, Smokey Motel, Keeping Secrets, Dollar.98, Astral Planes and the headliner, KALO.
Several food vendors also proved quite popular during the event, including Tasty Beats, Kona Ice, The Healthy Hippo, Ice Cream Extreme and Two Vets Food and Beverage. USAO's Inter-Tribal Heritage Club sold Indian tacos, the Alumni Association sold Baked Bear ice cream sandwiches, and the West Wind Unitarian Universalist Congregation had various baked goods.