Art alumni return to offer career guidance
---
February 26, 2014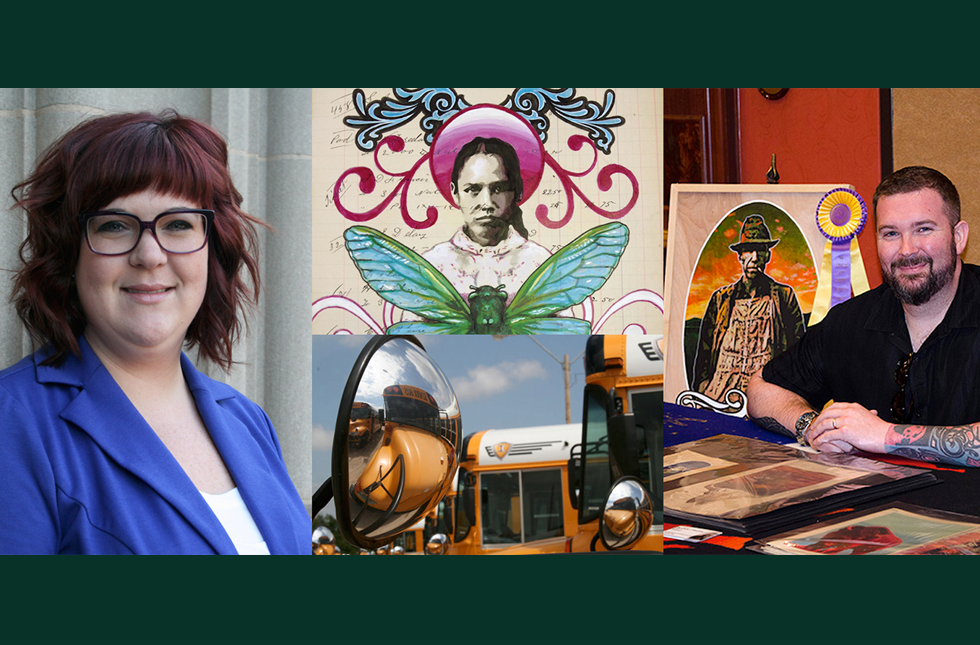 Art alumni return to offer career guidance
Alumni Dylan Cavin and Courtney Morton are scheduled to return to the University of Science and Arts on Feb. 28 to speak to students about their art and their careers for the 6th annual Career Lecture Series.
The lecture series is scheduled to begin at 3 p.m. in Room 124 of Davis Hall.
Cavin graduated from USAO in 2000 with a bachelor of fine arts with an emphasis in graphic design. A Chickasha native, he attended the university on an art talent scholarship.
Cavin worked in the graphic design field for several years before enlisting in the United States Army. He was honorably discharged after sustaining a serious injury to his leg.
The time he spent rehabilitating allowed Cavin to reconnect with his first passions, drawing and painting.
"After years of being in the design field, it really felt good making something with my hands that others could connect to and appreciate," Cavin said.
"To me as an artist, art is as simple and complex as making a connection to the viewer through my work. When you can achieve this, it is a special relationship that can go beyond what is on canvas or paper."
Cavin has received many honors and awards within the past few years including: Best of Show at the Choctaw 9th annual Art Show; first place in the graphics category at the 2012 Red Earth Festival; and first place in the graphics category at the 2012 Southeastern Art Show and Market.
One of his works, "Legacy", was used for promotional purposes for the 2013 Red Earth Festival.
His artwork has been shown in both the NY and Washington D.C. exhibitions of the
Smithsonian's National Museum of the American Indian this past year and he was featured on the cover of Oklahoma Today magazine's 2012 "Indian Country" issue.
In 2013, Cavin was honored with USAO's Young Alumni award during homecoming.
Morton earned her bachelor of fine arts degree from USAO in 2007.
For the last seven years, Morton has worked for Oklahoma City Public Schools as a graphic artist and was promoted to manager of creative services in 2012. She continues to fulfill the design needs of the district, while also maintaining the district's website and social media channels as well as managing the district's print shop that is responsible for all 77 schools' printing needs.
Morton is currently pursuing her master's degree of secondary education from the University of Central Oklahoma and is expected to graduate with honors in May.
Morton is a member of the National School Public Relations Association (NSPRA) and its Oklahoma Chapter, Oklahoma School Public Relations Association (OKSPRA) where she serves as the vice president of programs.;
Morton runs a freelance photography business, CM Photography, specializing in portraits and weddings.
The lecture is open and free to all USAO students and is sponsored by the USAO Art Department and the USAO Alumni Association.