Art department to open new gallery space in downtown Chickasha
---
May 02, 2018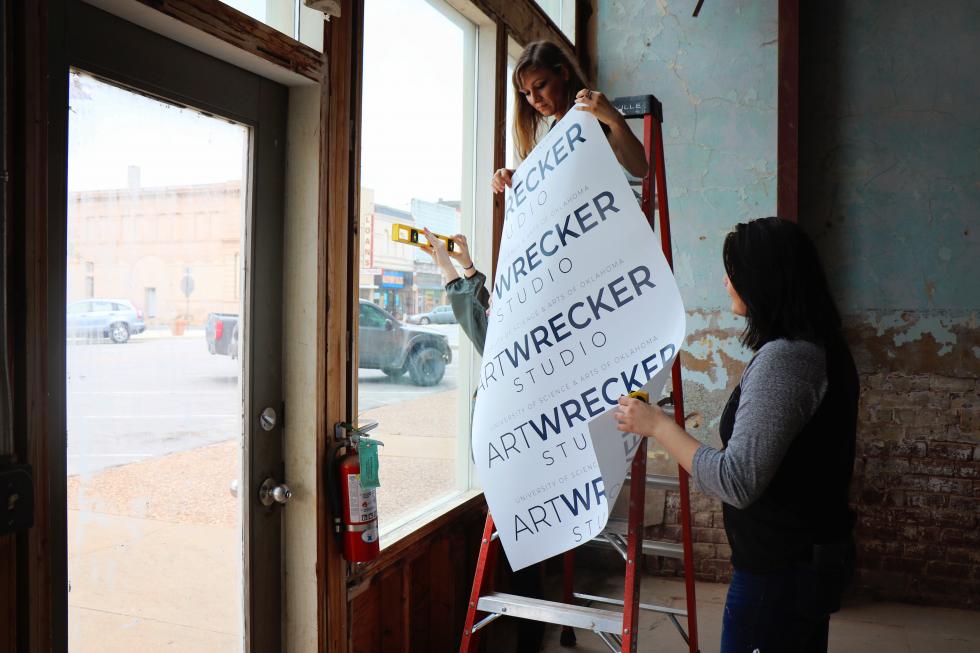 As part of Chickasha Open Streets on May 5, the University of Science and Arts of Oklahoma art department will launch its new space, Art Wrecker Studios, from 9 a.m.—1 p.m. The soft opening will feature 10 students specializing in installation, performance and sculpture in a themed project called "Alignment." The 11,000 square foot studio is located next to Midfirst Bank on 3rd and Chickasha.
The concept, setup and organization of the exhibit was completely generated by students, including Jess McGlone, Reese Baker, Hannah McCluskey, Eren Hall, Reyna Ponce, Logan Clark, Duncan Payne, Ethan Gorrell, Hannah Bays, and recent alum Freddy Baeza.
"Alignment is inspired by a categorical representation of morals, otherwise known as an alignment chart, centered around good, neutrality and evil," said McCluskey, an advanced sculpture and installation student.
"I thought it would be a really fun challenge for each of us to tackle personality types," said Hall, also an advanced sculpture and installation student. "I was delighted that everyone was on board and excited to go beyond our comfort zones to create projects revolving around a theme."
The name of the space, Art Wrecker Studios, represents diverse, interdisciplinary and hybridized forms of art that reach outside of general conceptions of what art is and can be. The work presented will range from performance, installation, interactive works, sound, video and mixed media. It is meant to highlight the way art can be anything from beautiful, brave, sad, serious, funny and any number of things in between.
"Alignment is the first project to be launched in this new space. It mixes pop culture with philosophical approaches to art and character, and truly, the artists, the space and a concept became 'aligned,'" said Jordan Vinyard, assistant professor of art and gallery organizer. "Additionally, it strides alongside contemporary ideologies about recreating raw spaces for the purpose of art in order to beautify and contribute to a community."