Art Exhibit Reveals Professors' Perspectives
---
July 19, 2006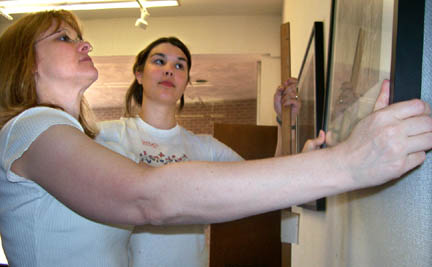 Art professors step in front of the easel and behind the camera for a new art show July 17-28 at the University of Science and Arts. The new art show gives students and visitors a chance to see what happens with art professors outside of the classroom.
Located on the third floor of Davis Hall on the USAO campus, the show features selections by five art professors using multiple media forms.
Jacquelyn Knapp, assistant professor of art, is showing a number of her drawings and sculptures.
"Within the different experimentations of realistic, abstract and the non-representational images of my work lays the re-creation of form, texture and pattern," she said. "These can be seen with the collection of soft, spiritual clouds, repetitional patterns of water, characterization of subject, color scheme relationships and the delicacy of three-dimensional form in terms of volume rather than mass."
In her eighth year at USAO, Knapp teaches drawing, design, photography, jewelry making, creativity and the business of art. She was hired as a visiting assistant art professor in 1998 and was placed on tenure track in 2004.
Professor of Art Steve Brown's pieces originated as parts of several art series. His "Bad Weather" series depicts Oklahoma tornados by way of oil monotype and pastel. Two images from his "American Monuments" digital photography series feature Oklahoma City's Alfred P. Murrah Federal Building memorial. Additionally, Brown is showing three pieces from his computer graphics-based "Skyline Park" series about the mythic images of America's culture.
"All of the works are a metaphor for the American experience," said Brown. "Media are matched to content as media and message are inseparable."
Brown has been teaching photography, printmaking, commercial art and graphic design at USAO since 1988.
Professor of Art Kent Lamar has entered a number of figurative wood and metal sculptures. Lamar has been teaching drawing, design and sculpture classes at USAO since 1976 and was promoted to head of the art department in 1989.
Timothy Sullivan, a new assistant professor of art beginning Aug. 1, has placed some serigraphs in the show.
Like many artists, the USAO art faculty members see art as more than just a profession, but as a passion and a way of life. Brown said he creates art because it's a part of who he is.
"I have no choice in the matter," said Brown.
The art show is open from 8 a.m. to 5 p.m. on weekdays. Additional information is available from Jacquelyn Knapp at (405) 574-1303.