Art Professor's 'Monument' Photography Featured in State Capitol
---
February 06, 2007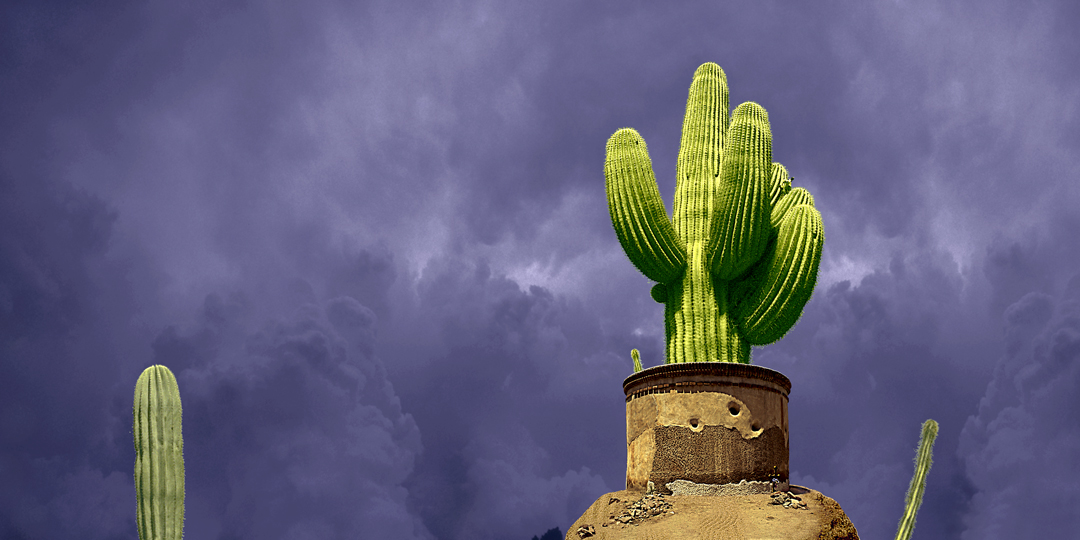 What exactly is a monument? A structure built to honor an important historical figure? A statue? Steven Brown thinks of New Mexican saguaro cacti, New York skyscrapers and the landscapes that compose the very fabric of America itself. The photographer and professor at the University of Science and Arts recently was chosen by the Oklahoma Arts Council to display his original photographs in the State Capitol.
Linked with a similar patriotic theme, Brown's "American Monuments" works will be on display in the first floor of the North Gallery at the Capitol from Feb. 12-April 15.
"The images are conceptually linked to metaphor the American dream, a kind of visual equivalent to Woody Guthrie's 'This Land is Your Land,'" Brown said.
"The intent of my artwork is to give form to the American dream. I have focused on the architecture, space and landscape created by the many cultures of America to metaphor this illusive dream. This a work in progress, of course, and continues to become more inclusive."
Brown's works are the culmination of decades of work shot from coast to coast.
"The photographs were collected over a period of 30 years and were taken from Manhattan to California – and many places in between," Brown said. "Generally, my interest in photographing subjects is directed by my artistic interests. The subjects usually involve American history, landscape or weather – sometimes when I'm lucky, all three at once."
Brown is comfortable as both a traditional photographer and a graphic designer. Using computer software, Brown often combines multiple photographs and digital images to create strange and wonderfully surreal worlds. His new exhibit features images he considers "from the pure photo tradition" and "digital composite images that could only be made in the computer."
A painting and printmaking graduate from the University of Oklahoma, Brown earned his master's of fine arts degree from the University of Ohio. Brown said Ohio's "wealth of photohistory became very influential" in his development as an artist.
After serving as a teaching assistant at Ohio, he took a position as assistant professor at the Universidad de las Americas in Pueblo, Mexico. Brown joined USAO in 1988 and is now a professor of art. He teaches photography and graphic design.
As an award-winning artist, Brown has a quarter century of experience as a studio artist with 12 international exhibitions, 106 national exhibitions, 42 regional exhibitions and 9 solo exhibits. He has won numerous awards at the national level as well as the Oklahoma Visual Arts Coalition's Award of Excellence. As a graphic designer, he has illustrated nationally published books, as well as botanical and digital illustrations.
For Brown, photography is as much about preservation as it is art.
"Some of the places depicted in this exhibit have been renovated and preserved," Brown said. "Some places continue to decay. Some of the peoples and places included in this exhibit no longer exist in the physical world – but they are all huge monuments in the American dream."
More information about "American Monuments" is available from the Oklahoma Arts Council online at www.arts.ok.gov or by phone at (405) 521-2931.