Art Seniors Bare Souls in 'Pin-Ups' Exhibit
---
August 15, 2006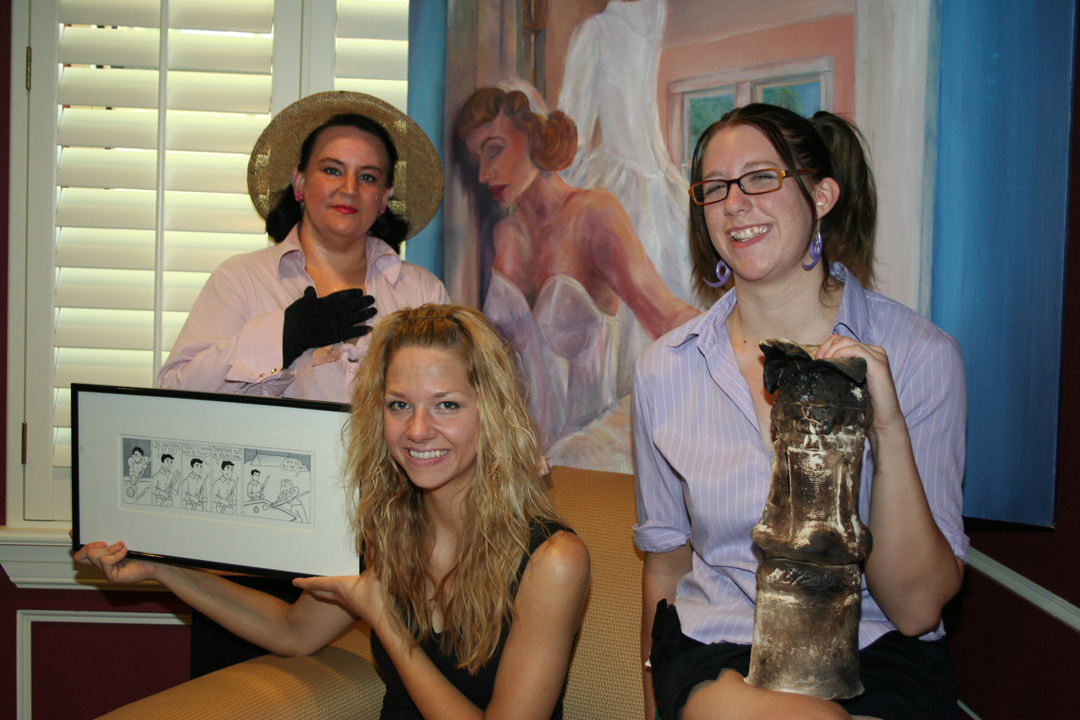 Three art seniors recently chose to bare it all in 'Pin-Ups,' an art exhibit currently on display at the University of Science and Arts. The art show features the works of Moore artists Marcie Price and Heidi Helmers, as well as Gail Grass of Chickasha.
And although they don't appear disrobed, these décor divas use multiple media to give a peep show of what's going on inside.
"Some of my pieces are a humorous view of situations or emotions that many people experience, such as inadequacy or incompetence," said Price, a comic strip and caricature artist. "There are other pieces that take a humorous approach on the subject of regret or feeling unfilled."
The art exhibit runs in the Davis Hall third floor art gallery through Sept. 15, with a special reception Sept. 7 from 5-7 p.m. during which visitors can meet the artists. The art gallery is open Mon.-Fri. from 8 a.m. to 5 p.m.
Grass said she uses oil paint and watercolor, among other media, to express messages that words cannot.
"No words, regardless of quality or flash, will instigate a valuable experience based in truth and silence," said Grass. "Words shall fail to mend a poorly designed arrangement of space, dimension and light. There is no need for words in the theatre of silence."
A professional artist in her own right, Grass has spent the last several years as a freelance and commissioned painter. She has painted in the Netherlands and Oklahoma, including a mural in the Chickasha Centennial Park, and her works are included in several private collections across the state. She also tutors from age seven and up.
No stranger to fine arts, Grass graduated from USAO in 1994 with a bachelor's degree in theatre and studied costume design at the University of Oklahoma. Her subjects range from still life portraits to images in nature.
For Helmers, who specializes in ceramic sculptures, art is experimental.
"My art is an exploration," she said. "I love to experiment with textures and have begun to pursue more primitive [ceramic] firing processes."
Helmers said her discovery of ceramics was accidental.
"As a freshman, I was placed in the ceramics department as a work study," she said. "It was in the Art Annex that I fell in love with clay. From making clay for the ceramic and sculpture classes to firing the student pieces, I became obsessed with wanting to learn how to 'throw' [pottery mud] and also with the firing process known as raku."
Ironically, the Japanese term "raku" means "enjoyment," which definitely applies to Helmers. She uses the ceramic process's earth tones to create some of her favorite passions: pirates and the sea.
A resident of Norman, Helmers graduated from Moore High School. She plans to attend graduate school and continue developing her artistic skills.
Cartoonist Price, also of Moore, said she creates art as a form of therapy.
"I like to create lighthearted works of art that make people laugh or smile," said Price. "It allows me to confront the things that bother me, while running from them at the same time. Creating is an escape for me, and I try to convey that to my viewers."
Price's comic strip, "Thoughts From a Girl," has received first and second place awards from the Oklahoma Collegiate Press Association and has appeared in the USAO student newspaper for three years. During her college studies, she was the recipient of multiple art scholarships. She also hosted and helped produce "Studio 18," USAO's cable access TV show.
Price hopes that her art will bring a smile.
"My collection of pieces for the art show is a combination of creations intended to make people happy," she said. "My intention is to create a chuckle or at least a smile in all those who view my work."
Most of the 'Pin-Ups' pieces by the art trio are for sale, with prices ranging from $20 to more than $1,000.