Art Seniors Show 'Whodunit' With Exhibit at USAO
---
March 16, 2007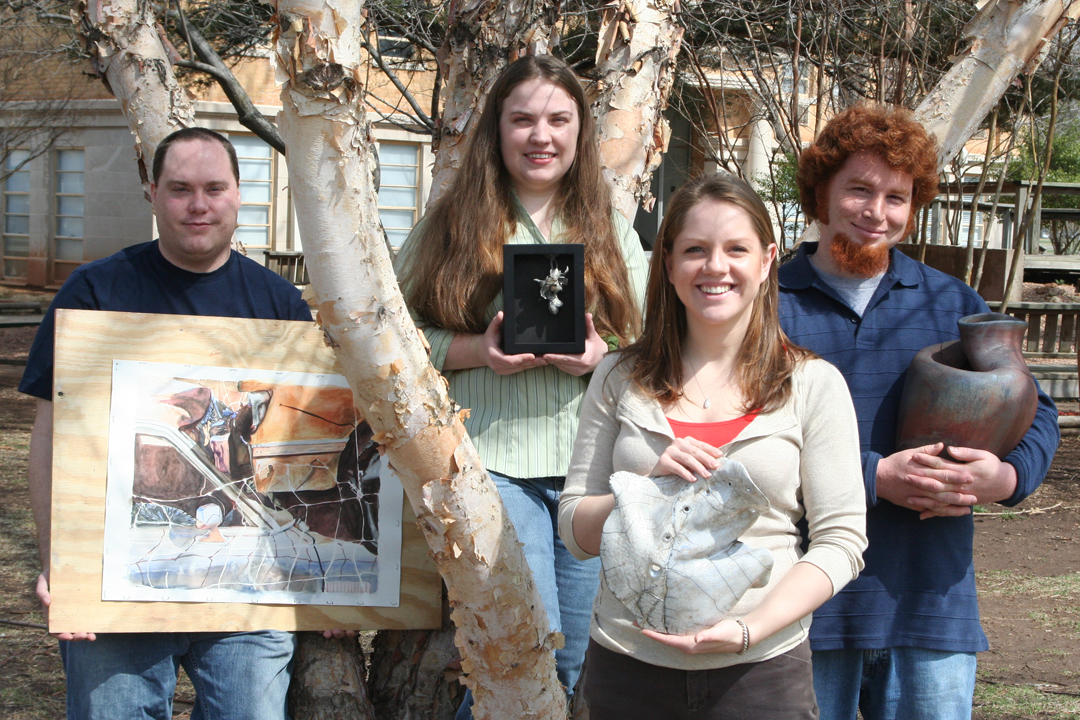 Ten art students are joining forces to display pottery, photography, paintings and more as the culmination of their college experience at the University of Science and Arts. Beginning March 31, four graduating art seniors will share the USAO Art Gallery with six 2006 graduates to reveal "WHODNIT," through April 20.
A special opening reception featuring the artists will be held at the USAO Art Gallery on March 31 at 4 p.m.
Each of the four art seniors will graduate during the April 20 commencement ceremony at USAO.
Originally from California, David A. Fortner came to Oklahoma when he joined the military. The art senior was stationed at Fort Sill for more than four years, with a short tour in Iraq. In 2004, he began a new career in art that has already earned local acclaim.
Last fall, his ceramic pottery made up the bulk of an art sale that raised more than $3000 for USAO students to attend the National Council on Education for the Ceramics Arts conference in Portland, Ore.
Calling on inspiration from ancient Chinese, Japanese and other Eastern pottery, Fortner has proven himself a potter on multiple levels.
"I feel that my work spans a wide range," Fortner said, "from purely functional to purely aesthetic, then to fully abstract. My concept for this body of work is the effect of the industrial pottery producers on the local or studio potters."
After graduation, Fortner plans to attend graduate school and eventually own a pottery shop and gallery. He would like to teach pottery classes and university level classes.
"The main reason why I do my art is because I love to do it," Fortner said. "I cannot see myself doing anything else and actually being really happy."

Happy Spelunking
Keturah Stevens, however, always thought she'd be happiest as a scientist.
"On Career Day in grade school, I showed up with my hair in braids, a backpack, flashlight and rope, expressing with certainty that I was going to be a spelunker," she said. "I was short and loved caves; it sounded perfect to me."
But high school and college science courses couldn't quell an inner desire to create art. Today, Stevens uses art as a way to reflect the world, both around her and inside her.
"I realized that I wanted my work to reflect what's important to me: my family, personal growth and my faith," Stevens said. "As a Baha'i, unity is our highest aspiration; unity in our family, in our community, in our country and in our world.
"I want people to look at my artwork and consider the relationship we have with the world around us and ponder what it can teach us about the world within us."
Originally from Shawnee, Stevens uses a variety of artistic media, from ceramic pottery to charcoal drawings, watercolors and oil paintings. In 2004, she graduated with an associate's degree from Seminole State College.
Her original sculpture, "Fertility," was selected in January, 2007, for inclusion in the statewide "Momentum" art exhibit in Oklahoma City. Her parents, Cindy and Clifford Stevens, live in Norman.

Sculpting Nature
For fellow sculptor J. Shalene Henley, who also was chosen for the "Momentum" exhibit, art began with a childhood fascination.
"My first love as a child was doll collecting," Henley said. "I was interested in sculpting when I realized that it was people, not machines, who made dolls."
As a child, Henley attended doll signings that paved the way for artist introductions.
"I was fascinated by the artists that I met," she said. When she was 15, she took a doll-sculpting seminar with Oklahoma doll artist June Goodnow. She eventually met bronze artist Jim Miller. "I began to realize my interest in cast metal sculpture because of him."
Shortly after the seminar, Henley won first place in her division at an arts festival in Waurika judged by Jacquelyn Knapp, USAO assistant professor of art.
"That was the first time I had ever heard of USAO," she said. "That experience definitely opened my eyes to more artistic opportunities and directions I could go in."
Henley grew up in Healdton, where her parents still live today. She has additional family living in and near Ringling. She received an associate's degree in art from Murray State College in 2004 before attending USAO.
Overall, Henley said she draws inspiration from nature itself.
"Nature is the leading inspiration for my art," she said. "My work captures the elegance of organic forms that are often temporary and fragile."

Art Fantasy
Conversely, Jonathon Fowler turns to fantasy for artistic subjects. His paintings of elves, dragons and sorcerers are the stuff dreams are made of.
In 2004, Fowler's fantasy illustrations were featured in a series of role playing game books by Fantasy Flight Games called "Dragon Born." Over the past three years, he has worked for Darkstone Anime creating advertisements and anime illustrations for retail items such as bags, t-shirts and dog tags.
"I've always had an interest in art," Fowler said, "mostly comic books and animation when I was younger."
But getting into professional art wasn't child's play. After high school, Fowler attended OSU-Okmulgee to pursue a degree in graphic design and computer graphics. Unsatisfied, he the left school for a stint in corporate America.
Over the next nine years, he worked as a systems administrator for various companies. In 2000, he began working with twin brother, James, on graphic design and illustration projects that renewed his interest in art.
In 2004, he enrolled in USAO and hasn't looked back since.
Currently, Fowler is creating an illustration for book entitled, "Dragonrider's Prayer." In 2008, Fowler will be a featured illustrator at Tokyo in Tulsa, a new Japanese anime convention.
"Using illustration," he said, "my work is a statement on socio-political and religious issues."
Born and raised in Ponca City, Fowler still has relatives in his hometown and Enid.
Joining the graduating seniors are six 2006 art graduates. Photographer Lauren Biddy of Seminole, potter Crystal Mayes of Duncan and photographer Angela Moore of Amber-Pocasset graduated last fall.
Chickasha painter Gail Grass, Moore sculptor Heidi Helmers and Moore comic strip and caricature artist Marcie Price graduated in the summer of 2006.
The USAO Art Gallery is located on the first floor of Davis Hall on the USAO campus. Gallery hours are 8:30 a.m. to 4:30 p.m., Monday through Friday. The exhibit and opening reception March 31 at 4 p.m. are free and open to the public. Additional information about the USAO Art Gallery is available online at www.usao.edu/gallery.