USAO's Art Wrecker Studios to hold House of Horror this Friday
---
October 22, 2019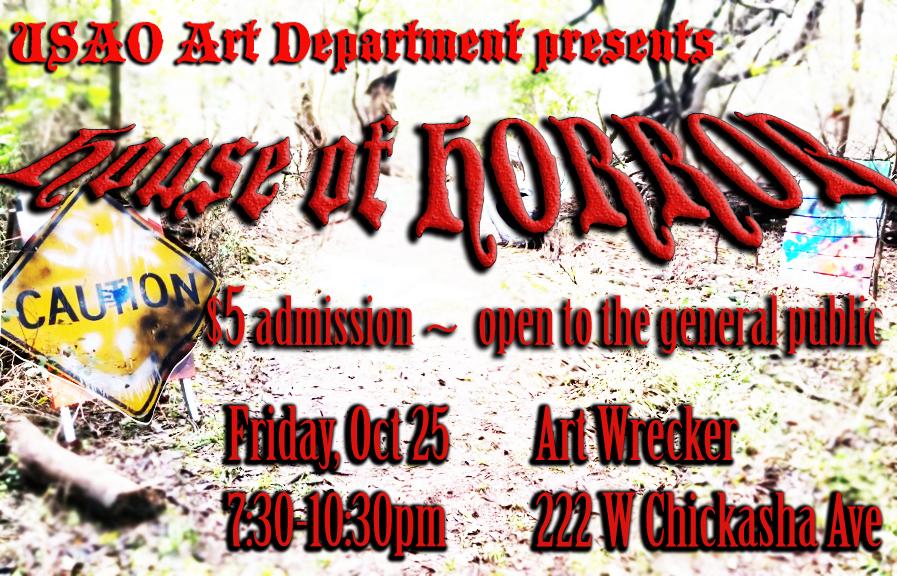 The University of Science and Arts of Oklahoma's Art Wrecker Studios in downtown Chickasha will host a one-night-only house of horror Oct. 25 from 7:30 to 10:30 p.m. that features "Children's Stories Gone Wrong."
Created, constructed and performed by the USAO art department, this attraction contains scenes of violence, blood, low lighting, loud noises, tight spaces and is suggested for ages 13 and up. Tickets are $5 and will be available at the door.
Opened in spring 2018, Art Wrecker Studios showcases diverse, interdisciplinary and hybridized forms of art that reach outside of general conceptions of what art is and can be. The works presented range from performance, installation, interactive works, sound, video and mixed media. The space allows USAO students to exhibit their work in a professional gallery setting and highlights the way art can be anything from beautiful, brave, sad, serious, funny and any number of things in between.
For more information, contact Jacquelyn Knapp, professor of art and department coordinator, at 405-574-1302 or jknapp@usao.edu.