Artists Chosen, Planning Underway for Downtown Art Project
---
May 06, 2010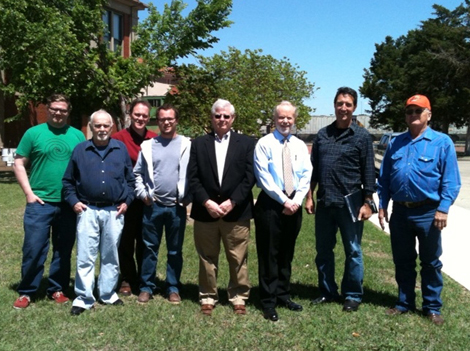 Three Oklahoma artists were selected in February to work with sculptor Archie Held on the Chickasha Public Art Project.
The Chickasha Area Arts Council, the City of Chickasha and the University of Science and Arts are collaborating on the project that will make downtown Chickasha a hub for the arts in the community and the area.
Oklahoma artists Dustin Boise, a graduating art major from the University of Central Oklahoma; Kolbe Roper, program assistant for Oklahoma Art in Public Places, and Eric Baker of Ebbing Night Art Studio in Owasso will work on the design team with Held and artist Cecil Lee on the project. Julie Bohannon, president of the Chickasha Area Arts Council and director of alumni development at USAO, serves as project coordinator.
USAO President John Feaver serves as an ex-officio member of the team.
The project revolves around the idea of making the downtown area near the historic Rock Island Depot into a new arts district with a public arts sculpture as its focal point.The sculpture is scheduled to be installed in front of the Mill Building at the historic Depot.
The team met with city officials and community representatives to learn about the development of the downtown arts district and potential placement of the sculpture April 27 in the Rock Island Depot.
USAO will host the team June 8-10 when they will complete a final sculpture design and end the workshop with a community presentation on June 10.
During the first quarter of 2010, young sculptors were invited to submit applications to Held and Lee. The finished sculpture is scheduled to be unveiled during the 2010 Rock Island Arts Festival, Oct. 1-2.
The project is sponsored by the Chickasha Area Arts Council and the City of Chickasha with funding by the National Endowment for the Arts, the Oklahoma Arts Council, the Union Pacific Foundation and local patrons.
More information about the new sculpture and the new arts district is available at the CAAC website -- www.chickashaarts.org.