Askins Helps Unveil New Exhibit on Great Oklahoma Women from OCW
---
August 15, 2007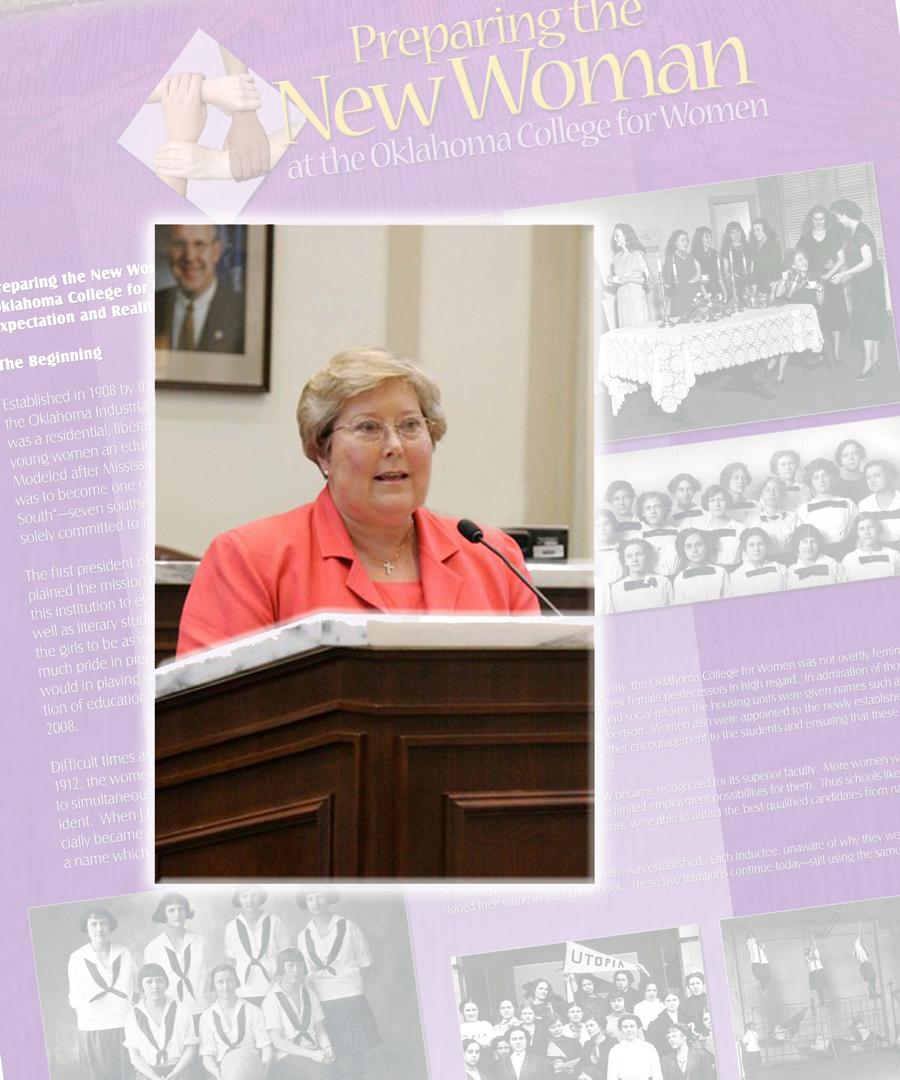 CHICKASHA -- A new museum exhibit will be unveiled Aug. 27 that colorfully tells the story of 10 women whose common experience at the Oklahoma College for Women helped them to change their world. Lt. Gov. Jari Askins will introduce the exhibition at the new Oklahoma History Center, northeast of the State Capitol.
A public reception is scheduled from 5:30-6:30 p.m. in the Devon Great Hall at the OHC, located at the corner of 23rd and Lincoln. The exhibit will remain on display through Statehood Day, Nov. 16.
An official Oklahoma Centennial event, the exhibit -- "Preparing the New Woman at the Oklahoma College for Women: Expectation and Reality" -- is a 12-panel exhibition made possible by a grant from the Oklahoma Humanities Council. Printed on giant fabric panels that measure 80 inches high and 30 inches wide, the series captures the lives of highly successful women whose stories span 1917-58 on the campus of Oklahoma's public liberal arts college. Of the 10 women, four are living and remain internationally recognized leaders in their fields of medicine, art and music and librarianship.
"Oklahoma women have served and led in so many critical roles during our first century," Askins said. "This exhibit captures 10 women who got their start at the Oklahoma College for Women – now USAO – and launched careers that affected meaningful change in many fields. As an Oklahoma Centennial event, this is a beautiful and fitting tribute to Oklahoma women and to the special institution that helped define them."
Askins' extensive record of public service spans all three branches of government – serving as a district court judge for eight years and then as the Pardon and Parole Board's first chairwoman. She again set precedent as the first female leader of the Democratic Caucus in the House of Representatives and most recently as Oklahoma's first woman Democratic Lieutenant Governor.
"I am proud to salute USAO and to host this important exhibit recognizing great women who have led in science, the arts, aviation and more," Askins said.
The series was lovingly researched by a team at the University of Science and Arts, including former state system Chancellor Dan Hobbs. The stories were written by Dr. Brenda Brown, professor of English and chair of the USAO Division of Arts and Humanities.
Scheduled for launch at the striking new Oklahoma History Center, the new exhibit will travel through dozens of Oklahoma museums, schools and libraries through the OHC's Tracks Program.
Designers chose tapestry fabric as a motif and bold colors of purple, green and gold to illustrate the story. In the logo, four female hands are interlocked as a symbol of the timeless bonds and unified strength of women who shared the OCW experience.
"This exhibit will provide broad-based access to Oklahoma citizens about the remarkable influence of OCW on Oklahoma Higher Education," says project Director Kelly Brown, who heads USAO's Nash Library. "OCW was an extraordinary place. It was an incubator for the dreams of Oklahoma women. The vision, courage and leadership of these women who learned here to ignore manmade boundaries to their potential success is worthy of examination. These are women who helped to change Oklahoma, indeed, America."
From hundreds of possible high-achievers, 10 women were chosen to embody the OCW story. They include Betty Pat. Gatliff of Norman, class of 1951, a nationally known forensic sculptor; Anna Wade O'Neill, widely regarded as the founder of OCW, later a faculty member; Anna Lewis, OCW faculty member and Oklahoma historian from 1917-1956; Mary Thompson Fisher (TeAta), class of 1919, a Native American storyteller of international acclaim; and Brownie Lee Jones, class of 1920, social reformist on worker's rights.
Other women whose lives are featured in the exhibit include Carma Russell Zimmermann Leigh, class of 1925, a national leader in public libraries; Gladys Anderson Emerson, class of 1925, the internationally recognized biochemist who isolated Vitamin E; Paula Ruth Loop, class of 1937, a proud WWII veteran member of the Women Airforce Service Pilots (WASP); Londa Lee Moore Shaw, class of 1947, a living legend in piano jazz; and Dr. Jeanne Porter Hester, class of 1951, an internationally recognized expert in blood diseases and inventor of the blood cell separator.
"This exhibit tells a story never heard statewide: the remarkable influence of OCW on Oklahoma, on several generations of alumni, and toward the greater good in American higher education," says former grant writer Julie Bohannon, who leads the USAO Alumni Association. "As it honors their alma mater, it makes for an impressive tribute to the lives and legacy of 10 of its favorite daughters. The only disappointment is that your exhibit couldn't include 50 more OCW women!"
"Preparing the New Woman at the Oklahoma College for Women: Expectation and Reality" presents to viewers the historic and social context surrounding featured graduates and faculty from the first college authorized by the first Oklahoma State Legislature.
The school was founded in 1908 as the Oklahoma Industrial Institute and College for Girls. It was the last of only seven state women's colleges with similar missions ever created in the United States, one of two west of the Mississippi River. As such, it is one of the oldest public liberal arts colleges in America.
"In the exclusive company of these unusual few schools established between 1884 and 1908, the Oklahoma College for Women (OCW) – as it was unofficially known from 1912 – made historic contributions to defining the scope and direction of training and educating women in the United States," says USAO President John Feaver. "This exhibit tells a compelling story in a beautiful way: that our institutional history is highly unique in American higher education, and that our graduates – then and now – distinguish themselves in fascinating ways."
Over the past five years, the historic and educational importance of the Oklahoma College for Women (1908-1965) has been realized. Research into the historic nature of the landscape of the college resulted in the entire campus being declared in 2002 a 'historic district' on the National Register of Historic Places.
Grant awards from the Oklahoma Department of Libraries (Models of Archival Administration Grant), the Oklahoma Humanities Council, (The Anna Lewis Collection), and the Inasmuch Foundation (OCW Archive Project) have resulted in articles published in The Chronicles of Oklahoma by Oklahoma scholars such as Dr. Linda Reese and architectural historian Cindy Savage.
"Preparing the New Woman" tells of strong young women who discovered their unique voice and career potential at OCW. Author Brenda Brown says she gained much from the experience.
"When I first came to USAO 15 years ago, pretty much fresh out of graduate school, I heard stories about the grand history of the institution," says Brown, who wrote the text in this exhibit. "I listened to stories about its history of tradition and excellence, especially in the arts. But, it wasn't until I began to write the text for Preparing the New Woman that I gained a true understanding of, and appreciation for, the faculty and students who preceded me and who gave this university its tremendous pedigree."
Brown drew heavily on five years of research by Dr. Dan Hobbs, chancellor emeritus of the Oklahoma State System of Higher Education, who has written a new book for USAO's upcoming Centennial. Additional research for this exhibit was done by Geneva Hudson and student researcher Andrea Taylor. Graphic design was done by Randy Talley of USAO.
Made co-educational in 1965, USAO is Oklahoma's public liberal arts college, its mission distinct and unduplicated in the state system of higher education. USAO's central mission -- providing quality liberal arts education in a residential setting -- has never changed.
Recognized today as Oklahoma's highest ranked public college in U.S. News & World Report's America's Best Colleges, USAO is a member of the prestigious, national Council of Public Liberal Colleges and the exclusive, national Colleges of Distinction guidebook.
"Preparing the New Woman" is a project of the USAO Foundation, now celebrating its 30th year of support for USAO.
Additional support came from the Oklahoma Humanities Council (OHC), an independent, nonprofit organization whose mission is to enrich the lives of individuals and communities by fostering access to and education in the humanities. OHC is a partner of the National Endowment for the Humanities (NEH), and is Oklahoma's leading advocate for the understanding and appreciation of the humanities.