Awards Convocation Spotlights USAO's Finest
---
May 01, 2007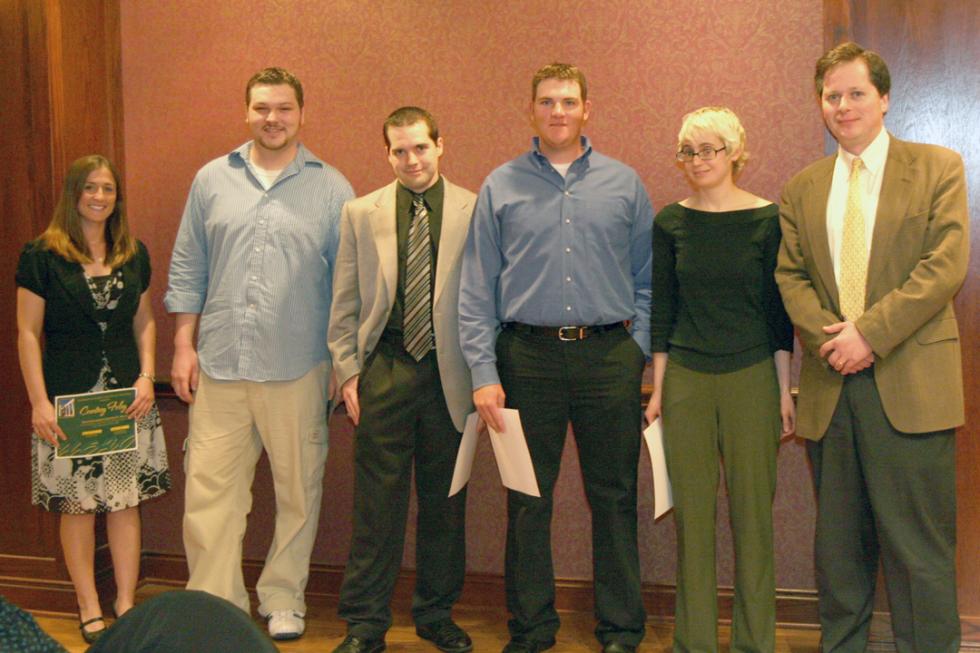 CHICKASHA – Award-winning students were given their moment in the spotlight recently when the University of Science and Arts held an awards convocation on April 13. Three new awards in research, creative expression and leadership were presented for the first time.
During a standing-room-only luncheon in the USAO Ballroom, faculty and staff members presented departmental, athletic and creative awards to dozens of USAO seniors.
After an opening by Dr. Eloy Chavez, dean and director of students and student services, guests were entertained by the USAO Concert Choir, under the direction of Dr. Jan Hanson, professor of music.
Chavez presented the George and Donna Nigh Leadership Award to Donald "J.R." Hoyt Jr. of Duncan. A speech language senior, Hoyt graduated April 20.
Dr. Sandy Huguenin, vice president of academic affairs, presented the Divisional Distinguished Graduate Awards to six seniors in four divisions. Norman English major Margaret Wilson and Marlow communication major Christopher Willard received the Arts and Humanities Division award. Business major Cody Peacock of Covington and history major Ryan Schneider of Marlow received the Business and Social Sciences Division award.
For the Science and Physical Education department, an award was given to Courtney Foley, chemistry senior from Edmond. "J.R." Hoyt was awarded the divisional award for the Education & Speech Pathology department.
Previously, the divisional graduate awards were presented before the commencement ceremony.
This year's Bill Smith Scholar-Athlete Awards went to Courtney Foley and Cody Peacock.
Additional scholar-athlete awards, presented by athletic director and men's basketball coach Brisco McPherson, were given to Chickasha chemistry senior Jessie Brown, Indiahoma psychology senior Kayce Godwin, Oklahoma City psychology senior Nikki Yager, Amber business senior Lindsey Monroe and Courtney Foley.
Chickasha biology senior Rex Moore received the Gladys Emerson Award for undergraduate research. Moore's Oklahoma moth research has earned statewide attention, and the award came with a $500 cash prize. The award was presented by Dr. Mike Mather, professor of biology.
The Te Ata Award for creative expression went to two seniors, English major Kily Richardson-Keeling of Pocasset and art major David Fortner of Chickasha. Each student received $250 cash for the award. Dr. Jan Hanson, professor of music, presented the award.
Kelly Brown, director of Nash Library, presented early childhood development major Lauren Wilsie of Tecumseh with the George Austin Award for campus leadership. A $500 cash prize accompanied the award.
Dr. Jennifer Long, associate professor of economics and chair of interdisciplinary studies, presented several Works of Distinction Awards to students for papers and special projects:
Nowata psychology senior Blakely Adams for "Self-Esteem Level and Personality Type as Predictors of Sexual Behavior;" Adams communication senior Laci Bowers for "Romantic Love or Raging Lust? Censorship in Television Series;" Duncan communication senior Garrett Haviland for "Peer Influence and its Effect on Student Motivation;" Frisco, Texas political science senior Angela Jones for "Outspoken, America" and Chickasha business senior Kurt Jones for "The Inherent Good: An Exploration in Film."
Comanche English senior Laura Komula for "An Exploration in Coptic Textile Design;" Choctaw English senior Dustin Morris for "Northeast Versus Midwest: A Journey of Flaws;" Norman English senior Margaret Wilson for "Twenty-Eight Pages of Content: Works of Original Fiction and Creative Nonfiction" and Buckeye, Ariz. political science senior Jessica Hatlestad for "What's Class Got to do With it? A Study of Class Issues as Portrayes in 1980s Film."
Eight seniors received graduation cords for their involvement in the President's Leadership Council: business major Benjamin Bauer of Oologah, chemistry major Jacqueln Vazquez of Lawton, computer science major Brandon Wall of Wewoka, communication major Miranda Russell of Lawton, Jessica Hatlestad, Lauren Wilsie, Dustin Morris and Kayce Godwin.
Forty students across multiple studies and classifications were recognized for their inclusion in Who's Who in American Colleges and Universities:
Blakely Adams, Jessica Anthony, Benjamin Bauer, Jennifer Bridgforth, Annabel Bryant, Christopher Castor, Bethany Covey, Courtney Foley, Kayce Godwin, Jessica Hatlestad, Jeannie Henley, Cory Hogan, Matthew Honeyman, "J.R." Hoyt Jr., Chelsea Huddleston, Jessica Irvin, Angela Jones, Cierra Jung, Kelli Keeble, Amanda Mason.
Chelsea McClanahan, Barry McCoy, Carie McKeown, Lindsey Monroe, Dustin Morris, Erin Mullins, Meagan Peters, Miranda Russell, Brittany Schultz, Laura Schultz, Misty Shepard, Erin Smith, Diana Steinhauser, Sarah Tabor, Ginabeth Taylor, Brandon Vansell, Julia Wells, Amy Widener, Christopher Willard and Nicole Yager.
A photo gallery from the event is available online at www.usao.edu/news.