Bach Festival Explores Life, Times of Bach at USAO Oct. 22-27
---
October 17, 2007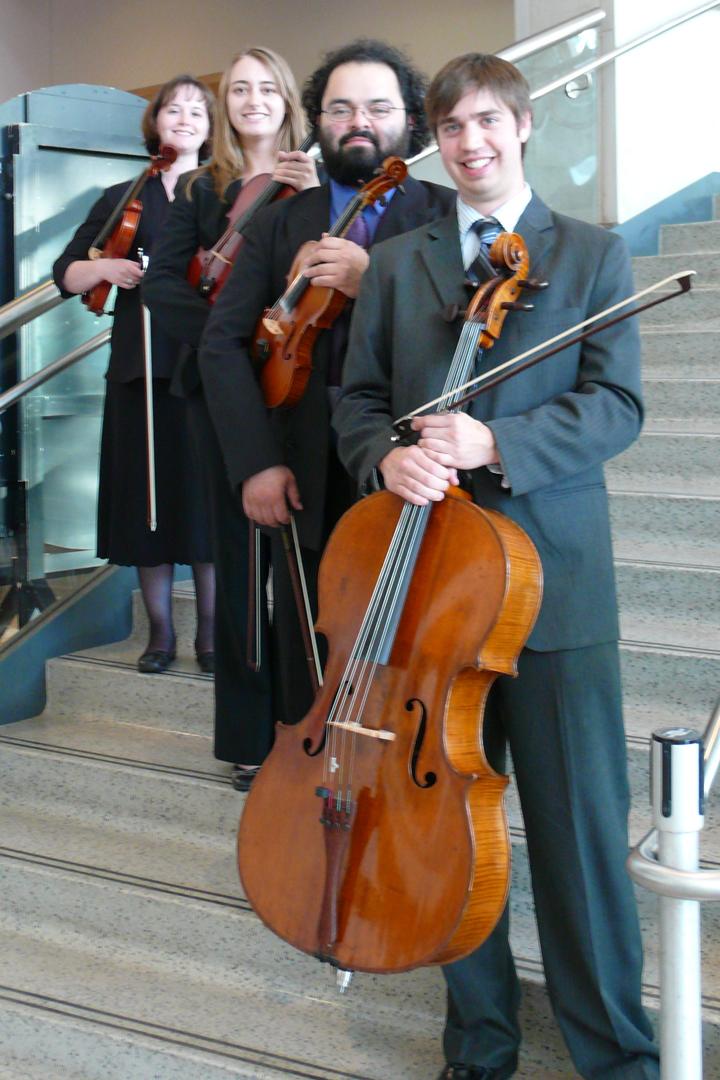 CHICKASHA – Professors, professional musicians and student performers are joining forces for a six-night musical, intellectual and philosophical look at Johann Sebastian Bach at the University of Science and Arts. Beginning Oct. 22, the university is offering six consecutive evenings of free events that center not only on the famous composer's music, but different aspects of the life and times of Bach.
Special guest conductor and world renowned violinist Yuval Waldman will serve as guest performer and director every night of the festival. Several local ensembles will join Waldman for Bach performances throughout the event, including the Overture String Orchestra from the Oklahoma Youth Symphony, the University of Oklahoma Crouse Quartet and multiple USAO ensembles.
More than just a series of concerts, the Bach Festival is the first of a new five-part "Festival of Music and Ideas" series planned through spring, 2009. Laced into each night's live musical selections are guest lectures, video segments and multimedia presentations revealing a glimpse of the selected composer. Relevant and related topics in a variety of disciplines and studies are presented through a liberal arts perspective.
Event coordinators are encouraging local schools with music programs to bring students to the educational and entertaining series. More information about the event is available online at www.TheFiveBs.com.
Additional scheduled composers include Ludwig van Beethoven in spring, 2008, Johannes Brahms in summer, 2008, Bela Bartok in fall, 2008 and Leonard Bernstein in spring, 2009. Each event is free and open to the public.
The festival kicks off Oct. 22 at 7:30 p.m. in the Te Ata Memorial with excerpts from the film, "The Joy of Bach," and live music performed by Waldman, Dr. Stephen Weber, associate professor of music, and the USAO Concert Band, Key Players, ShowBand and Vocal Jazz Ensemble. Selections include "Violin Concerto in A Minor," "Toccata in G Major for Keyboard" and "Jesu, Joy of Man's Desiring."
The USAO Concert Choir joins Waldman on Oct. 23 at 7:30 p.m. in the USAO Alumni Chapel. Dr. Ingrid Shafer, professor of philosophy and religion, will speak about religion in Bach's time and Dr. Jan Hanson, professor of music and director of the Concert Choir, will present ideas about the sacred music of Bach.
The film, "The Passion According to St. Matthew," will be presented in large screen format Oct. 24 in the Davis Hall Theatre at 6:30 p.m. The film, directed by Italian filmmaker Pier Paolo Pasolini, features liturgical music of Bach and Mozart, including Bach's "St. Matthew Passion."
Bach's music will get a coffee house treatment Oct. 25 when Waldman is joined by Joe Settlemires, jazz guitarist and director of the USAO ShowBand. Settlemires, a notable musician and arranger, has been inducted into multiple music halls of fame. The evening, presented in dinner theatre style with free coffee and pastries, features Dr. Kenneth Bohannon, baritone and associate professor of music, and two students performing excerpts from the "Coffee Cantata."
Waldman will speak on Bach's everyday life, while Dr. Sanders Huguenin, vice president of academic affairs, and Dr. Jennifer Long, associate professor of economics, will present ideas on economics and trade in Bach's time. Special guest ensemble Overture String Orchestra from the Oklahoma Youth Symphony is scheduled to perform under the direction of conductor Heather Bush. The evening begins at 7:30 p.m. in the Student Center Ballroom.
Audiences will experience the science of Bach Oct. 26 at 7:30 in the Alumni Chapel when Melissa Rickman, reference/instruction librarian, discusses scientific advances in Bach's day. Dr. Erik Guzik, assistant professor of economics, demonstrates well tempered tuning and discusses economics. Waldman returns with Russian pianist Tatiana Kuleshova on piano for renditions of "The Well Tempered Clavier" excerpts, "Sonata in E Major" for violin and keyboard and a special presentation of excerpts from modern Bach parodist PDQ Bach's "Short-Tempered Clavier."
A closing concert featuring local church choirs and the University of Oklahoma Crouse Quartet begins at 7:30 p.m. on Oct. 27 in the First Christian Church in Chickasha. Selections for the evening include "Chorales and Preludes for Choir and Organ" with Weber as organist, "Violin Concerto in E Major," "Brandenburg Concerto No. 4" and more. Members of the church choirs will combine for the closing pieces with selections performed by the string quartet.
A special exhibit featuring the original works of Oklahoma artist Bert Seabourn also is planned for display in the USAO Art Gallery lobby during the Bach festival, accompanied by a micro-exhibit of artwork from the composer's lifetime.
Also known as "The Five B's," the weeklong festivals feature Yuval Waldman as both performer and director of music for the event.
The Russian-born Israeli musician has performed across the globe as a soloist with major orchestras in concerts and on radio and television. In addition to acclaim for his performances of standard repertory, Waldman is well known for his thoughtful and stylish performances and recordings of Baroque music, both as a violinist and as a conductor. He has championed rarely performed 19th century masterpieces and has commissioned and premiered numerous works by contemporary American and Israeli composers.
Some of Waldman's career highlights include conducting on the Congressional steps in Washington, D.C. in a memorial concert on September 11, 2002, welcoming the millennium in a Benedictine monastery in Rome, celebrating the 50th anniversary of the State of Israel in Moscow and conducting Bach's "Mass in B Minor" for Portuguese villagers in Madeira