Bach Festival Features Renowned Violinist, Guest Lectures Oct. 22-27
---
September 21, 2007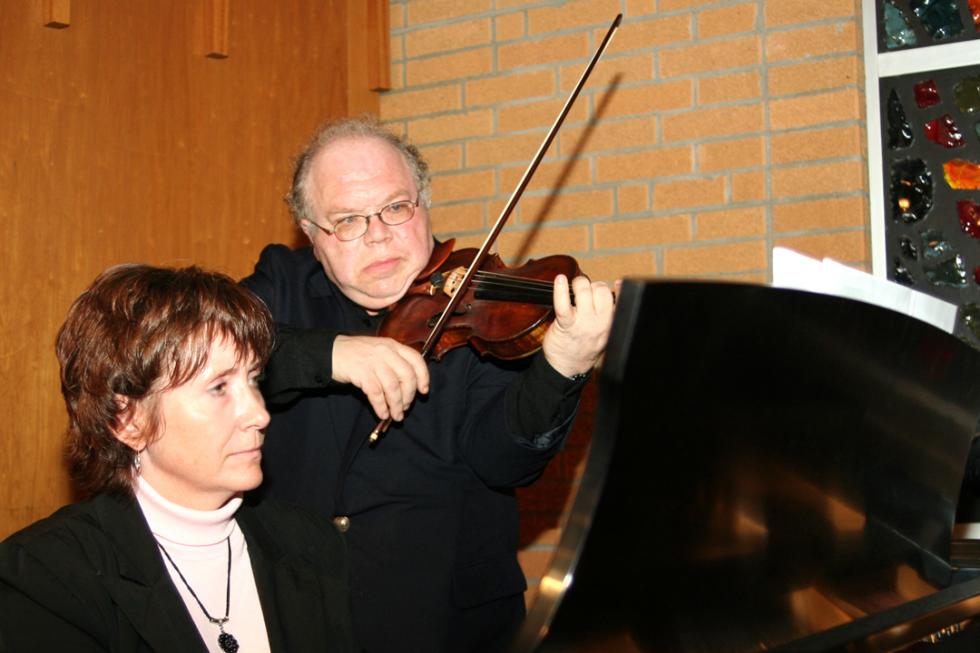 CHICKASHA – For six nights in October, the University of Science and Arts is plunging into the life and times of one of history's greatest composers, Johann Sebastian Bach, in an exciting festival filled with live music, guest speakers, video and more. USAO's first "Festival of Music and Ideas" series event is scheduled Oct. 22-27.
Over the course of the festival, internationally renowned violinist and conductor Yuval Waldman will perform Bach selections with faculty, students and ensembles from the university, local community and throughout the state. The series' finale erupts with a closing concert featuring choirs from local churches.
"Yuval Waldman is not only a brilliant, internationally acclaimed violinist and conductor," said Dr. Ingrid Shafer, professor of philosophy and religion and a member of the series' planning team, "he is a multi-faceted Renaissance man who understands the liberal arts and a genuine citizen of the world whose not-for-profit Music Bridges International helps people from different cultures become friends through music. No one is better prepared to inspire and lead our Festival of Music and Ideas. In its blending of intellectual history, music performance and art, it is the perfect event to launch our Centennial year."
The Bach festival is the first of events in a series planned through spring, 2009, at USAO. Additional scheduled composers include Ludwig van Beethoven in spring, 2008, Johannes Brahms in summer, 2008, Bela Bartok in fall, 2008 and Leonard Bernstein in spring, 2009. Each event is free and open to the public.
Event coordinators are encouraging local schools with music programs to bring students to the educational and entertaining series. The series will explore each composer through a liberal arts perspective, involving interactive and multimedia presentations and lectures giving insight into relevant and related topics in a variety of disciplines and studies.
Although Bach takes center stage for the first festival, Dr. Stephen Weber, associate professor of music, emphasizes that the event is not merely a music series.
"The 'Festival of Music and Ideas' is much more than just a concert series," Weber said. "With presentations focusing on history, politics, science, philosophy and more, music is only part of the overall series. Participants are in for intriguing presentations accompanied by thoughtful performances, both of which will likely captivate an audience of all ages and backgrounds."
A special exhibit featuring the original works of Oklahoma artist Bert Seabourn also is planned for display in the USAO Art Gallery lobby during the Bach festival, accompanied by artwork from the composer's lifetime.
University faculty members from various disciplines will present lectures interspersed with music performances throughout the week. Each festival will close with a concert celebrating the music of the featured composer.
Also known as "The Five B's," the weeklong festivals feature Yuval Waldman as both performer and director of music for the event.
The Russian-born Israeli musician has performed across the globe as a soloist with major orchestras in concerts and on radio and television. Following his New York debut on the International Series of Carnegie Hall, Jeunesse Musicales, Waldman has made appearances across the United States, Canada, Europe and Israel.
In addition to acclaim for his performances of standard repertory, Waldman is well known for his thoughtful and stylish performances and recordings of Baroque music, both as a violinist and as a conductor. He has championed rarely performed 19th century masterpieces and has commissioned and premiered numerous works by contemporary American and Israeli composers.
Some of Waldman's career highlights include conducting on the Congressional steps in Washington, D.C. in a memorial concert on September 11, 2002, welcoming the millennium in a Benedictine monastery in Rome, celebrating the 50th anniversary of the State of Israel in Moscow and conducting Bach's "Mass in B Minor" for Portuguese villagers in Madeira.
Waldman currently directs the World Bank Mozart Festival in Washington, D.C., New American Chamber Orchestra in New York City and is first violinist of the Kinor Quartet.
Additional information about the festival is available online at www.thefivebs.com.