Bachelor of Fine Arts candidates prepare for final exhibition
---
August 08, 2017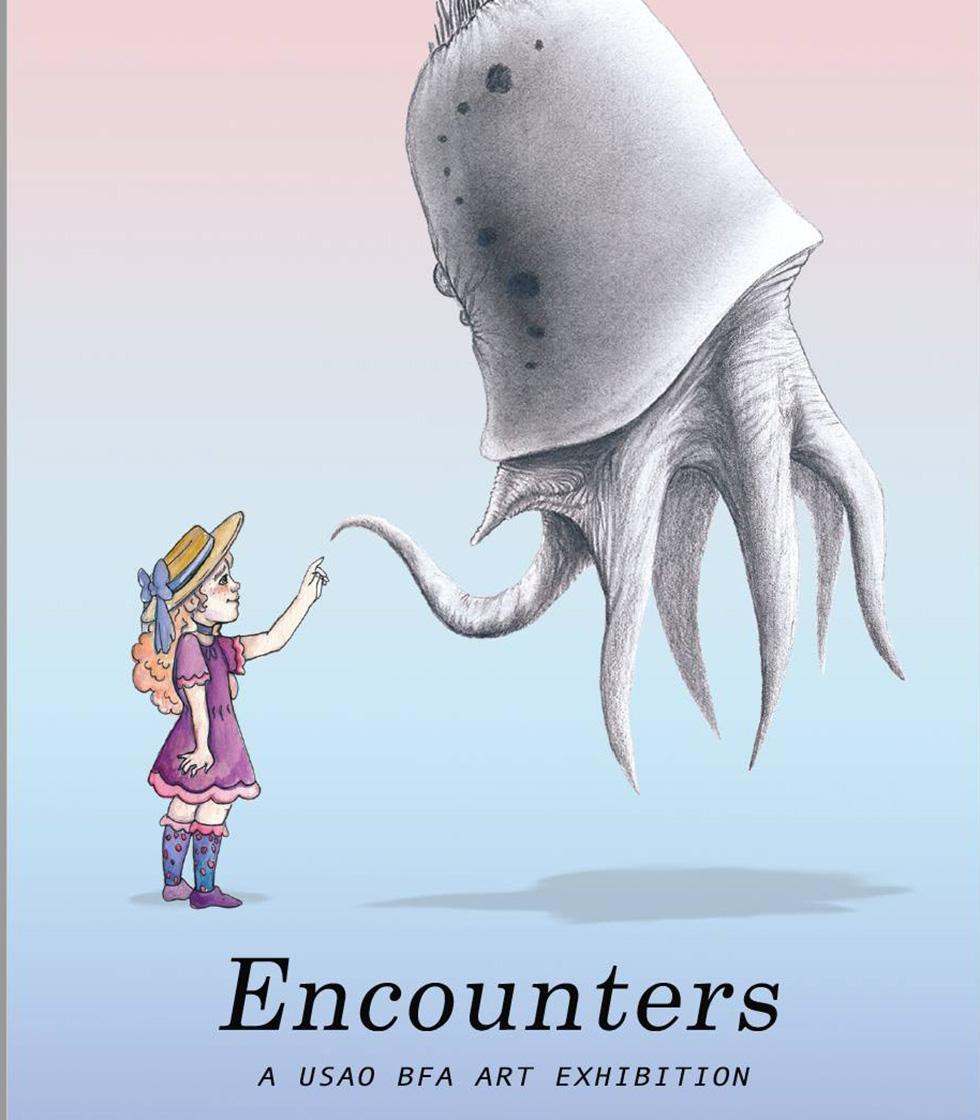 Two art students from the University of Science and Arts of Oklahoma are preparing for their final exhibition, "Encounters," before graduation. An opening reception with hors d'oeuvres will take place August 26 at 7 p.m. in the 3rd Floor Gallery in Davis Hall, and the exhibition will remain on display until Sept. 12. The reception is free and open to the public.
The fall 2017 candidates for a Bachelor of Fine Arts are Leo Corbett of Oklahoma City and Hailey Craighead of Chickasha.
An Eagle Scout and captain in the JROTC, Corbett was always known as "the guy who draws." He decided to pursue a Bachelor of Fine Arts at USAO due to its highly regarded faculty and small class size. After graduation, he plans to pursue a career as a professional illustrator and is considering graduate courses in animation.
Corbett's work in the exhibition includes two original black-and-white graphic novels that combine traditional and digital illustrations with physical models. His work focuses on the possibility of communication in the absence of traditional spoken dialogue. His work draws inspiration from the evocative imagery of expressionism, as well as illustrator Allen Williams, animator Jay Shuster, composers Morten Feldman and John Cage, and filmmakers David Lynch and Fritz Lang.
The daughter of two USAO alumni, Craighead realized in her second semester that she "couldn't pursue art as a side project any longer" and changed her major to match her passion. She has worked as a freelance illustrator on more than half a dozen projects and hopes to partner with a publishing company after receiving her degree.
Craighead's work embodies adventure and discovery, combining modern color techniques with classic children's book and television illustration. Her goal is to harmonize mixed, and often contrasting, media in order to create pieces that are both an integral part of the story and appealing on their own. Bright colors and outfits reflect the whimsy of childhood while contrasting, playfully uncomfortable elements mirror the uncertain and unsettling feelings of growing older and exploring untouched worlds.