Bartok Life and Music Explored in Weeklong Festival
---
October 13, 2008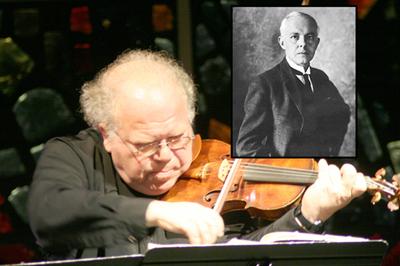 Russian-born Israeli violinist Yuval Waldman serves as both performer and director of music for the Bartok Festival. The festival is the fourth in a five part series that explore the life and times of each composer through a liberal arts perspective, involving interactive and multimedia presentations giving insight into relevant and related topics in history, politics, science, philosophy and other disciplines.
Bartok Life and Music Explored in Weeklong Festival
CHICKASHA -- When composer Bela Bartok said, "I cannot conceive of music that expresses absolutely nothing," he had no idea that his music and life would be expressed and taught using a variety of instruments, musical forms, multimedia and lecture at the University of Science and Arts in Chickasha, Oklahoma.


USAO continues its Festival of Music and Ideas with four nights devoted to Bartok Oct. 20-21 and 23-24. Members of the campus community are collaborating for the festival, which includes live music, guest lectures and more. Two nights include free refreshments.

Each event is scheduled for 7:30 p.m. in different locations on campus and is free and open to the public.

"What's special about the festival is that it's not just an excellent time for music, but it's a time for us to bring together art, culture, science and philosophy," said Dr. Sanders Huguenin, vice president for academic affairs. "It's a time to illuminate and celebrate the connections between the different factors of the human experience."

To date, more than 2,000 campus and local community members have attended the festival's previous events. Also known as "The Five Bs," the weeklong series of festivals began in fall 2007 with a tribute to Johann Sebastian Bach, followed by a spring festival dedicated to Ludwig van Beethoven. This summer's event marked the third in the series and focused on Johannes Brahms. October's festival is the fourth in the series; with a tribute to Leonard Bernstein in the spring.

More than just a series of concerts, the Bartok Festival strings together live musical selections and guest lectures, revealing a glimpse of the composer and the world in which he lived. Relevant and related topics in a variety of disciplines and studies are presented through a liberal arts perspective.

Special guest conductor and world-renowned violinist Yuval Waldman will serve as guest performer and director every night of the festival. Local, national, and campus musicians and singers will join Waldman for Bartok performances throughout the week.

More information about the event is available online at www.TheFiveBs.com.

Beginning Oct. 20 in the USAO Alumni Chapel, Waldman will be joined by Russian pianist Tatiana Kuleshova, with a piano solo from Dr. Stephen Weber, associate professor of music, and a cello solo by Stephanie Lemoine. Under the direction of Dr. Ken Bohannon, associate professor of music, the USAO Vocal Jazz Ensemble will present In the Village, Boatman! Boatman! and See the Roses. Other music selections for the evening include Hungarian Rhapsody No. 10, Duo for Violin and Cello, Allegro Barbaro and Hungarian Folk Tunes.

Dr. Ingrid Shafer, professor of philosophy and religion and Mary Jo Ragan Professor of Interdisciplinary Studies, will present The Story of Hungary.

The festival continues on Tuesday evening in the Chapel as Waldman performs Hungarian Peasant Songs and Tzigane, with Kuleshova on the piano. Kuleshova will also present Allegro con brio, ma non leggiero. Under the direction of Dr. Jan Hanson, professor of music, the USAO Concert Choir will perform Tece Voda, Tece. Bohannon will sing God is My Shepherd, Opus 99, No. 4, and soprano Elizabeth Sellers will perform selections from Seven Popular Spanish Folksongs, with pianist and USAO graduate Rhenada Finch accompanying on the piano.

To conclude the evening, Huguenin and Dr. Brenda Brown, professor of English and chair of the Arts and Humanities Division at USAO, will discuss Europe Between Wars.

The festival continues on Thursday in the USAO Student Center Ballroom with an evening devoted to Bartok and ethnic folk music. Special guest Flowers of Edinburgh will present Banish Misfortune, The Road to Lisdoonvarna/Swallowtail, Flowers of Edinburgh/Red Haired Boy, and Peg Ryan's/Maggie in the Wood/Rakes of Mallow. Flowers of Edinburgh features twins Laura and Rachel Bennett on fiddle and their mother Malia on the guitar. The twins started playing fiddle in the fourth grade. One year later they both won gold medals at the American Kids National Talent Competition in Branson, Missouri.

Also during Thursday night's performance, Waldman and violinist DeMetri Moon will perform Ruthenian Kolomeika, Prelude and Canon and Pizzicato. Moon has played violin since the age of three and started playing fiddle music when she was seven years old. She has won numerous fiddle and vocal contests and has performed at the Nashville Palace, John A's Little Palace, Hall of Fame Lounge and other spots. Moon will also perform Two O'Clock.

Waldman and Finch will perform Joc Cu Bata, Braul, III, Buciumena, Poarga Romanesca and Maruntel. Dr. Eric Guzik, assistant professor of economics, will perform Csardas, Cumparsita and Dark Eyes on the accordion. Apache resident Myron Beeson will perform Native American music with a Native flute, and the trio of Joe Settlemires, guitar, Brandon Calderon, bass, and Dr. Dan Hanson, professor of music at USAO, on drums, will perform Old Joe Clark. Refreshments will be served.

The festival comes to a close Oct. 24 in the Ballroom as nine artists perform the Mikrosmos Keyboard Project. Performers include Weber, Finch, Jack Huguenin, Kaitlin Thomson, Colette Schaffer, Beki Irvin, Katelin Thomson and Susanna Hayworth. The Key Players, under the director of Dr. Dan Hanson, will perform Bulgarian Rhythms from Mikrokosmos, Vol. 4. The USAO Concert Wind Ensemble, under the direction of Dr. Jan Hanson, will perform Bear Dance. Waldman and Kuleshova will conclude the festival with Sonata for Violin, Allegro molto from Piano Sonata and Melodia Presto From Rhapsody No. 1. Refreshments will be served after the event.

Russian-born Israeli violinist Yuval Waldman, who serves as both performer and director of music for the event, has performed across the globe as a soloist with major orchestras in concerts and on radio and television. In addition to acclaim for his performances of standard repertory, Waldman is well known for his thoughtful and stylish performances and recordings of Baroque music, both as a violinist and as a conductor. He has championed rarely performed 19th century masterpieces and has commissioned and premiered numerous works by contemporary American and Israeli composers.

Some of Waldman's career highlights include conducting on the Congressional steps in Washington, D.C. in a memorial concert on September 11, 2002, welcoming the millennium in a Benedictine monastery in Rome, celebrating the 50th anniversary of the State of Israel in Moscow and conducting Bach's "Mass in B Minor" for Portuguese villagers in Madeira.