Basco receives Staff Achievement award
---
May 13, 2014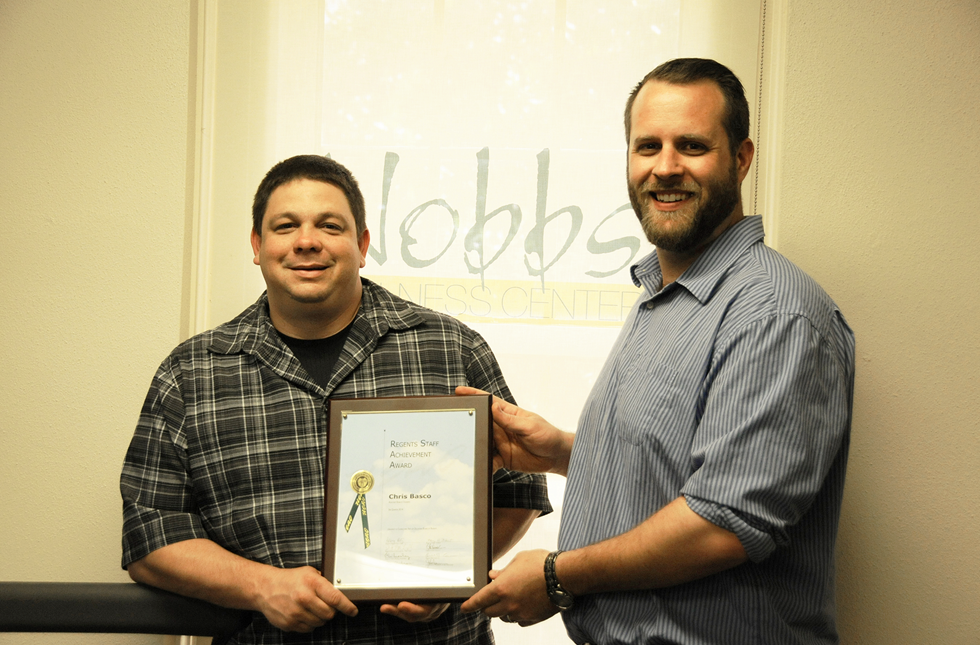 The Assistant Dean of Students and Director of Health Services Chris Basco was awarded the Regents Staff Achievement Award. Basco was named honoree for the third quarter of the 2013-14.
He has been a member of the USAO staff since 2010.
One staff member who nominated Basco for the award describes him as, "an employee who goes over and beyond his job duties" while executing "responsibilities that cover very diverse areas on campus."
As director of health services, Basco was integrally involved in the creation of the Nobbs Wellness Center in 2012. The 2,200 square foot facility, located in the Student Center, features treadmills, stationary bikes, stair-climbing machines as well as more specialized equipment to maximize health benefits for students.
More recently, Basco took on new duties as the assistant dean of students, which includes managing the security staff on campus.
Basco was presented the award in April by Adam Heilman, USAO Print Shop manager and Employee of the Year for 2012-13.
The Regents Staff Achievement Award is presented quarterly to one outstanding staff member. From these award winners, an Employee of the Year recipient is selected, who will be recognized at the USAO Board of Regents meeting next September.