USAO welcomes alumnus Jerry Bennett back to campus as new Resident Artist
---
September 07, 2021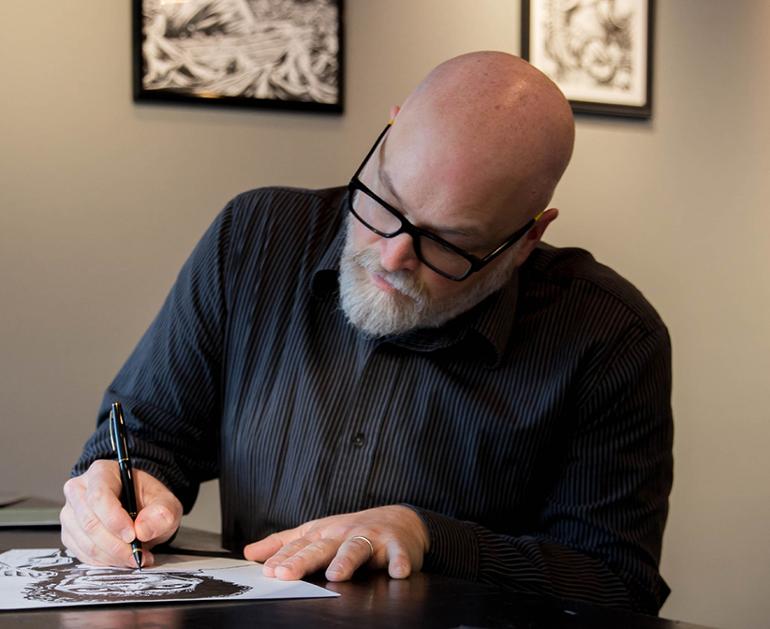 For 1993 University of Science & Arts of Oklahoma graduate and newly named Resident Artist, Jerry Bennett, the need for studying art is not up for debate; he considers it "a fundamental part of our humanity to want to create and to discover how to create well."
Since his time as a student, Bennett has amassed an impressive array of credentials as a working artist, having created work for Stan Lee, Marvel Studios, Oklahoma Today, The Oklahoma Gazette and illustrating the creator-owned comic series "Glamorella's Daughter" with co-creator Charles J. Martin. He was inducted into the USAO Alumni Hall of Fame in 2020 and recently completed the Paseo Arts District's SPACE residency at the Skirvin-Hilton in downtown Oklahoma City. Knowing about his residency, Professor of Art and Department Coordinator Jacquelyn Knapp reached out to see if he might be interested in a similar position at the university.
"She called later that afternoon saying she wanted to invite me to be the art resident for USAO—it was actually quite a surprise!" said Bennett.
Though creativity has always been a crucial part of Bennett's life, he did not always see a college degree as part of his path as an artist, admitting that, after graduating Del City High School, he was not at all motivated to continue his education. His stepmother at the time felt otherwise, however, and began calling universities in the region and found that USAO still had art scholarships available.
"So, with three weeks before the fall semester was to start, I put together a crude portfolio of my work and was driven down to Chickasha to meet with the art department," said Bennett. "Jim Dudding looked over my work and felt it merited a scholarship. I was also able to get financial aid and two weeks later I moved into Sparks Hall!"
Bennett immediately found that the environment on campus, particularly in the art department, to be unlike any experience he had had before then. The small student-to-teacher ratio meant more undivided attention, a dynamic that simply does not exist in most other colleges. His time as an undergraduate fostered a love of lifelong learning as well as a can-do attitude even in the face of significant challenges and an appreciation for the great diversity of the world in which we live.
"Through all the liberal arts courses, you find how the world begins to work together and how it doesn't work together, but you keep learning how to make the world work a little better through your uniqueness," said Bennett.
Besides the many late nights Bennett spend in the art department, he also looks back very fondly on his time performing as the university mascot and cheerleader, winning Homecoming King and his first solo in the jazz ensemble: George Michael's "Faith," "performed to screams and applause." He has remained close to many of his professors, considering them some of his biggest cheerleaders throughout his entire career. But he also found important mentors outside of the classroom.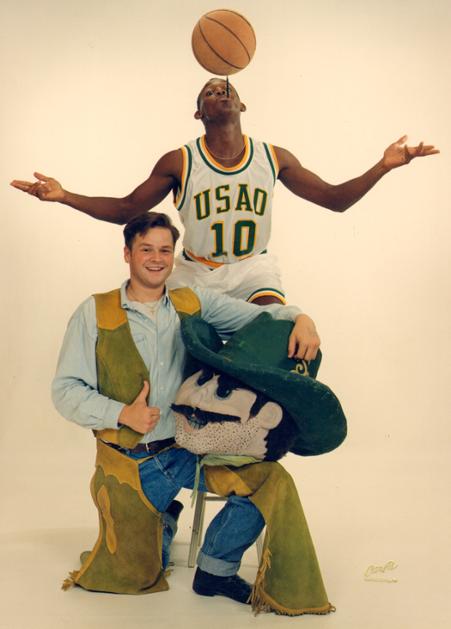 "Jackie Knapp, who was my first art teacher at USAO, continues to be a constant encouragement to me. Kent Lamar and Hollis Howard were instrumental in developing my artistic grounding in color and composition," said Bennett. "A huge support to me was also the Baptist Student Ministries, at the time led by Tom Greenfield. Tom and his wife Mona were basically second parents to me, and I owe a huge amount of debt to their investment in my life, both physical and spiritual. Randy Talley, the head of public relations at the time, also was an invaluable mentor in understanding how to proceed in my career goals."
After graduation, Bennett moved back to Oklahoma City and spent several years in a job that he admits was "nowhere near" his career goals, but he always continued to create comic-focused art, networked with other comic creators in Oklahoma and attended comic conventions to further his connections. As he has grown more and more successful as an independent artist, Bennett credits his education at USAO with preparing him for the realities of the professional art world.
"The fact that I had to learn every type of art taught at USAO helped me to learn flexibility as an artist and made me confident in saying yes to clients that approached me with projects that may not initially be in my wheelhouse," said Bennett. "It taught me to tackle those projects with the attitude that it was possible to do it, regardless of prior experience. It helped me learn that I can achieve it if I simply put in the work. It is not always an easy thing, but a very doable thing."
Despite all the upheaval over the past year and a half thanks to the COVID-19 pandemic, Bennett sees reasons to be optimistic for society, and his new position as resident artist will allow him to share his life lessons with the other driven, creative and curious young people studying art at Oklahoma's only public liberal arts university.
"More people are now pursuing their actual dream careers because something during this insane period has showed them what truly matters in life, and that it's possible to make that lifestyle a reality, when popular culture hasn't always pointed them in the right direction," he said.
As resident artist, Bennett hopes to guide students' expectations as to what a career in art is really like, and do so in such a way that they remember and apply it in their own lives, especially in regards to securing different projects, client expectations and completing the work in a timely manner while also delivering superior quality. Applying all the knowledge that he has gained in his long and varied career, Bennett does not just want students to "get it," but use it to better their own individual vision and career path as an artist. For right now, his head is spinning with ideas of what to bring to the classroom and the other university art spaces over the next few months.
"I'm still pretty overwhelmed by it all and the wonderful welcome I've already received," said Bennett. "Layne Thrift invited me to start thinking about a gallery showing for early next year, so I've begun brainstorming about that and have some ideas, with all-around comics and comic art as a focus. We shall see how that evolves! Like in my career, I'm just going to jump in and do it, learning from my mistakes and applying them as I move forward…and hope I don't scar any of the student too terribly!"
While the faculty and staff at USAO have been cheerleaders for Bennett for many years now, he is himself a fine cheerleader for the university and what it represents in the state system of higher education. For students considering studying at USAO, he has some very clear and simple advice.
"DO IT! As an art school, it's singular in its quality education and personal vision development. You seriously have no idea how awesomely your life will change and how many lifelong relationships you will build, not only with other students, but with many of the faculty as well."