Bachelor of Fine Arts candidates at USAO prepare for final exhibition
---
April 02, 2021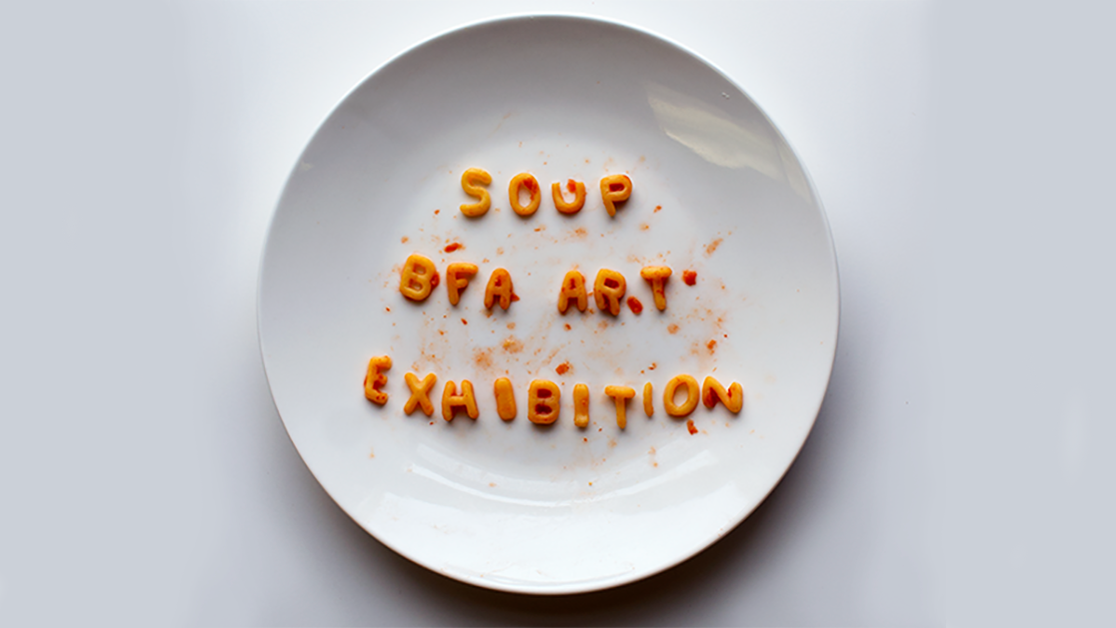 Five art students from the University of Science and Arts of Oklahoma are preparing for their final exhibition, "Soup," before graduation. Since campus is closed to the general public due to the COVID-19 pandemic, a virtual tour of the exhibition will be available March 29 on the USAO website at usao.edu/bfa.
The spring 2021 candidates for a Bachelor of Fine Arts degree include Hannah Bays of Stillwater, Kori Caparelli of Jones, Casey Gilman of Purcell, Coleen Sovick of Norman and Zora Weyrick of Rush Springs.
"The BFA program is the most rigorous program at USAO," said Jacquelyn Knapp, professor of art and art department coordinator. "The artists in 'Soup' have worked diligently, producing high-quality work that serves as evidence of their individual concepts. Each has successfully investigated thought-provoking ideas with very diverse media. We are very proud of their accomplishments and are confident each will see success in the world."
A 2017 graduate of Stillwater High School, Bays works predominantly in oil paints in styles ranging from landscapes to eccentric figures to abstract expressionism. This progression of forms is her "testimony to understanding the physical world around us by seeking the spiritual world." After receiving her bachelor', Bays plans on finding the right graduate program and completing a master of fine arts.
Caparelli's uses oil paint to create a set of unique creatures, focusing on animals with features slightly off what would be considered normal. Using in relatively large scales, her "surreal caricatures of life" come together to form a body of work that reflects how she views that world around him. She plans on focusing on her creative work as an independent artist before entering graduate school.
A ceramic artist whose work has involved extensive research in glaze chemistry in order to expand the available palette, Gilman uses "slip-cast and slap-built forms…to achieve images unique to my concepts of formal nonfunctional shapes." After taking a gap year "to basically recover from COVID stress," Gilman plans to pursue graduate studies.
Originally from the Phillipines, Sovick is completing her BFA with an emphasis in expanded media. She finds that "materials serve as vessels in visual storytelling" and uses "items with humble beginnings such as razor blades, mannequin parts and my body to dictate my artistic canvas." After graduation, she plans to pursue a master's degree and then hopes to further her love of art through teaching.
Weyrick works in oil, watercolor and screen prints to create semi-realistic worlds filled with "the mythical and mysterious creatures found in folklore," and to represent "the idea that these creatures exist but have yet to be discovered. After graduation, she plans to work as an illustrator of children's books and hopes to open a shop to sell prints and other creations.
USAO holds a BFA exhibition each semester as the capstone project for that degree. Students apply to the program during their second semester of their second year in art. Upon acceptance, they develop a single concentration after gaining a wide foundation in all media. For three semesters, students develop cohesive concepts through in-depth research, while continuing to add technical expertise. The BFA Art Exhibition formally presents the results of their intense study and research into art forms.
For more information and to view the artwork, visit usao.edu/bfa.