Boxer Knocks Out Top Award for USAO Young Alumni
---
October 31, 2006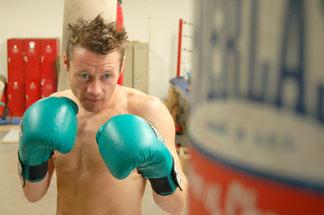 CHICKASHA – Irish boxing champ Oisin Fagan of Oklahoma City is adding another award to his list of accomplishments. The newly named Light-Welterweight Champion of Ireland is being named as this year's Young Alum at the University of Science and Arts.
In an honors banquet featuring two 1956 Oklahoma College for Women graduates, Fagan will be honored as part of the annual USAO Alumni Homecoming Nov. 3-5.
Dr. J.C. Casey, professor of communication, supported Fagan's nomination for the award.
"Watching Oisin is like seeing poetry in motion: he is fluid, he is fast, he is precise," Casey said. "He is the most physically fit person I've ever known, a difficult accomplishment for anyone but perhaps even more impressive for a man of 32."
A 2002 graduate, Fagan played varsity soccer from 1998 through 2002. As the USAO team captain during those four years, he was named Player of the Year four times, All-American Scholar-Athlete twice and was a member of the All-Conference Soccer Team from 2000-02.
Fagan majored in physical education with minors in both communication and political science. He was named to the USAO and regents honor rolls every semester of his education, Hypatia honor society and Who's Who Among Students in American Colleges and Universities. Unfortunately, a knee injury ended his soccer run.
Drawing from an inner resolve to make a name for himself, Fagan finished his degree as a "plan B" for his future. A hotheaded hero at heart, he decided to make use of one of the things that actually hurt him on the field: a fiery temper.
In 2003, the Dublin, Ireland, native decided to give pro boxing a swing. Some of his Jamaican sparring buddies had encouraged him to do so. He had fought a few times as an amateur in Ireland, but it wasn't until he began training with Oklahoma City fighter Buck Smith that he gave it serious thought.
Local bouts gave way to more local bouts. With each victory, Fagan's card moved closer to the top. But fighting didn't pay the bills, and without a job, deportation loomed near.
When he decided to call it quits and head back to Irish soil, a close friend made a proposition. Phil Cunningham, principal at Columbus Elementary School in Oklahoma City, asked what he could do to help. Fagan said he needed a job. As fate would have it, Cunningham needed a physical education teacher. Fagan accepted, and has since found it very rewarding.
"Columbus Elementary is a school comprised of predominantly Hispanic kids, of low socio-economic backgrounds," Fagan said. "Being a foreigner myself, I know the hardships some of these poor kids go through and it's a very rewarding job to try to make a difference in the lives of little ones."
Within a year, Fagan was fighting in Las Vegas. In 2004, he was named the Lightweight Champion of Oklahoma. In 2006, he returned home for a run at his national title – and won it. This summer he was named the Light-Welterweight Champion of Ireland.
He stands at a 16-3 record, with nine knockouts. His next fight is scheduled for Nov. 18 at the Midwest Event Center in Oklahoma City.
Today, the 'Gael Force,' a moniker given to him in the boxing circuit, lives a double life. By day he is an elementary teacher. At night, he becomes a boxer.
"I train every day up to 3-4 hours a day, at an extremely high intensity," Fagan said. "This is the only way I can keep up with the full-time pros. Most of these full timers, I feel, are at a great advantage stepping into the ring against me initially, because they, unlike me, have nothing but training to worry about. I should have no business fighting against lads who train full-time, but my desire to win has made it so that I have an extra incentive to show what this little Irish lad's big Irish heart can do."
Apparently, his Irish heart is big, indeed. The award-winning schoolteacher also is a volunteer. Since 1997, he has helped orchestrate soccer tournaments that benefit the Asthma Society of Ireland. In Oklahoma City, he's delivered food to the poor as a Catholic Worker House volunteer since 2003.
He's even played Santa Claus for underprivileged minority children in the metro.
"It's very important to start each day with a big smile on my face and to show love where I can to the kids who need it most," Fagan said. "I'm not perfect and certainly no saint in my own life, but kids know when you're doing your best and they seem to appreciate a good sense of humor."
On Nov. 4, Fagan will add another notch to his list of winnings: 2006 USAO Young Alumni. The award is given each year to an alum chosen by nomination as one of USAO's "best and brightest."
Fagan said he was both delighted and humored to receive the alumni award.
"I know this award has many criteria, but I find it pretty funny that, ultimately, I am getting honored for knocking people out," he said. "Ironically, that used to get me into trouble on the soccer field, but now it's a good thing, apparently.
"Seriously though," he said, "I am humbled for the nomination and will be always grateful to the people who made this happen."
Fagan will be distinguished along with two Oklahoma College for Women alums. International business CEO Ann Marie Hooper Harrison and Cincinnati urban housing revivalist Betty Remy Burns, both from the class of 1956, will be inducted into the USAO Alumni Hall of Fame. The event is part of the annual USAO Alumni Homecoming Nov. 3-5.
Tickets are available from the USAO Alumni Development office at (405) 574-1290.