Brahms Festival Features Live Music June 23-27 at USAO
---
June 18, 2008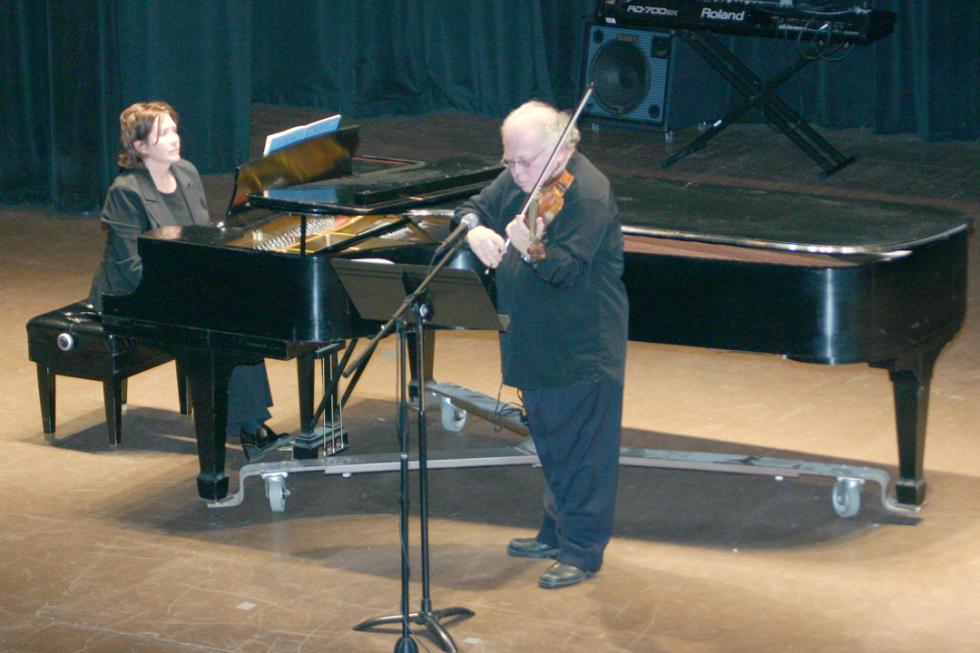 CHICKASHA -- Some things just fit together, like summertime and Brahms. Brahms' music, that is.

The University of Science and Arts continues its Festival of Music and Ideas with four nights devoted to composer Johannes Brahms June 23-27. For four nights, members of the campus community are collaborating for the festival, which includes live music, drama, guest lectures and more. Two nights include free refreshments, and ballroom dancers are invited to participate during one evening devoted to dance.

Each event is scheduled for 7:30 p.m. in different locations on campus and is free and open to the public.

" What's special about the festival is that it's not just an excellent time for music, but it's a time for us to bring together art, culture, science and philosophy," said Dr. Sanders Huguenin, vice president for academic affairs. " It's a time to illuminate and celebrate the connections between the different factors of the human experience."

To date, nearly 1,400 campus and local community members have attended the festival's previous events. Also known as " The Five Bs," the weeklong series of festivals began last fall with a tribute to Johann Sebastian Bach, followed by a spring festival dedicated to Ludwig van Beethoven. This summer's event marks the third in the series, which continues this fall with Bela Bartok and next spring with Leonard Bernstein.

More than just a series of concerts, the Brahms Festival strings together live musical selections, guest lectures and theatrical performances, revealing a glimpse of the selected composer and the world in which he lived. Relevant and related topics in a variety of disciplines and studies are presented through a liberal arts perspective.

" It's a synergistic experience," said Huguenin. " It's one experience for the crowd, which appreciates the music and the drama, and it's an experience for our institution to communicate and dialog between different fields."

Special guest conductor and world-renowned violinist Yuval Waldman will serve as guest performer and director every night of the festival. Local and campus musicians and singers will join Waldman for Brahms performances throughout the week, including University of Oklahoma string ensemble members and USAO students.

More information about the event is available online at http://www.TheFiveBs.com/" >www.TheFiveBs.com.

Beginning June 23 in the USAO Alumni Chapel, Waldman will be joined by Russian pianist Tatiana Kuleshova, with piano solos by USAO music grads Rhenada Finch of Lindsay, Susanna Hayworth of Anadarko and Joy Yocum of Chickasha. Musical selections for the evening include " Adagio from Sonata #3 in d minor, Opus 108" and " Two Intermezzi, Opus 118, Nos. 1 & 2," plus a special performance of " Die Mainacht, Opus 43, No. 2," sung by Dr. Ken Bohannon, associate professor of music, with accompaniment by Dr. Stephen Weber, associate professor of music.

Huguenin will present ideas about Romanticism and folk culture in the late 19th century.

The next evening continues in the Chapel as Waldman leads members of OU's string ensemble in Brahms' " String Sextet in Bb Major, Opus 18." Dr. Christopher Walker, assistant professor of psychology, joins Melissa Rickman, reference/instruction librarian, for a look at scientific progress near the beginning of the 20th century. Sigmund Freud, Albert Einstein and experiments with ether, magnetism and light are just a few of the topics that will be covered during the presentations.

The festival picks up Thursday in the USAO Student Center Ballroom with an evening devoted to the history of dance. Hungarian and Slavonic Dances, as well as waltzes, are par for the course as members of the campus community deliver music throughout the evening. Special guests include Dr. Dan Hanson, professor of music, who will perform Antonin Dvorak's " Slavonic Dance, Opus 46, No. 2" on accordion. Music graduate Michelle Skinner joins Yocum for one of the evening's five piano duets, which feature other USAO graduates as well. Refreshments will be served.

The evening culminates with the famous " Blue Danube" waltz by Johann Strauss. Audience members are invited to dance during the final number.

The festival comes to a dramatic close June 27 in the Ballroom as Waldman looks at what he calls " The Magic Circle," a group of four musical friends who worked closely together throughout their careers. Brahms, Robert and Clara Shumann and Joseph Joachim, who each achieved individual acclaim, often performed and critiqued each other's works.

" They were four geniuses working together," said Waldman, " which made them a very unique group."

In the spirit of such camaraderie, selections by each composer will be performed during the event. Additionally, Director of Alumni Development Julie Bohannon will perform dramatic readings written by Katie Davis, assistant professor of drama. Musical selections include four waltzes by Brahms, " Romance for Piano Solo, Opus 28, No. 1" by Robert Schumann and two vocal pieces featuring vocal music education junior Scott Pitts and freshman Matt Pitts, both of Comanche.

Refreshments also will be served during the event.

Russian-born Israeli violinist Yuval Waldman, who serves as both performer and director of music for the event, has performed across the globe as a soloist with major orchestras in concerts and on radio and television. In addition to acclaim for his performances of standard repertory, Waldman is well known for his thoughtful and stylish performances and recordings of Baroque music, both as a violinist and as a conductor. He has championed rarely performed 19th century masterpieces and has commissioned and premiered numerous works by contemporary American and Israeli composers.

Some of Waldman's career highlights include conducting on the Congressional steps in Washington, D.C. in a memorial concert on September 11, 2002, welcoming the millennium in a Benedictine monastery in Rome, celebrating the 50th anniversary of the State of Israel in Moscow and conducting Bach's " Mass in B Minor" for Portuguese villagers in Madeira.

Click http://www.youtube.com/user/drshaferi" >here for recent video footage from the Brahms festival!