Brian Bergman to keynote 2019 Leadership Conference
---
February 11, 2019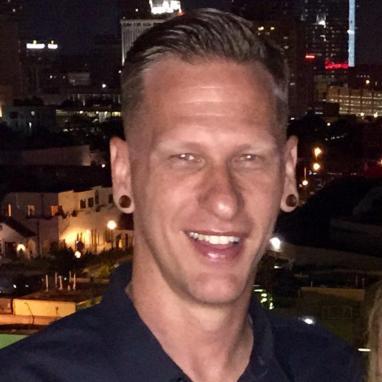 Brian Bergman will headline the University of Science and Arts of Oklahoma's annual Student Leadership Conference on Feb. 12 in Davis Hall. Bergman "used to be a musician and travel the world" and "used to think he was funny sometimes." He is still a fan of creativity and using imagination to make the world a better place. Formerly the event manager for H&8th, a monthly food truck festival that was held in midtown Oklahoma City, he used his skills in product development and brand analysis to help grow the volunteer-driven, non-profit event from a small local happening into the largest food truck festival in the United States by 2014. Bergman currently works as the business development manager at HSI Sensing in Chickasha.
Check-in will begin at 5:45 p.m. with Bergman's keynote address to follow at 6 p.m. The theme of this year's program is "Engage" and focuses on ways of getting involved in the community and working to build a better world.
The conference is free and open to all USAO students but registration is required. Commemorative t-shirts will be handed out at the end of the event but participants must register by Feb. 7 to be guaranteed a shirt.
Student-led breakout sessions will follow the keynote speaker. There will be two options in each of the breakout periods. The Leadership Conference Planning Committee, which includes students, selects these presentations from proposals that USAO students submit in the weeks leading up to the conference.
The conference provides students the opportunity to develop and refine their leadership skills, learn about critical issues, and network with other leaders on campus and in the community.
"Unlike many programs which involve outside organizations, current USAO students put together this conference for other students," said Kelli Monroe, advisement specialist and Leadership Academy coordinator. "These students come from different organizations, different majors, different communities, and they all come together to create an enriching experience for the rest of the campus."
Every year, a student-run committee organizes the conference early in the spring semester with sponsorship from USAO's Student Services, Alumni Association, Leadership Academy and President's Leadership Council.
The USAO Leadership Academy is a three-tiered program of increasing responsibilities that enhance students' leadership skills through workshops, projects, networking and service learning opportunities. Only open to freshmen and sophomores, students typically complete the program in three years. In addition to being a great resume-builder, graduates from the academy gain a plethora of leadership experiences that will help them excel through life after college.