21st season of Davis-Waldorf Performing Arts Series kicks off Sept. 30
---
September 22, 2021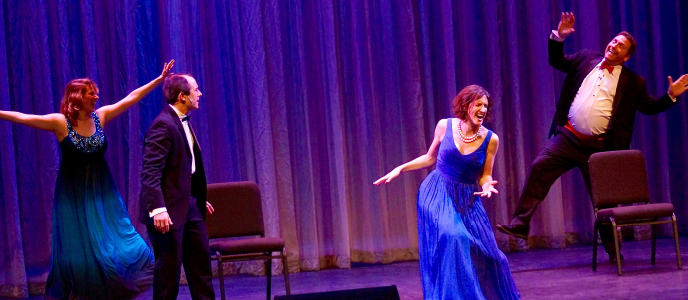 Bringing live audiences back to the University of Science & Arts of Oklahoma campus, the 21st season of the Davis-Waldorf Performing Arts Series will kick off Thursday, Sept. 30, at 7:30 p.m. with Broadway's Next H!t Musical in Te Ata Memorial Auditorium.
This award-winning comedy troupe will perform an unscripted musical theatre event that has delighted crowds all over the country. Using suggestions from the audience, the group improvises scenes and songs accompanied by fantastic dancing and tons of laughter. During the "awards show," the audience votes for their favorite song and watches as the cast turns it into a full-blown original musical complete with memorable characters, witty dialogue and plot twists galore.
"It's exciting to plan to have professional performing artists back on campus again this year" said Katie Davis, professor of theatre arts and executive director of the series. "We were lucky to be able to livestream events last season, but improvised theatre and comedy are really special when you are right there in the theatre. These artists will workshop with students in the afternoon and then interact with the audience during the show to create a totally new, hilarious and masterful show."
Tickets may be purchased online at usao.edu/dwpas, by calling (405)-574-1211 or at the USAO Business Office in Troutt Hall at a cost of $15 for general admission, $10 for seniors 65+, and free for all USAO and K-12 students. Seating is limited and season ticket holders will have priority access. Season tickets are on sale until the day of the event.
Under the direction of improv veterans Rob Schiffmann and Deb Rabbai, Broadway's Next H!t Musical has been hailed as "brilliant," "hilarious" and "remarkable" in national newspapers. "Time Out NY" has said of their show, "At last! A musical of, for, and by the people." The group has recently appeared at The Triad, Tribeca Film Festival and the New York Musical Theatre among others.
The USAO Foundation presents the Davis-Waldorf Performing Arts Series with additional support from the Oklahoma Arts Council, Chickasha Public School Foundation, Mid-America Arts Alliance and corporate partners. Its mission is to encourage attendance at high-quality performing arts events as an aspect of a liberal arts education for students, to provide an affordable entertainment resource for our college family and our community, and to become a leader in local arts education by presenting relevant and culturally diverse programming that broadens the aesthetic of our audiences.
For more information and to purchase tickets, visit usao.edu/dwpas or call (405) 574-1213.