Bruce exhibits paintings in June
---
June 17, 2014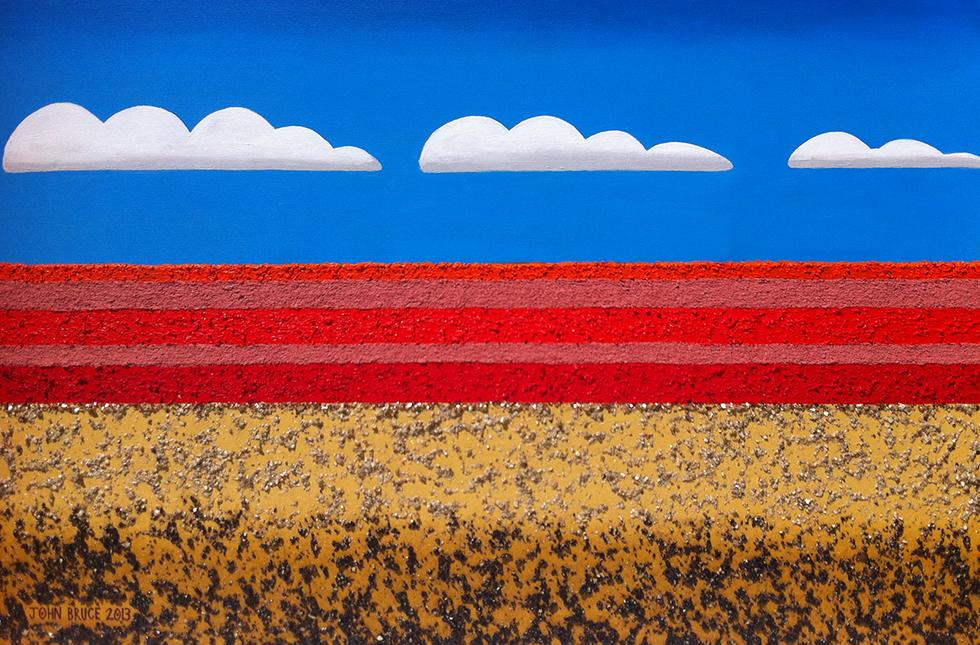 What began as admiration for a friend's skill as a painter has turned into a passion for Dr. John Bruce, professor of language and literature at the University of Science and Arts of Oklahoma.
Bruce had the opportunity to spend time with painter Cruz McDaniels, of Anadarko, in his studio.
"I don't want to say he taught me, but I watched him," Bruce said. "I picked up some techniques and it definitely set something in motion."
Five years later, several of Bruce's own paintings are on display in a show titled Conspicuous Caffeination at Gray Owl Coffee through June 30.
Gray Owl Coffee is located at 223 East Gray Street in Norman.
This show is latest in a string from Bruce that began in 2012 in Jemez Springs, an idyllic mountain town in New Mexico. The "land of enchantment" has played a pivotal role in Bruce's development as an artist.
"I'm not trying to identify as a New Mexico painter but that place initiated the sensory response that inspired me to paint," Bruce said.

Bruce started visiting the state after USAO Emeriti Professor of Art Jaymes Dudding retired in 2003 and moved to Rio Rancho, just north of Albuquerque.
The stunning mesas and ordered lines of cedars sparked Bruce's creative urge.

"Many of the colors and forms in my paintings can be found in New Mexico," Bruce said. "I've exaggerated those regular patterns but not too far from what you might actually see."

After painting for three years, Bruce was invited by the Jemez Springs Fine Art Gallery to put up his first exhibit in 2012. He has exhibited a new collection of paintings in the gallery every year since.
In 2013, Bruce also contributed a piece to Seeds: A Collective Voice, a multi-media exhibit featuring poetry, dance, music and visual art hosted by the Downtown Contemporary Gallery in Albuquerque.
Bruce has found welcome outlets for his work closer to home.

Branching out from painting, he created an altarpiece, titled The Golden Age of the Eternal Hexahedron, using found materials in a lumberyard. The piece was exhibited, along with another created by artist Skip Hill, at the MAINSITE Contemporary Art gallery in Norman.

Bruce said that this kind of collaboration has been integral to his development as an artist.

"I owe all of my enthusiasm to being part of a circle of artists," Bruce said.

He cites artists like McDaniels, Dudding and Hill as well as Jemez Pueblo artist Bernard Gachupin, Norman artists Hunter Roth and Richard McKown and USAO assistant professor of art Jordan Vinyard as providing comradery, inspiration and valuable fellowship to his process.

"I could work as a hermit in a vacuum but I'm much more energized by collaboration," Bruce said.

Bruce recognized a kind of sympathetic relationship between his work as a scholar and writer and his creative endeavors as a painter.

"In both writing and painting, there is creative problem solving," Bruce said. "When I reach a point in either discipline where I feel like it's not going anywhere, I can switch gears and do something different.
"My outlet for painting is writing or reading and vice versa."

Bruce has been a member of the USAO faculty since 1998 and earned his doctorate in English literature from the University of Glasgow.

Before coming to Chickasha, he was an instructor at South Texas Community College and a lecturer at the University of Texas-Pan American.

Bruce received the USAO Regents Award for Superior Teaching in 2009.
He is a past president of the USAO Faculty Association and currently serves on various committees, including the Financial Aid Appeals Committee and the Academic Integrity Committee.
More information about the Conspicuous Caffeination show can be obtained by calling (405) 701-2929.