Celebrated pianist to be inducted into USAO Hall of Fame
---
October 12, 2011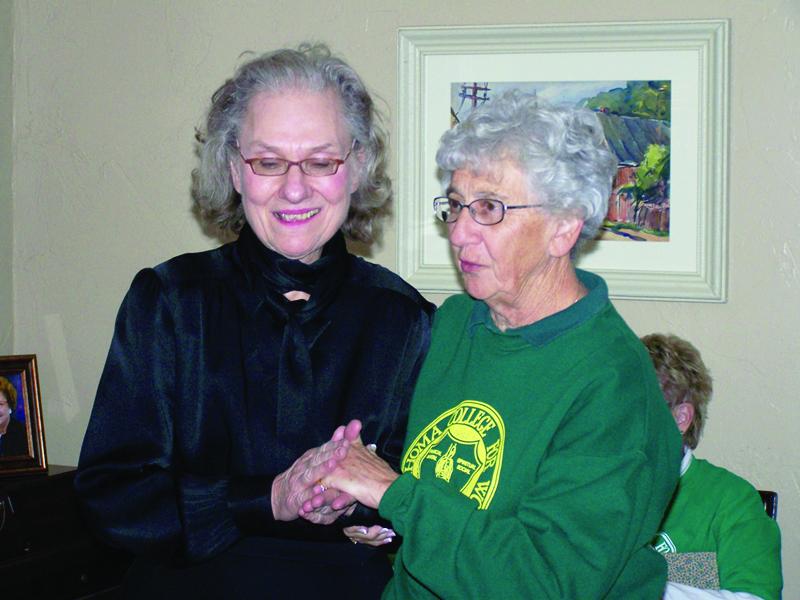 From the campus of the Oklahoma College for Women to the glamour of the Paris Opera, Margaret Ann McConnel Singer has forged a legacy of artistic excellence and generosity that has touched thousands of lives. On Nov. 5, Singer will be inducted into the USAO Alumni Hall of Fame.
Singer will be honored along with fellow inductees Robert England and Annette Dake and Young Alumni Award recipient Christopher Price during the Nov. 5 ceremony. The annual alumni reunion is open to all USAO/OCLA/OCW alumni. Registrations are being accepted at the USAO Alumni Development Office, (405) 574-1290. An all-inclusive registration package is available for $70 per person, which includes all meals. Additional information and registration are available online at www.usao.edu/alumni.
Singer came to OCW in 1957 from the town of Crescent to study piano with Jacques Abram, artist in residence. Though her schedule was busier than most because of her grueling practice schedule, she was active in campus activities including the Eche Sa social club and the Sigma Alpha Iota honorary music fraternity.
Jimmie Lou Elliot Brown, president of the OCW Class of 1960, remembers those times fondly.
"As classmates," Brown said, "we came to know and appreciate Margaret not only for her talent and intellect, but for her warm smile and quick wit."
Singer was awarded the Fulbright Scholarship in 1960 and traveled to England to study at the Royal Academy of Music in London. While there, she was awarded numerous prizes for her musical excellence including the Frederick Westlake prize for being the best in her class.
Upon returning to the States, Singer began a career working as accompanist and coach to young opera singers. By the late 1960s, she was working with Frank Corsaro, one of America's most recognized stage directors of opera and theater, an accompanist to his acting class for opera singers.
"(Singer is) one of the true treasures I found in my life and professional work," Corsaro said. "Margaret is a true artist in her own right. Intuitive, inventive and a mistress of the styles required by the multitude of composers that came alive through her fingers."
In the 1970s, Singer's career continued to soar as she accepted contracts with the New York City and San Francisco operas where she worked with such luminaries as Beverly Sills and Placido Domingo. She also worked as a vocal coach for the Berkshire Music Festival, summer home of the Boston Symphony, where she worked alongside master conductor and composer Leonard Bernstein during rehearsals for Wagner's Tristan and Isolde.
In the mid-1980s, Singer traveled to Europe "on a lark" to accompany two singers on an audition tour. The result was a contract with an opera company in Hannover, Germany. Working as a solorepetitorin, Singer played the piano solos in symphonic pieces including Stravinsky's The Firebird and harpsichord in several Mozart operas.
In time, Singer's reputation spread wider throughout Europe, and she was offered the job of artistic assistant to the German violinist, Ulf Hoelscher. Through this position, she met Urs Joseph Flury, a Swiss composer/conductor, who was so impressed with Singer's skills as a pianist that he asked her to record two piano concerti composed by his father, Richard Flury.
In the mid-1990s, Singer was invited to join the Paris Opera to work with the apprentice coaches, a task she revels in to this day.
"After all," Singer said, "what is better than being paid to go to Paris, and I adore working with the young people!"
Despite her demanding schedule with the Paris Opera, Singer has continued to mentor younger musicians in her own time. In 1999, she and fellow Oklahoman Martha Sharp began an acting workshop for young singers that they continue to hold every summer. In 2000, she was invited to a guest professorship at the Mozarteum in Salzburg, Austria.
Though her career has been characterized by a series of prestigious positions in glamorous cities, one of Singer's most emotionally rewarding experiences happened in Oklahoma in 2001.
"My high school in Crescent honored me as a Distinguished Alumna – but I had to work for it," Singer said. "I played a 45-minute program for the entire student body and, in the evening, played a full recital for the general public. This was a fund-raiser, and I was allowed to designate the recipient. Of course, I chose the music program at the school. We didn't charge admission but put a jar at the door for donations and raised over $2,000."
Singer is scheduled to travel from her home in Karlsrube, Germany, to attend the Alumni Hall of Fame induction ceremony on Nov. 5 and enjoy the company of her classmates.