USAO announces changes to spring 2021 semester
---
October 08, 2020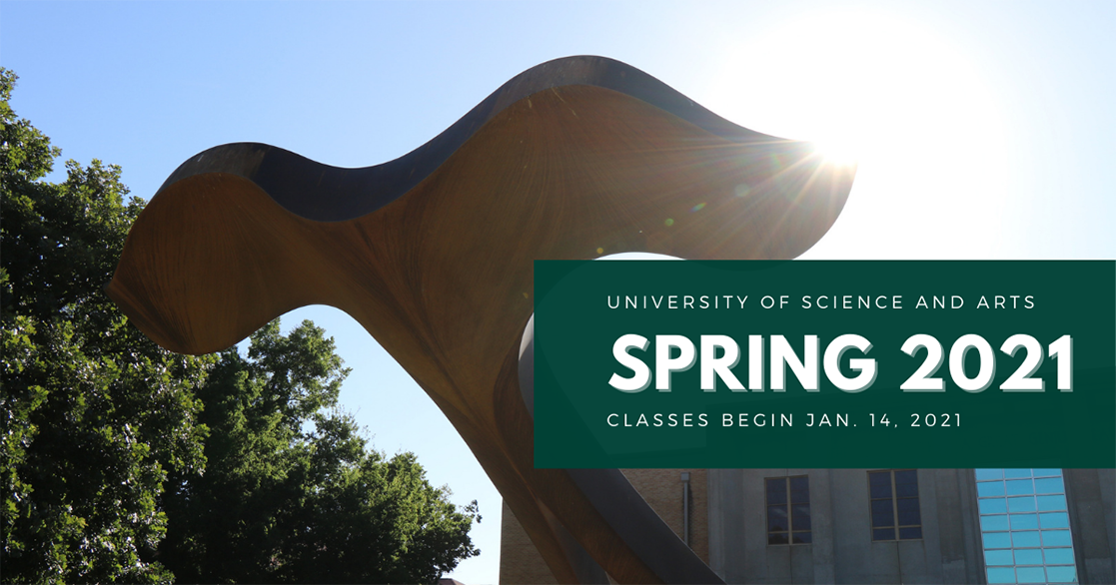 Given the uncertainty surrounding the current pandemic of COVID-19, the University of Science and Arts of Oklahoma has decided to adjust the spring 2021 semester to best ensure the health and safety of the institution's faculty, staff and students.
Courses will begin Jan. 14, one week later than usual, in order to provide an adequate amount of time between any New Year's gatherings and the resumption of in-person instruction. The university will not observe Spring Break during the semester to limit potential travel and thus the possibility of anyone bringing the novel coronavirus back to campus. However, the university will close Monday, Jan. 18 for the observance of Martin Luther King Jr. Day.
"Right now, every university is in the unenviable position of trying to make long-term plans in a situation that changes drastically on a day-to-day basis," said President John Feaver. "With what we have seen throughout this year, the USAO administration feels that these changes to our usual spring semester are absolutely necessary to help keep our campus safe. We have had success in mitigating the effects of this virus so far, and I am fully confident that we can continue this success moving forward."
Instead of its traditional fall and spring commencement ceremonies, USAO will recognize and honor graduates in a single ceremony on April 24, 2021 at 11 a.m.
"Shaking the hand of each graduate is one of the highlights of every semester I have served as president, so I deeply regret the distance that this disease has put between us," said President John Feaver. "This change will ensure that we can bring everyone together for an even larger celebration in the spring."
Students who have completed their studies in the fall 2020 semester will still receive their degrees, but the formal commencement ceremony will be combined with the spring event.
Campus buildings will remain closed to the public through the spring semester. The use of space is dedicated to core mission activities – teaching, learning, research, student groups and activities – and restricted to the campus community. All USAO students, faculty, staff and campus visitors are required to wear masks inside all university buildings and outdoors on campus when social distancing cannot be maintained.
As COVID-19 emerged in Oklahoma in early March, USAO closed campus offices to the public and shifted all courses to online platforms in a matter of days. Continuing this practice through the summer term, the university prepared protocols for returning to in-person instruction based on the recommendations from various public health institutions. Classes resumed this fall with masks required and social distancing guidelines in place.
To learn more about the university's efforts, visit usao.edu/coronavirus.